When the News is New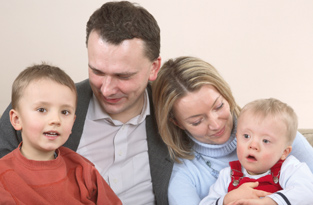 Charlotte mom Emily Pritchard sensed something was wrong early in her son's life. Jake sat up on schedule, but he was wobbly. He walked at 15 months, but he was unsteady, and he struggled with stairs and curbs.
"Of course, I wondered whether I was being that paranoid first-time mom, but deep down, I truly knew something was not right," says Pritchard.
After a series of tests, Jake was diagnosed with Duchenne muscular dystrophy, the most severe form of the disease. "We grieved as if we had lost our son," says Pritchard. "This situation was certainly never what we'd imagined when we dreamed of having children."
The Pritchards' reaction is not uncommon, says Leslie Petruk, director of Stepping Stones Counseling & Consulting in Charlotte. Parents can go through the stages of grief after receiving their child's diagnosis, and they often are not at the same stage at the same time. Petruk says mothers often have an instinct that something is not "right" with their child, and begin to look for professional assistance. It is not uncommon for fathers to first be in denial of their child's diagnosis and try to rationalize away the child's challenges. Parents may blame themselves for their child's condition and feel anger, pain, depression and loneliness before they are ready to seek help for their child.
"First and foremost, it is critical that parents are addressing their reactions, fears, sadness and anger related to their child's diagnosis," says Petruk. "Taking care of themselves, as well as their relationship, is so important in order to be the best advocate and best parent to your child."
Parents should take time to experience their grief and begin to find joy in the child as he or she is. When parents are ready, Petruk advises they build a support base, follow their instincts and do their own research. "Medical professionals don't have all of the answers, and you have to be the advocate for your child," she says.
Here are some tips for seeking information and support that is so crucial after learning your child has a special need.
Answering the Questions
While doctors and nurses initially assured Laurie Maddex of Charlotte her newborn was fine, chromosome tests several days later showed Chase had Down syndrome.
"You feel grief over it, like you almost lost the child you thought you were going to have," says Maddex. "It was really hard to talk about. We didn't know anything about Down syndrome. We felt very much alone."
Her parents spread the news to family members, and Maddex started a blog about Chase, who is now 3. Through the blog, people learned about Chase without Maddex having to tell them herself.
"The hardest thing was, every time I opened up my mouth to talk, I started crying," she says. "When it's fresh like that, you're scared, and you're grieving. Being able to spread (the news) second hand, and write about everything that was going on in my head helped. It helped other people know what to say to me, too."
Finding Support
Parenting a child with special needs can be an isolating experience, and it's crucial to surround yourself with people who understand and accept your child. Look to your immediate circle to find a support system and build upon it as you learn more about the challenges you and your child will face. "Our family and friends have rallied around us to offer support and helped us in numerous efforts to raise funds for researching a cure or treatment for Duchenne," says Pritchard.
The Maddexes joined the Down Syndrome Association of Charlotte days after Chase was born, where they met other parents of kids with Down syndrome. "It was wonderful to being able to talk to someone who had been there before," Maddex said. "That gave us confidence to talk to other people in our life, because we didn't have the right words to say to them before then."
Tami Allee of Waxhaw, whose son Nathan, 5, has severe food allergies, was one of the first members of Parents of Allergic Kids, a support group that hosts seminars with allergy doctors. The group discusses how to handle special needs in schools, exchanges recipes and holds playgroups.
"The parents in your support group are the only people who can truly understand what you are going through, because they are going through the same situation," says Allee. "Those further along on the journey can also give you helpful information you are probably not aware of yet."
Involving Siblings
Many children's books about special needs and children
with disabilities are available, and these stories can help siblings better understand.
Charlotte mom Quinee Rego, who has a son with autism and a typical daughter, said she and her husband made sure their daughter can express her feelings to them about her brother and that each child gets one-on-one time.
"We try very hard to not make autism the focus of our lives — rather we make it a part of our lives," says Rego.
Not Giving Up on Your Child
Accepting a diagnosis can help you become the best parent possible for your child, says Nancy Nestor, whose son Paul has autism and who is president of the Autism Society of North Carolina — Mecklenburg County chapter.
"I just think it's really important for people to learn to make the best of it and really appreciate our young people with autism, because many of them have interesting strengths," she adds. "My goal is to build the very best Paul Nestor I can build, so he can go out there and be a functioning member of society."