When Kids Get Cancer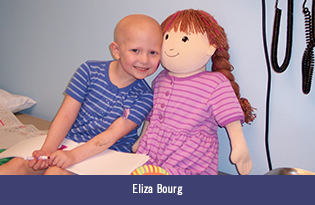 Kari Bourg was brought to tears one day when she stopped to read her daughter's fourth-grade essay on "What hope means to me," a character education assignment that had been posted with classwork in the school's hallway.
Eliza Bourg had drawn a picture of herself lying in a hospital bed attached to IV lines.
"I needed to have hope when I had cancer," Eliza had written. She also described knowing that she could have died during her more than two years of chemotherapy.
Kari Bourg framed her daughter's essay, and it now hangs on a wall in their home in Charlotte. It was a rare insight into Eliza's feelings about having cancer. "She finished treatment when she was 7, and I didn't know if she knew during that time that she could have died," Bourg said. "(Reading that essay) was sort of a shock to me."
Though children who have cancer often grow up knowing the disease and treatment as "normal," a family's life is upended the moment a child receives a cancer diagnosis. The journey ahead, as one medical professional describes it, is a marathon, not a sprint. For many families, nothing in their lives will ever be the same.
Many families don't even go home right after a child is diagnosed. They often are sent directly to a children's hospital, and the child is checked in for several weeks to begin testing and treatment.
Heather and Jim Smith's son, Bryson, was diagnosed with leukemia when he was 4 years old. They had only brought his puppy pillow and blanket to comfort him at the doctor's office.
"When we got to the hospital, they were like, 'Where's your stuff?' You're going to be here for a while," Says Heather Smith. "Then you don't want to leave because you have that panic inset in you."
---
The Implications
The first symptoms of cancer are often hard to recognize. A child may complain of a persistent pain or ache almost anywhere, including his or her ankle or back. Charlotte mom Meg McElwain discovered strange bruises on her 3-month-old son Mitchell Turner's legs the Sunday he was baptized.
By 5 o'clock the next day, McElwain and her husband, Frank Turner III, had learned that Mitchell had a rare form of leukemia. Doctors scheduled surgery for Tuesday morning and told the couple that a port would be inserted into the main valve of Mitchell's heart.
"I just can't put into words how overwhelming it was for us," says McElwain. "It was just complete and utter shock, and then, 'Here's the water hose, starting drinking and making decisions.'"
Families often find themselves isolated and forced to quickly educate themselves about their child's condition and make huge decisions about treatment. As the long-term implications become clearer, the impact spreads to the whole family.
The first year of treatment can be intense, requiring repeated hospitalizations. The children also can be sick and can't go places where they could pick up germs, such as schools and grocery stores. A fever of more than 100.4 can mean an automatic 48-hour stay in the hospital for a child with cancer.
Many times, one parent quits his or her job, or must find help or adaptions to manage their child's health.
Bourg, an attorney, took a leave of absence from her job in the Washington, D.C., area and never went back because of the time required to care for Eliza and take her to the cancer clinic. McElwain, who owns her own business, has help from a child-care provider and set up her office at Hemby Children's Hospital.
The implications of cancer can severely impact siblings, who also must adjust to their family's new situation. Often the family's decisions are determined by the health of the child with cancer.
"We quickly went from the kind of family that was like, 'Wow, what do we want to do next month?' to having to live right now and what needs to be taken care of in the next few minutes," said Anne Roe, whose son Eli was diagnosed with leukemia at age 2. "We really had to just live in the present."
That meant learning a new way to talk with their son Henry, who is two years older than Eli. If they had to cancel a play date for Henry or an outing because Eli was sick, they learned to assure Henry that he had not been forgotten.
"We would say things like, 'We are planning to go out to eat for your birthday, but if your brother throws up in the middle of the restaurant and we have to leave, we will make a new plan," Roe said.
---
Leaning On Others
Support from friends, family and medical professionals can be vital for families who are navigating a child's cancer diagnosis and treatment.
"Parents who have the support they need will cope best with their child's diagnosis and treatment demands," says Melani Dove, a pediatric oncology social worker with Presbyterian Blume Hematology & Oncology Clinic. "Most importantly, children whose parents cope well cope better themselves."
Parents of children with cancer learn that the smallest taste of normalcy can be a sanity preserver, whether it's a conversation about someone's new dress or a 30-minute trip to the grocery store.
McElwain, who loves finding bargains on children's clothes, said she shopped at a consignment sale soon after Mitchell's diagnosis. She ran into two people who jumped at the sight of her because they weren't expecting her to be out.
"Even though our whole world revolves around this crazy new normal, we yearn for our old normal and need that, even if it's for 30 minutes," she says. She wants friends to treat them normally and relishes everyday conversations that don't involve cancer.
Many families build new friendships with other families they meet at the hospital or at support groups. Hospitals also provide professional counselors and other medical staff who answer questions and help families cope.
Heather and Jim Smith have found joy in helping other families who have a child with cancer. Through Bryson's F.U.E.L., their nonprofit organization, they provide toys, blankets and toiletry bags to families at children's hospitals all over the United States and arrange for families to have outings together.
---
The Long Term
Treatment for childhood cancer can extend well beyond remission because of the high rate of recurrence, and some children will deal with the aftereffects of treatment for the rest of their lives. Families can end up thousands of dollars in debt from medical bills and forced to adjust to new limitations that affect everyone in the family.
Bryson Smith, 6, is now 1.5 years into a 3.5-year treatment plan. Even though his body is free of cancer cells, the treatment and its side effects have changed how the family operates.
Though they once spent weekends camping, now they can't even take Bryson to the grocery store during flu and cold season because of his risk of infection. He can't fly on planes or even attend public school, so he goes to a small private school where there is less of a chance that he will catch an illness. His bones are brittle from chemotherapy, so he can't learn to ride a bicycle.
Several "late-effect clinics," including one at Blume and the Levine Children's Hospital's CARE clinic, focus on the long-term effects of cancer treatment, which can range from heart concerns to dental issues to fertility problems.
Eliza Bourg is now 11 and a sixth-grader at J.M. Robinson Middle School. She is a straight-A student and does gymnastics, something her parents wondered for a long time whether she'd be able to do again. In May, the family will celebrate five years since her diagnosis and her official designation as being "in remission."
For Eliza, the celebration might not be a big deal. Her parents, however, have been so affected by their journey with cancer that they have raised thousands of dollars themselves for cancer research and the Make-A-Wish Foundation.
"I want to give thanks and acknowledge how lucky we are, because I realize how many people haven't had the same positive outcome we have," Smith says.
"Her five-year mark will be a huge event for us. My husband and I are anxiously awaiting that."
---
Marty Minchin is the mom of two children and a freelance writer based in Charlotte.
---
Tips for Helping a Family Whose Child Has Cancer
When 3-month-old Mitchell Turner was diagnosed with cancer, his mom, Meg McElwain, posted the news on her Facebook page and triggered an avalanche of responses. She was quickly overwhelmed with text messages, cell-phone calls and emails, some from people she hadn't heard from in years.
Assigning a close friend or family member to manage messages and offers of help can provide a buffer in the days and weeks after a cancer diagnosis, says pediatric psychologist Amii Steele, who works at the Hematology and Oncology Center at Levine Children's Hospital.

Here are some tips for helping a family whose child has received a cancer diagnosis:
Send a message or leave a voicemail without expecting a reply. The family will be overwhelmed initially by emotions and decisions.
Volunteer to organize the other volunteers by creating a meal or child-care schedules.
If you feel anxious about the family's situation, don't express it to the family.
Don't ask "How can I help?" Instead, make specific, practical offers for everyday tasks such as mowing the lawn or picking up dry cleaning.
Have regular conversations with the parents. They don't always want to talk about cancer and may crave simple discussions about the weather or the latest episode of "Modern Family."
Don't forget the family. Cancer treatments can last years, and the family could use help and friendship for the long term.
---
Local Medical Facilities and Organizations
Charlotte is home to extraordinary medical facilities and organizations that provide support for families with children living with cancer, including:
Presbyterian Blume Pediatric Hematology & Oncology Clinic
Provides comprehensive cancer treatment center and support services. presbyterianblume.org.
Levine Children's Hospital
Provides treatment, support services and clinical trials. levinechildrenshospital.org
Levine Children's Hospital's CARE Clinic (Caring About Remission Everyday)
CARE (Caring About Remission Everyday) provides follow-up care and support for children who are in remission. levinechildrenshospital.org.
Buddy Kemp Cancer Support Center
Provides support for families and children after a cancer diagnosis. presbyterian.org/buddykemp
Cookies for Kids Cancer Charlotte
Raises money for pediatric cancer research. cookiesforkidscancer.org.
Camp CARE
Provides a camp for Charlotte-area children who have had cancer, and their siblings. campcare.org.