What's So Great About Camp?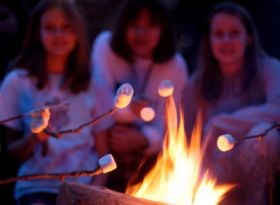 Ah, camp – what images do you conjure when you remember summer camp when you were a child? Roasting s'mores over a campfire, rolling out your sleeping bag in a cozy cabin, splashing in a lake, making new friends and writing letters to your mom and dad? Or do you remember the icy cold lake water, getting bitten by mosquitoes and wanting to go home?
Camp – when carefully planned and chosen by parents and children together – can be a positive and enriching experience for kids. If a child is persuaded or pressured to go when he isn't yet ready, it could be a disaster. We'll give you some tips to make sure your child is ready for camp – but first, what's so great about camp, anyway?
Why send your child to camp?
The American Camp Association has conducted independent research that shows that children who go to camp, even for as short as one week each summer, show growth in areas such as self-confidence, making friends, exploring and learning new activities, independence and spirituality.
Peg Smith, executive director of the American Camp Association, makes a strong case for the camp experience. "Camp activities and group living in a natural environment are the tools used to create camp communities that provide for successful, healthy development and a place where having fun is a daily criterion," she says. "In such a structured environment, children interact with positive role models who have time to listen, talk, relax and reflect. They learn to work together, make choices, develop creative skills, build independence and self-reliance, take responsibility and gain confidence. All are necessary steps on a child's path to a healthy, productive life."
In contrast to school, camp provides hands-on, experiential learning. Smith reminds us, "Sometimes we try so hard to make our children the best that they can be, we forget the essence of childhood. We forget that perhaps the most important things we ever learned didn't come from sitting through biology, but rather from watching tadpoles transform into frogs and caterpillars into butterflies."
At camp, children have the opportunity to make new friends and new connections that can last a lifetime. They have a chance to experience an environment that may be very different from the one in which they live, and to meet other children from different backgrounds and geographical areas. They are able to fill roles as both leaders and members of groups. They get plenty of time to have fun and relax – and that kind of time is becoming more and more scarce for all of us, even our children.
What's more, camp can provide a chance for a child to learn about a particular area of interest. For example, my daughter Katie loved the idea of horseback riding, but had only had one chance to ride a horse. She attended a six-day sleepaway camp last year that provided both a general camp experience (swimming, s'mores, arts and crafts) and some focused time learning how to ride and care for horses. It was a very positive way for her to explore her passion in a safe and supportive environment.
Is your child ready for camp?
So, you're convinced camp could be a wonderful experience for your child. But is he ready to go? How can you tell?
Many parents wonder if their child is truly ready for the camp experience, whether it's a day camp or overnight or "sleepaway" camp. If a child is school-aged, a day camp will be similar to a school day, only with more high-preference, physical and hands-on activities. Thus, most children by the age of 6 or 7 will be ready for a day camp experience.
For sleepaway camp, the decision can become more complex. Some questions to ponder: Has your child had a sleepover at a friend's house successfully? Has he gone to stay with grandparents for a weekend? Has he attended day camp already?
These types of experiences prepare children for sleepaway camp. Many camps now offer an introductory session that is a shorter number of days – typically three to five – as a stepping stone to a longer sleepaway camp. There are also overnight camps where children stay over only one night. Starting with one of these abbreviated stays is a good idea for a first-time overnight camper.
Let your child be your guide. Is he really "raring to go" or just lukewarm about the prospect of sleepaway camp? Was it your idea or your child's? How much does he talk about camp? Have his overnight experiences with friends or relatives been positive ones, or have they been difficult? Stay tuned in to him, and be sure he's the one who really wants to go. Pushing him beyond his comfort level here can backfire.
Above all, trust your instincts and your child. My daughter surprised me last year by being totally ready to go to a Girl Scout sleepaway camp for six days and five nights, and she was only 7 years old, which is considered just about the youngest age for overnight camp. I am sure I was more nervous than she was. However, she's the type of child who loves social experiences and is very confident in her own abilities. She'd stayed over with her grandparents for weekend visits without a problem. I knew she was ready because she was so confident about being able to go and she had strong motivation and desire (she couldn't stop talking about it, in fact). In contrast, I remember vividly when I was 10 years old and stayed at my aunt's in the country for a week. I was terribly homesick by day four. I ended up going home early.
There is a lot of variation in when children are ready for sleepaway camp experiences, and that variation often depends on the individual personality and development of the child. You know your child best. If he's uncertain, it may be better not to push too early, but to sign him up for a one-night overnight camp or even a day camp and wait one more year. Before you know it, you'll be the one holding back tears when it's time to drop him off.
What camp is best?
There are so many kinds of camps available for kids. What we typically think of as "summer camp" are more properly called recreational camps – they offer a smattering of activities from arts and crafts to swimming to group sports, and a lot of variety over the day and week. Then there are specialized camps – everything from science camp, to horseback riding camp, to chess camp – whatever you can think of that could be a child's hobby, there's a camp for it. With more than 7,000 overnight camps and 5,000 day camps in America to choose from, you should have no problem finding one that's a perfect fit for your child.
A general recreational camp is a great choice for many kids, but if your child has a special talent or passion that he's interested in deepening, look to see if there is a specialized camp that focuses on that activity. One great resource for finding camps is
Lauren Ware is a freelance writer in Vermont. Her daughter Katie is going to sleepaway camp to learn the circus arts this summer.