What's it Take to be a Martial Arts Mom?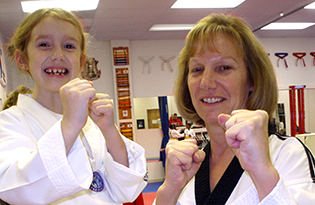 ?When people hear words like Kung Fu, ninja and compression hold, they don't usually conjure up images of a 30-something year-old woman leaving the kids and some leftover lasagna at home for an evening with Dad in order to go practice karate chops. But that's exactly what a lot of moms are doing now.
Whether for fitness, self-defense tactics or just pure fun, more and more adult women are discovering all that the martial arts have to offer. So move over, fighting-championship-wannabe preadolescents — Mom's getting some kicks and punches in, too!
Self-Defense Versus Martial Arts
While practicing the martial arts can certainly help you learn some self-defense techniques, the two are not the same thing. Self-defense is strictly a defense system. It is not a sport or game. When faced with an emergency situation where self-defense is critical, there are no rules, no referees, no fairness. An attacker is often stronger, faster and more aggressive than you are. Self-defense courses are designed to teach you very specific techniques, cultivated from your own reflexes and instincts, that you can use to protect yourself or your children in an aggressive confrontation.
Martial arts refer to ancient systems and traditions that teach and develop a person's strength, coordination, flexibility, mentality and spirituality, and preparation for participating in competition. You might learn self-defense techniques, but you truly practice and study the discipline of the martial arts. "The martial arts is a lifestyle," says Derek Richardson, owner of Leadership Martial Arts in Charlotte. "It aids in character development."
What's it Take to Go All the Way?
Constance Randle, a working mom of two and a student and instructor at King Tiger Tae Kwon Do in Charlotte, recognizes the struggle moms face while trying to balance home, family, work and other activities like the martial arts.
"There are choices you have to make, obviously," she says. "Choose an academy near your home so you don't spend a lot of time driving. Find a class schedule that fits your life, preferably one where you and your children can take classes at the same time."
To earn the coveted symbol of advanced martial arts ability, join a club or school. Train two to three times per week. More than that could increase risk of injury or burn-out before reaching your goal. Practice at home, compete in tournaments,and cross-train with other sports. Take care of every area of your body.
Making It a Family Affair
For many, the study of the martial arts begins as an extracurricular activity for a family's young children to do. Parents of hyperactive, strong-willed little boys seem especially eager to enroll their children in a class that teaches discipline, respect and self-control. But somehow along the way, parents and siblings take an interest, eventually leading to a regular family pastime.
"I went into the martial arts academy because I wanted an after-school program for my fourth-grader," says Randle, "but when I walked out, my son, my 3-year-old daughter and I were all signed up for classes."
Randle is now working toward her fourth-degree black belt. Her son has his third-degree black belt and her daughter her second.
The martial arts offer a wide range of benefits to each member in a family, no matter his age or physical ability. These benefits may include confidence in one's parenting abilities, fitness, self-discipline, an ability to focus, respect for other people and cultures, personal responsibility, a reduction in stress, a chance to make new friends, and — perhaps best of all — a camaraderie shared between parents and their children.
When Randle and her son, now 17, were working on earning their black belts, there was a type of internal competition within each of them, as neither wanted to be the one to quit while the other kept going. They encouraged one another, and her son has a lot of respect for what his mother does, too, since he knows exactly what she's going through.
"Also, the people in your dojo (the formal gathering place for students of Japanese martial arts) become an extension of your family, so you tend to do things with them outside of the academy, such as community service projects and picnics," says Randle.
Many local martial arts schools offer back-to-back sessions for different gender, age and ability groups, evening and weekend classes, private lessons, and open gym time where family members can practice together.
Profile of a Black-Belt Mom
Eight years ago Cheri King signed her 5-year-old son up for some martial arts classes. He was uncomfortable in certain sports and King expected the martial arts to help him build some confidence. What she didn't expect, however, was where they would lead her.
"I never, ever thought I'd be doing martial arts," says King, "but now I have a black belt in mixed martial arts, a blue belt in jujutsu, and I'm teaching women's self-defense classes."
King got started with a kickboxing class at Leadership Martial Arts and loved it. She's big on multitasking in life, so spending time with her children, staying in shape, making friends and learning self-defense techniques made the martial arts a win-win. "I wanted to keep up with my boys, and the martial arts help us connect on a different level." She compares the camaraderie found in a martial arts school to be like that found in a high school or college. "We train together, learn together and grow together."
Earning a black belt takes commitment, but King enthusiastically admits that it's worth it all. "I could have done it in four years, but I took some time off. so it took me five years of twice-weekly classes."
In the last few months before getting her black belt, she prepared by practicing four times per week. After once being attacked years ago as a college student, she feels confident that, if the situation ever happened again, she could defend herself today. "I like feeling empowered," she says, "and I like giving that [feeling] to other women."
5 Popular Martial Arts Disciplines
Karate — a Japanese striking art using punching, kicking, knee strikes, elbow strikes and open-hand techniques
Kickboxing — developed from karate, based on kicking and punching, and practiced for self-defense, general fitness or as a contact sport
Kung Fu — a Chinese art that draws upon characteristics of five animals to defend an attack
Taekwondo — a Korean art that combines combat, self-defense, sport and exercise and focuses on kicking techniques
Tai Chi — an internal, slower-moving Chinese art used for defense training and health benefits
Lisa Hassell is a freelance writer who lives in Indian Trail with her 4-year-old son.