What You Need to Know About This Summer's Solar Eclipse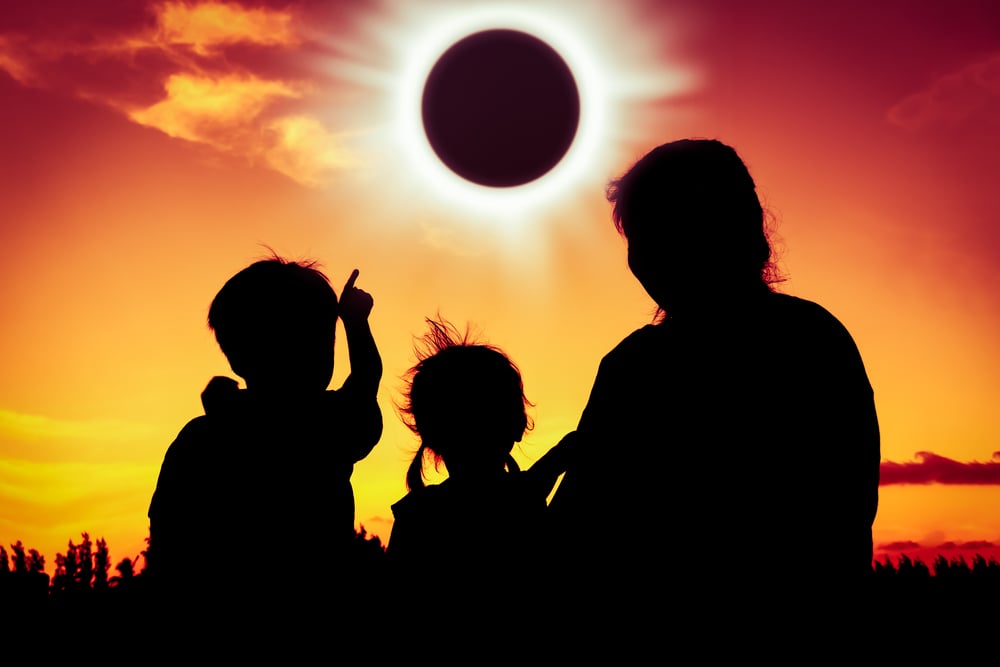 On Monday, Aug. 21, people across the United States will have the opportunity to see the sun disappear behind the moon. The total solar eclipse is the first to span across the United States since 1918.
Here's what you should know:
To view the eclipse, you'll need to order special solar viewing glasses.
The best viewing spots will be in the path of totality.
A small western corner of North Carolina will be in the path of totality including Transylvania, Jackson, Swain, Graham, Macon, Cherokee and Clay counties.
In Tennessee, the path of totality includes Nashville, Murfreesboro, Oak Ridge and Lebanon.
In South Carolina, the path of totality includes Anderson, Greenville, Columbia, Sumter, Orangeburg and Charleston.
The length and time of the eclipse will vary according to your location. Columbia, South Carolina will experience the eclipse at 2:41 p.m. for two minutes, 36 seconds while the eclipse will begin in Murphy, North Carolina at 2:34 p.m. and will last for two minutes, 28 seconds.
If you aren't in the path of totality, you'll still be able to see the partial eclipse. For example, the moon's shadow will cover 98 percent of the sun in Charlotte.
To help you make eclipse plans, we're compiled several events and viewing parties within a short drive that are taking place within the path of totality. Keep in mind the best viewing spots will fill/sell out quickly, so don't delay in making plans. Many events such as one occurring at Pisgah Astronomical Research Institute have already sold out.
If you prefer to stay home for the partial eclipse, be sure to check out our calendar of events for local activities and events taking place as part of the Carolinas Solar Eclipse Parties, which includes more than 50 locations in North and South Carolina with eclipse viewing events for the public.
All events occur on Monday, Aug. 21 unless otherwise noted.
Great Smoky Mountains National Park
The western half of park, which borders North Carolina and Tennessee, is in the path of totality. Tickets to the event at Clingmans Dome have already sold out, but the park will have additional viewing sites such as Cable Mill (Cades Cove) and Oconaluftee Visitor Center. Large crowds are expected, and park officials might close roads and limit access as they monitor congestion. Check the park website for updates.
---
North Carolina
Brevard
Brevard College Viewing Event
8 a.m.-5 p.m.
The public can view the eclipse on the lawn at the college's entrance. Eclipse viewing glasses will be available as well as telescopes.
Eclipse Weekend at Brevard Music Center
Aug. 18-21
Four days of activities are planned in celebration of the eclipse including a concert from Lyle Lovett. There will be film screenings, BBQ, live music and more. Many of the events require tickets.
---
Cashiers
Eclipse Fest
The Village Green Commons
Event starts at noon.
Enjoy this community festival with subject matter experts and special viewing equipment at the gazebo and lawn.
---
Bryson City
Outdoor Family Movie
Friday, Aug. 18 at dusk
Riverfront Park
Planetarium Experience
Saturday, Aug. 19
Digital video projections in an inflatable dome from 10 a.m. to 4 p.m.
Fire Department on Main Street
Live Music at Riverfront Park
Saturday, Aug. 19 and Sunday, Aug. 20
Enjoy the sounds coming from the outdoor stage, 7-9 p.m.
The Solar Eclipse Train
The Great Smoky Mountains Railroad
The train will depart the Bryson City Depot at noon on Aug. 21 and travel to Dillsboro. This round trip excursion will last five hours with a two-hour layover in Dillsboro for the solar eclipse. All guests will receive complimentary special viewing glasses. Tickets are $35-$59.
---
Highlands
Highlands is hosting a variety of events leading up to the eclipse including lectures, hikes, outdoor yoga, live music and viewing party.
---
Franklin
Franklin's Total Solar Eclipse Block Party
Live music and slip 'n' slide. Free viewing glasses for first 1,000 guests; free RC and Moon Pies to the first 100. Viewing station, NASA live stream, and more. 1-6 p.m.
---
Sapphire
The Eclipse at Gorges State Park
The park will host a two-day festival of events Aug. 20-21. Enjoy food, exhibitors and live music.
---
Sylva
Downtown Sylva Eclipse Festival
Aug. 18-21
Live music, food trucks, educational panels, demonstrations and eclipse viewing in Bridge Park.
---
South Carolina
Charleston
Go Dark Charleston
The city has a variety of events planned including beach viewing parties and an eclipse baseball game.
---
Columbia
Total Eclipse Weekend
Aug. 18-21
More than 50 events are planned throughout the weekend.
---
Sumter
Total Eclipse Watch Party
Dillon Park, noon-4 p.m.
Eclipse viewing glasses, food, face painters and ice-cream vendors, music, games and more.
---
Tennessee
Several parks within the Tennessee State Parks system are within the path of totality and are great viewing locations. If you want to drive from North Carolina to Tennessee to view the eclipse, there are several southeastern spots.
Myra Wright is the digital editor of Carolina Parent and Charlotte Parent. She frequently writes about family-friendly travel destinations and enjoys exploring with her husband and three kids.