What You Need to Know About Facebook's Yard Sale Sites
How the 'porch pickup' surge works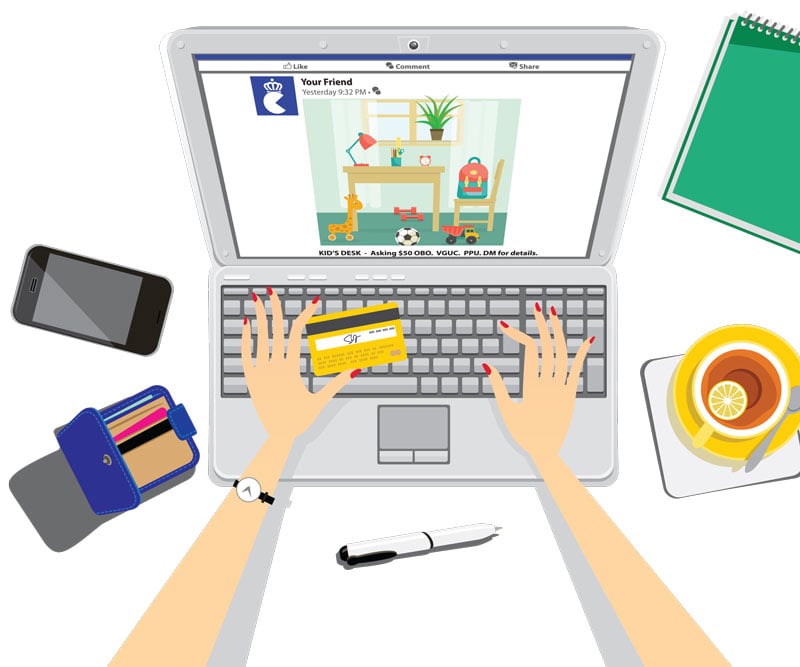 The Facebook post is puzzling at first glance: a picture of a car parked in a garage. But for Columbia, South Carolina resident Erin Dampier, it represents what she considers to be a major victory.
"I had not been able to park my car in my garage for years," she says. Dampier credits an online yard sale group that began in Charlotte, called MICIT (pronounced "mick-it"), for helping her car reclaim its rightful place in her garage.
She posted the photo of her car on Facebook, in all its back-in-the-garage-again glory, to thank the other members of the group for helping her unclutter by buying up her old stuff.
MICIT, which has multiple Facebook groups and more than 5,000 members in Charlotte that are split by specific interest (baby, kid, teen and home, to name a few) and has grown to include similar lineups in Columbia, Raleigh and Atlanta, is just one of these increasingly popular alternatives to listing items for sale on online classifieds sites or taking unwanted belongings to brick-and-mortar consignment shops.
A Safer and Easy Alternative
With its seamless integration into Facebook, MICIT and other neighborhood yard sale group members can change their settings to be notified every time a new item is listed for sale and take fast action when something they want to buy pops up. For people who are uncomfortable with using online classifieds sites like Craigslist, this Facebook connection can make the process feel much safer. Just a few quick clicks of a mouse is all it takes to check out a seller's Facebook profile for red flags and check to see if you have any shared friends.
MICIT groups have an added layer of protection: they're set to "secret" and aren't searchable within Facebook — would-be members must request access, and must be added by a friend who's already in the group.
"A lot of people liked [MICIT] because the degree of separation was small," says Sandra Kraus Lima, who created the groups. "You felt a little more comfortable when you made those purchases."
Erica Wieck Stawick, a Charlotte-based wedding planner and mom of two, regularly buys and sells on Facebook.
"I discovered these groups on Facebook as safer Craigslist alternatives," she says "I've found a Pottery Barn solid wood desk for $50, $40 kids shoes in amazing condition for $5 to $10, a kids' art easel for $10 in perfect shape, already assembled IKEA furniture for a fraction of the cost … I'm slightly addicted to MICIT."
Jocelyn Negron-Rios, a mom of two who lives in Huntersville, participates in several Facebook yard sale groups — although she still buys and sells at consignment shops as well.
"I discovered [online yard sale groups] through my neighborhood," she says. "I joined and realized there are others based on where I live. I sell everything. Kids' stuff, clothing, furniture, books, and shoes … you name it. I also consign clothing." She prefers direct sale whenever possible, as it yields 100 percent profit, versus consignment, where the store often takes a percentage of the sale.
Plus, unlike eBay, which charges a fee for every listing, these Facebook yard sale groups are completely free, and the buyers are local, so members hoping to sell a heavy piece of furniture don't have to fret over the challenges or expense of shipping.
So How Does it Work?
Members post an item for sale, outlining price, condition, and their location. A member who is interested in buying the item comments with "interested." Additional interested parties respond with "next" and the seller goes down the line until the item has sold. Many members have so much trust in their groups that they often request "porch pickup" (PPU), leaving a for-sale item on their porch to be picked up by the buyer, with a hidden envelope waiting for cash to be stashed. (See sidebar on page 20 for additional acronyms frequently used in the groups.) In an era when alarm systems and locked cars are the norm, MICIT and other groups seem like a rare exception
MICIT has even branched out more, with discussion groups launched in addition to buy/sell groups, where members ask for recommendations or advice.
"Some [members] started asking questions like, 'I'm looking for a plumber,' or 'I'm looking for an electrician.' I started realizing there's a trust in here," says Lima.
Behind the Magic Curtain
In many cases, online yard sale groups are managed by local parents who were looking for a way to declutter their homes and pass along gently used baby items or clothing their kids can no longer fit into. But that's not to say being an admin of an online yard sale group is easy: There's a lot of work happening behind the scenes that many users never see.
The creators and admins of these Facebook groups spend a lot of time — as many as 10 hours or more a week, in some cases — keeping the groups running smoothly. That means banning users who don't abide by a group's posted rules, keeping out spammers, and frequently mediating the disputes that can arise between buyers and sellers.
Doug Bobiak launched "Huntersville NO RULES Yard Sale" two years ago, and the group, which is closing in on 25,000 members, has become like a part-time job for the father of two — an unpaid part-time job, that is.
"I like to stay busy," he says. "Even on my days off I can't stay still."
Bobiak uses the group himself for buying and selling, but he sees a much bigger benefit to his group: helping people who are down on their luck make some fast (and much needed) cash. In some cases, he says, his group has even become people's primary source of income.
That's not to say he hasn't been approached by companies and organizations who are willing to pay for exposure to his group, through sponsorships or advertisements — he just hasn't wanted to, preferring more intangible rewards.
"I'm a huge animal lover, so I see people who can no longer support their pets post. Instead of being dropped off at a pound or the Humane Society, people can go on there and post details, and re-home a pet. I really love the posts by photographers who are giving affordable photo shoots … picking five people to win a free photo shoot. It's smart marketing, but also providing more for less fortunate people."
Bobiak, who used to sell his handmade bookshelves and decorate wood art on Craigslist, has had personal success with Huntersville NO RULES as well. He completely abandoned Craigslist in favor of his Facebook group.
"My garage just kept stacking up," he says. "I started posting my own personal things [on Facebook] and literally went through everything. I sold everything I had."
Lima is taking a different approach. With the help of her husband, a software developer, she built a standalone MICIT site (micit.com), which should be fully functional by the time this story is published. The site will allow people to narrow or expand their networks to their preferred level of separation as a safety precaution, give users the opportunity to rate sellers and buyers, offer an email digest option to highlight new items for sale, and include those discussion groups that Lima says have gotten increasingly popular.
"Is there a risk factor of leaving Facebook? Yeah. But I'll have more of a sane life in my head," she says. "At the end I'm just a mom like most of the members, and I'm trying to create a solution."
Ultimately, Bobiak and Lima both hope their efforts help strengthen their communities, and maybe make the world a little bit better too.
"It's really about creating a safer environment for especially moms and families who want to make a little bit of money," Lima says. "I'm from California, and we recycle everything. I'm just trying to be a good person to the earth and the world."
"It's been a great way for local charities and groups to get information out to the surrounding community," Bobiak says. "Now that I have children, I see that anything we can do now to make it better for the future, it's going to be better for my boys."
---
Online Yard Sale Tips and Tricks
MICIT creator Sandra Kraus Lima and Huntersville NO RULES Yard Sale creator Doug Bobiak offer the following tips and advice for getting the most out of an online yard sale group.
1. Pay attention to timing, to maximize the chance your items are seen by the most people. "Heavy days are Friday, Saturday and Sunday evenings," Bobiak says.
2. Be flexible on price, and let members know you are. "People will sometimes post an item and say 'make an offer' instead of a firm price," Bobiak says. "Everybody wants a deal."
3. Use keywords. People often use the groups' search function to find specific items. If yours doesn't have the keywords people are searching for, like the clothing size, your listing could be overlooked.
4. Crowdsource to figure out pricing. Bobiak recommends posting an "In Search Of" (ISO) post describing the item you'd like to sell, and seeing the prices you're offered by the group. Then delete your post and post your item for sale. A word of warning: This is a potentially controversial rule, as some groups might frown on users posting "fake" ISO requests.
5. Ask questions. "If you're buying in these groups, ask about condition," Lima says. "Are there stains? Have you turned this item on? Does it work and function properly? These are the issues that tend to happen," she adds.
6. Customize your experience. Come across a seller who doesn't accurately describe flaws? Hide that person's posts from your group view so you won't be tempted to purchase from him or her again.
7. Don't be afraid to leave an item behind. "Always plug in items before taking," Lima says. Also inspect clothing for stains that weren't mentioned in the listing, check sizes, and look over home items closely. It's perfectly fine not to buy an item that was not adequately described in the listing.
---
The Language of Facebook Sales
If you spend much time buying and selling on Facebook, these terms become second nature before long—but here's a primer for newbies!
PPU: Porch Pickup, where members leave for-sale items out on the porch for the purchaser to retrieve at a convenient time.
EUC/VGUC/GUC: Excellent/very good/good used condition
NWT/NWOT: New with tags/new without tags
Interested/Next/Pass: Commenting with "Interested" means you're interested and willing to buy an item. "Next" means you're interested in purchasing if the parties before you end up passing. "Pass" means you have decided not to purchase.
Bump: Sellers often post "bump" or comment with a single period to push their for-sale post back to the top of the group's thread.
ISO: Buyers post "In Search Of" requests for items they are hoping to purchase that they haven't seen listed in the group. A good option for popular items, such as jogging strollers or play kitchens, or if a person is interested in buying a large amount of clothes in a particular size.