What will you be for Halloween?
Dressing up isn't just for your kids.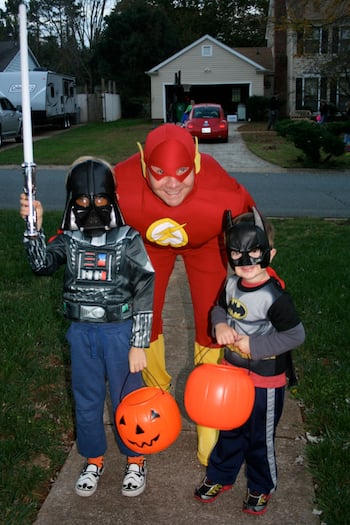 In our house, Halloween is a close second to Christmas in holiday popularity. Dressing up and getting candy is great, but gift (toys) and Christmas vacation is tough to beat. My kids love Halloween and Chase, my youngest (4), recently told his teacher "All Hallows' Eve is my favorite holiday. I think I know why.
When I was a kid I was something of a ham (shocking I know), so Halloween gave me a chance to not only dress up but show off my impression skills when trick-or-treating. When Roger Rabbit comes to your door and does a perfect "P-p-p-p-p-please, Eddie!" that's got be worth an extra fun size Reese's Peanut Butter Cup, right? In my 20s, I brought my talents to doors and Halloween parties as Beetlejuice and Bob Barker.
After a hiatus from Halloween fun for a few years (due to laziness and a lack of money to spend on costumes), I had kids. That meant dressing them up came to the forefront in October. It also gave me an opportunity to dress up for moral support. 😉 Last year, I was the Flash. The kids made me run to every house because "You are the Flash daddy, you can't go slow!" I've also gone trick-or-treating with them as Hank Hill & Dr. Gregory House from the TV show "House." Everyone just thought I was a hobo with that last one. My kids love the fact that dad also takes part in the fun. If you haven't done it in a while I highly recommend it.
My kids love pretending to be their favorite characters every year. Like their dad, they really dive into their roles. A change in voice, walk and talk can be expected. This year, Tyler (7) & Chase (4) will be Mario & Luigi, mustaches and all. Tyler already has the "It's-a-me, Mario!" line and is practicing jumping up and hitting imaginary question boxes. The boys have requested that my wife and I also take part in the Mario theme. My wife is going to be Princess Peach and I'm going to be Toad. If you don't know, he's shirtless except for a small vest. Apologies to anyone who will have to see me in this costume but my kids love when I dress up and according to them, Halloween is my favorite holiday. It almost is!