What St. Valentine Really Had in Mind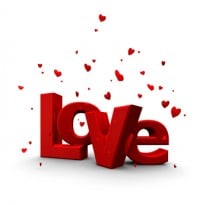 In just a few days, all kinds of couples — newly and long-time married, engaged, about to become engaged, newly dating to, God forbid, first dates — will partake in the Valentine's Day traditions. Over time, the day has come to represent expressive cards, flowers, chocolate, something stuffed, sometimes jewelry and always dinner at an overcrowded restaurant with a long wait and pressure to act madly in love with one another. Add a babysitter to the evening and time and money constraints are added to the mix. This scenario makes for a stressful evening, with much room for unfulfilled expectations and dull conversation.
I am not sure that is what our dear St. Valentine had in mind. Hardly an expert on love or relationships, I do have a few thoughts on what Valentine's Day is really about — celebrating relationships.
My husband, Ryan and I have known each other since 1991. We were acquaintances, friends, lovers, homeowners, married, home renovators and then parents. There are a lot "getting through" days (even weeks), many special days and the occasional intense loving moments. We would both say we are happily married, perhaps with an eye roll (from him) and then a jab (at him) and a smile (from me).
If Valentine's Day has you thinking about your relationship, these are some ways to reframe the way you look at the day and the days before and after. In many cases, it could be just a reminder to get back on track or move forward.
Reacquaint. Date nights are essential, but keep an open mind to a date breakfast or lunch. One couple I know gets a sitter on Sunday afternoons because they have the most energy and are relaxed to have fun with one another. If you are in the dinner and a movie rut, get on Groupon and look at something different to do. Try something new like rock-climbing, wine tasting or a cooking class. Ryan and I tried Sky High Sports on one date – we will never forget it.
Recharge. Sometimes the best way to be a better partner is to get alone time. With children, work, house chores and family obligations, finding time to do something you like as an individual is difficult. Carve out time to do what you like. It can be a 30 minute bath, a night with friends or an overnight at a friend's empty house watching movies or reading a book, but plan it and stick to it.
Relive. After long days and sometimes long nights, we forget why we are doing what we do with the person alongside us. We can get caught up in the day to day scramble to survive, easily losing sight of the purpose behind the madness of everyday life. Take a moment to think about why you chose to be here. Sometimes, it may not seem like the path you picked for yourself, until you think about the times you laughed together, the experiences you share uniquely as a couple and how that led to a life together.
Relish. Relish is a funny word because it has two separate meanings. It is a condiment that we add to food to make it taste better or it can be used to describe enjoyment. In any relationship we need both definitions of the word – sometimes, we need to add a little something to make it better, and we need to take time to enjoy what we have. It could mean planning special time together, looking through old photos, reminiscing about past vacations or dreaming about the future. The relish you need may be a counselor. Sometimes, partners need extra help with communication and reconnecting. Ryan and I have seen family therapists on and off throughout our 17 year marriage. We are fortunate that we both agree that sometimes we need a third party to help us push through tough times. Luckily, we have reached the other side each time with more information about one another, better coping skills and easier ways to communicate.
Rendezvous. To me this word has a whisper of risk to it, a late night meeting under the lamppost on a foggy night. I read a lot of detective novels and watch old black-and-white movies, so my imagination runs wild. But impromptu meets can add a little glitter to a partnership. Try surprising your partner at work with lunch, putting kids to bed super early (change the clocks — I have never tried this, but certainly not above it) and having a quiet night together, or turning on the music and dancing around the kitchen together.
Valentine's Day will most likely be a family affair at home for us. It's a Saturday night this year, so our celebration of love will be with pizza, popcorn and a silly movie with the kids. Ryan and I will try to get first dibs on the couch so we can at least sit next to each other and sneak in a smooch. Happy Valentine's Day!
Vanessa Infanzon is a Charlotte mom to three boys and writes about their adventures at eSpeciallyBen.com.