What Parents Need to Know About 'Show Dogs'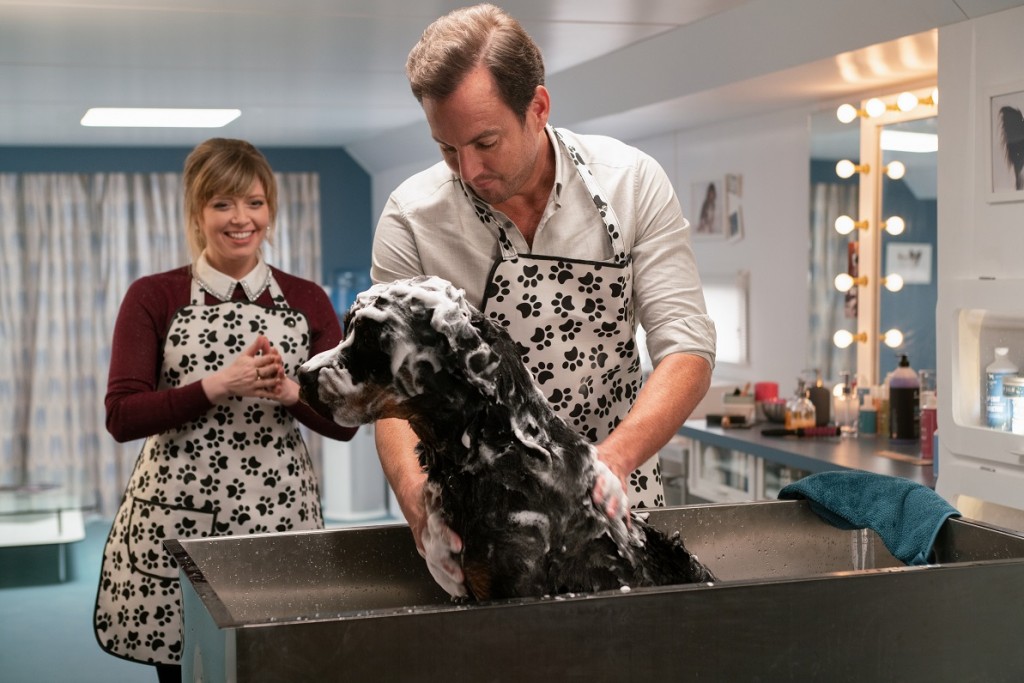 "Show Dogs" is a family comedy about a police dog who goes undercover with the FBI to compete in a prestigious dog show. On the surface, it sounds like a fun and entertaining movie for kids, but there is a dark and disturbing message hidden in plain sight.
Some people may not recognize it right away, because the movie plot is based on innocent things that really do happen at dog shows. Sadly, the filmmakers have used bits and pieces of real-life dog show practices to concoct a story about a talking dog who lets people touch his private parts and copes with it by going to his "happy place" while it's happening. This review is difficult for me to write, but I want to warn parents that this movie could be used to groom children to accept and endure sexual advances.
Yes, this is a scary proposition. Parents are concerned because this movie might be a soft sell for pedophilia, which is alive and well in Hollywood. This week, USA Today reported on the "grooming" message of this movie, and the film distributor issued an apology. Interestingly, some critics haven't mentioned the grooming message at all. Perhaps it's because this message is presented in such a way that it flies below the radar, and may not be detected right away. Some people will dismiss the movie's "potty humor," and insist that the gags are nothing more than dog farts, bites on the rear end, and jokes about glittery dog turds, but let's take a closer look at what happens in this movie and the message behind it.
---
The Plot
The story begins with a gruff Rottweiler, a NYPD K9 police dog named Max (voiced by Chris "Ludacris" Bridges), working on a case that involves a stolen baby panda. While on the case, Max meets FBI agent Frank (Will Arnett.) They begrudgingly become partners and set off on an adventure in Las Vegas, to go undercover at the Canini Dog Show in order to capture animal traffickers who stole the panda.
In Las Vegas, Frank poses as Max's owner and handler, and enters him in the competition. Max has never competed in a dog show before, but he sees it as an opportunity to get close to the inner circle of animal traffickers. To prepare for the dog show, Max gets a full body foil wrap, seaweed mud mask, bubble bath and a Brazilian bikini wax on his privates. Max yelps from the pain of the waxing, and licks his privates in an attempt to comfort himself. Meanwhile, Frank looks on and laughs. It serves Max right for being such a smart aleck.
As the competition begins, the dogs are judged on their speed, agility, intelligence and physical attributes. Max discovers that judges lift his tail and inspect his private parts. This is something that is done at actual dog shows, however, at the dog show, it's a quick look over for physical abnormalities. and does not involve touching a dog's privates. In the movie, it's implied that the judge's under-the-tail inspection involves touching the dog's private parts.
Max is determined to do well in the competition, and asks for help from another dog named Phillipe (voiced by Stanley Tucci) who is a three-time world champion show dog. Phillipe agrees to tutor Max and vows to turn the streetwise dog into the "Best in the Show" contestant. Phillipe admits that the judges inspection of their private parts is the hardest part of being a show dog. He encourages Max to zone out (as if engaging in Zen meditation) and to go to a "happy place" in his mind.
Before the competition, Frank tries to practice with Max. He touches Max's private parts, so that he can get used to it. Of course, Max doesn't like it and growls at Frank for him to stop. Coach dog Phillipe reminds Max that he needs to go to his "happy place" to get through it.
The day of the finals comes and if Max doesn't let this judges touch his private parents then he may lose the competition and forgo any chance of finding the panda that was kidnapped. Everything that they have worked for has led up to this moment. As the judges slowly begin to inspect Max's private parts, he goes into his "happy place." We see Max soaring through the clouds, zipping past rainbows, flowers, lavish fire hydrants and blazing fireworks. Max pictures himself dancing with Frank, and being dipped and twirled around. All of this happens in Max's "happy place" while the judges touch his private parts.
There also is an interesting backstory on Phillipe. The champion, award-winning show dog was abandoned by his owner, after he bit him and refused to go along with his plans. We don't know the specifics on what happened, but now Phillipe is homeless and just roams around at the dog show, with an implication that by not submitting to your handler's plans results in serious consequences, including abandonment.
---
Final Take
In order to crack the case, Max and Frank must learn to set aside their machismo and work together. Surprisingly, Max has a change of heart towards the end of the movie, and realizes he's been rude and disrespectful of authority. At times, Max found it hard to trust others. Now Max realizes that it's important to get along with others, and work together as a team, in order for them to accomplish their goals.
That is a good message, but in my opinion, it's just too little, too late. The emphasis on touching private parts seems to overshadow any redeeming qualities of this movie.
"Show Dogs" is rated PG for suggestive and rude humor, foul language and slapstick violence.