What Makes a Playground Great?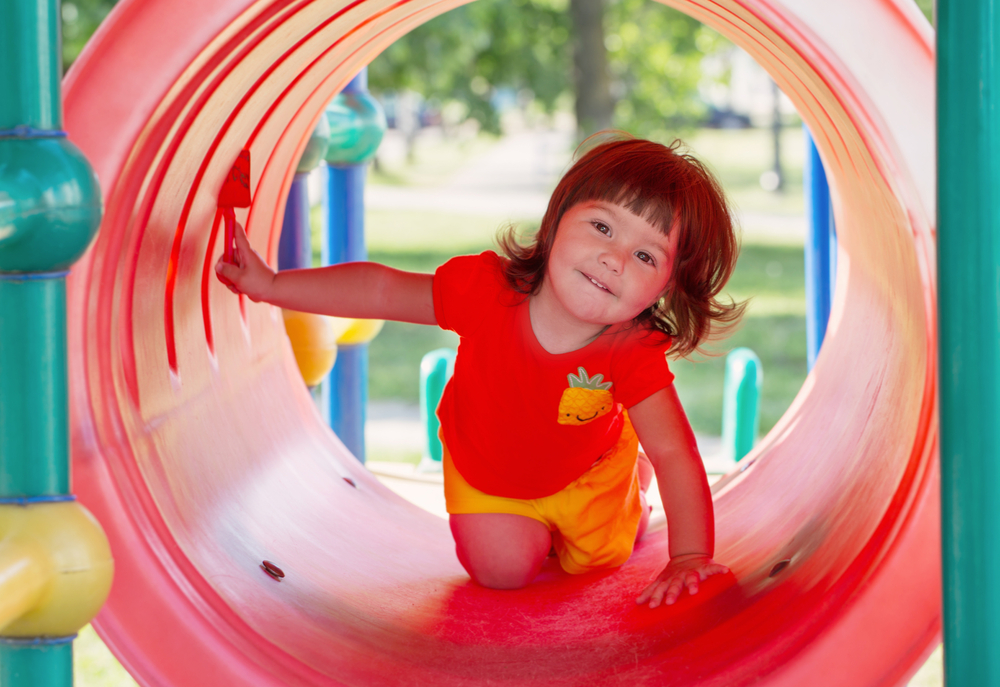 What makes a great playground? I am on the hunt to find out.
My family and I recently traveled to Orlando, Florida. We visited Magic Kingdom, an aquarium, the hotel pool, Disney Springs and an indoor playground at the mall. I want to say that Magic Kingdom was a favorite. I really do. The amount of money and planning almost demand that Disney fulfill its promise of being the happiest place on earth.
But, I don't know that I can.
During our trip, my children were 3 years old and 20 months. They both enjoyed Magic Kingdom, and the trip was not a wasted one. My 3-year-old was quite smitten over meeting Mickey Mouse. My baby laughed and babbled "It's a Small World" through the ride They enjoyed the magic of flying with Dumbo. We danced with "The Incredibles." We watched a parade and ate a Mickey Mouse cookie.
So, yes, they did have fun.
However, I cannot say that was their favorite part of the trip. They both had a great time at the aquarium and at the hotel swimming pool. Disney Springs and eating at Rainforest Cafe? Top notch experiences. But the indoor mall playground was probably their favorite. It only cost me the price of the smoothie I drank while I was watching them.
So I am drinking my $4 smoothie and trying to figure out what was so great about this playground. We've been to very similar playgrounds at the malls here in Raleigh. I blog reviews of playgrounds, but I found myself asking the question: what makes a great playground?
The perfect playground probably does not exist, or at least it varies from family to family. Different playgrounds work better in different seasons. Your favorite shaded summer play spot is probably not so great in the winter.
There are a few practical things that make playgrounds great for parents, like fenced-in areas, access to restrooms and shade and park benches, although I don't get to use park benches very often!
But what makes a great playground for the child?
Playgrounds create an environment that encourages unstructured play time. Disney did not offer much of that. Our lives don't offer much of that. But my kids need unstructured playtime like they need the air they breathe. I suspect yours do to. I think the main reason they had so much fun at the mall playground in Orlando is because I didn't have to hold their hands. I didn't tell them what to do or where to go. Our trip up to that point had been very structured and this was a chance to just be kids, to giggle, play and go down the slide 5,000 times.
Fortunately, almost any playground can provide this much needed outlet.
Playgrounds also foster imaginative play; some do more than others. Ever been to a playground with structures shaped like castles, boats or trains? Who can resist jumping right into the imaginary world of play. Just a little suggestion of something will have even small children riding trains and driving cars. Kids get lost in an imaginary world where they make the rules and everything makes sense, which is wonderful, since our adult world can be pretty overwhelming and confusing to them. Well, who am I kidding? It often feels that way to me too. As adults, we know we need times of escape, time to avoid reality … even if for a moment. Certainly, our children must feel the same way.
Raleigh and the surrounding areas have tons of parks and playgrounds, it's one of the things that drew us to the area. We love exploring and sharing our experiences with you.
Rachel Blackwood reviews local playgrounds, classes and children's activities at her blog, www.raleightotspots.com.
Carolina Parent Family Fun Resources
Don't miss out on the latest cool places to play. Check out these links.
5 Gated Playgrounds for Corralling Young Children in the Triangle
Cool Water Fun Places in the Triangle
Triangle Summer Movie Deals for Families
New Museum Expansions in the Triangle