What I've Learned About Family Photos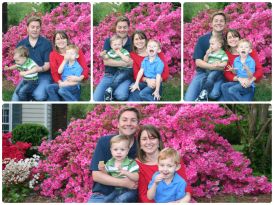 When you become a parent you also immediately become the family photographer. Thanks to digital cameras it's possible to take great pictures of your little one as he or she grows up in front of your eyes. It isn't as simple as dropping several hundred dollars on a digital SLR. Owning a great camera doesn't make you a great photographer and using Instagram and Flickr doesn't make you an artist. Just this week I was reminded of how difficult it is for us to get a simple family picture taken. Here are the truths of do-it-yourself family photography.
Few Pics of All of Us – Since My wife and I are the ones taking the pictures there are very few photos of both of us with our two boys. We have 7,159 photos in our iPhoto library. Less than 100 of those feature all four of us together and less than 10 have all of us looking at the camera at the same time. We attempt a picture of all four of us at least twice a year. Once on Christmas morning in our pajamas and when our huge Azalea bush blooms in the spring (see above). I'm a fan of candid photos but a few posed photos are nice to have. Get a friend or relative to be your designated picture taker.
You Need A Game Plan – Now that you have someone to take a picture of your clan, make sure everyone is prepared. You have about a 4-minute window before your chances of getting a good group photo are gone when young kids are involved. Pose the kids too early, fail to scope out the background beforehand or take too long getting in position and you're out of luck. We've realized that hot, cold, tired, hungry or thirsty kids don't do well with picture taking.  Make sure the family member or friend taking your picture knows how to shoot without putting his or her finger over the lense, can see through the viewfinder and understands how the auto focus works. Your designated picture taker should be invested and preferably sober. That's nearly impossible during the holidays.
Not All Professional Photographers are Created Equal – There's a 90% chance that even with help from your designated picture taker you got subpar results. At this point, it may be time to turn to the pros. You can spend a lot of money having a professional photographer shoot family photographs but that doesn't guarantee you'll get exactly what you want.  You need to know your style (real-life, traditional, posed, edgy) and find a photographer to match. Ask friends who they've used and loved and then check their website to see if it their work fits your style. Then again, you could just wait until they get married. Those pictures usually turn out nice.
WCCB News Rising Host Derek James balances a full-time job in the glamorous world of television news (including a 2:30am wake up and stale coffee) along with managing chaos every afternoon for 4 year-old Tyler and almost 2 year-old Chase.
See more from Derek: @DerekJamesTV on Facebook and Twitter.