What It's Like to Be Pregnant in the Year of COVID-19
A mom-to-be shares how the coronavirus has affected her second pregnancy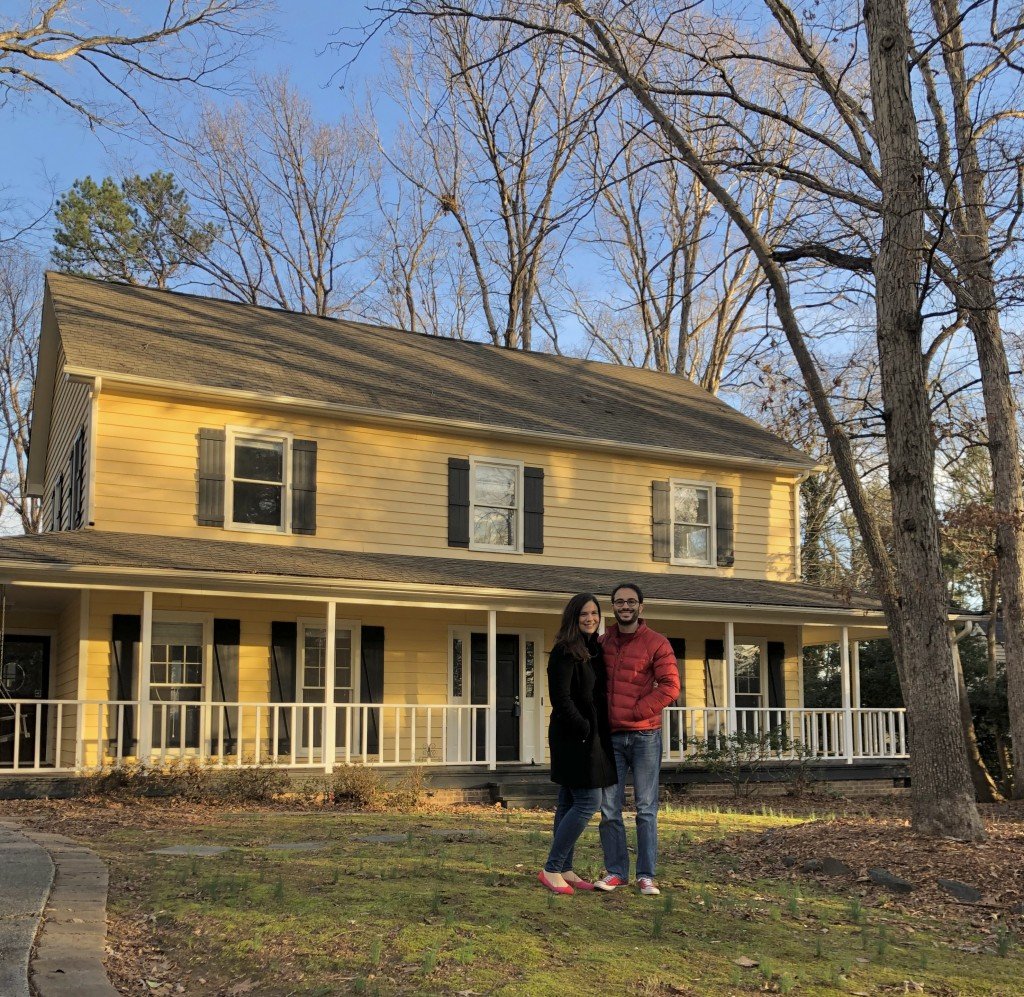 Less than three weeks into 2020, my husband, Ely, and I had a new home and a positive pregnancy test.
We'd started trying to get pregnant around the time I was spending my evenings casually perusing Zillow listings. I adored our rental townhome in Dilworth, but our small, two-bedroom space wouldn't accommodate a 2-year-old and a newborn.
The yellow, two-story home with a wrap-around porch in the Meaderis neighborhood was the only house we looked at. We went to an open house about a week before Christmas, put in an offer the next day, and closed on the house January 17.
Two months later, the bare walls of our new house would be all I'd see for weeks. And weeks. And weeks.
When organizations began to cancel national conferences and officials threw out terms like "flatten the curve," it took me a bit to realize the gravity of the situation—to pause and use a paper towel to open that door at work, to second-guess grabbing a cookie from the platter in the break room.
But then, The Mint Museum, where I'm the director of marketing and communications, closed its doors to the public. The staff was encouraged to work from home. My mother-in-law canceled her weeklong trip to visit us. Our friends' wedding in California was postponed.
It all became very real, very fast. COVID-19 wasn't just in China and South Korea and Italy. It was here. And as a pregnant woman trying to grow a little tadpole into a fully-fledged baby, I had to be responsible and take every precaution seriously.
So Ely set up my work-from-home station. We pulled Jacob out of daycare to decrease exposure, while still footing the hefty monthly bill. I stopped going to the grocery store, the pharmacy, Target. Ely ran those errands, masked, and only when the stores would be less crowded.
But in spite of all my research and recalibrations, I still had a blind spot. And one week into our work-from-home-with-a-toddler-running-around mayhem of a routine, Ely confronted me about it. "I'm not sure we should see your parents for a while," he said.
My dad is a family practice doctor in Charlotte. He hadn't seen a coronavirus-positive patient—that he knew of. But some of his patients could have COVID-19 and asymptomatic. And even if my dad never got sick, he could be a carrier and pass it on to me.
My OBGYN assured me that many pregnant women in China and South Korea had contracted coronavirus and gone on to birth healthy babies. But that outcome didn't mean being pregnant with COVID-19 wasn't grueling. For one: I couldn't fathom a two-week quarantine from Jacob and Ely. I could practically hear the wailing at the door, the exhausted and frustrated Ely, flying solo on childcare and household management, still trying to do his job from home, too.
The biggest reason my doctor was concerned about my risk for coronavirus: my asthma. I was diagnosed at 18 months old and have taken daily inhalers my whole life. It's controlled, yes, but even the simplest cold can launch me into a week-long tailspin of wheezing, emergency inhalers, and oral steroids—just to settle my airways enough to get a decent night's sleep. If I were to get coronavirus, my asthma would undoubtedly spiral.
Since moving to our new house—only about 10 minutes from my parents' home, where I grew up—we'd seen my mom and dad twice a week. And once we pulled Jacob out of daycare, my mom watched him one day a week. Those hours of uninterrupted productivity were precious, sacred. So when Ely first brought up the topic of not seeing my parents, I wanted to ignore it. But I agreed to think about it.
The next morning, Ely and I—both between meetings—were perched on our front-porch steps, watching Jacob tinker around with sidewalk chalk. "Have you thought more about seeing your parents?" he asked. I started to cry. Jacob laid his head on my leg, and said, "Mommy sad."
"Yes," I replied. "Mommy is very sad."
THE GENDER REVEAL
In 2018, I was 20 weeks along when Ely joined me at the OBGYN to find out the gender of our first. When the sonographer told us the growing baby in my belly was a boy, I asked her twice if she was sure. We walked out of the doctor's office with a dozen ultrasound pictures, poring over them as we walked to the car and drove back to work uptown.
Not this time. I'd have to do the anatomy scan alone and FaceTime Ely during the ultrasound. So the morning of the appointment, I parked in the deck, put on a mask for the first time, and dug in my purse for a tissue to push the elevator buttons. "Is it OK to use the same tissue to open the office door?" I wondered. When I arrived at the office, the receptionists were in masks and a verbal confirmation was all I needed to give, no sign-in required. I then wandered around the waiting room, now devoid of all the People magazines I'd loved to browse at previous appointments. Scared to sit down—when were these seats last cleaned?—I stayed standing.
When a mask-clad nurse called my name and ushered me to the scale, I was grateful I'd worn socks. Inside the ultrasound room, the sonographer smiled as she squeezed the warm jelly on my belly. I FaceTimed Ely, as he played with Jacob on our front porch, pointing the camera at the ultrasound screen, hoping they could actually see something. The sonographer showed us the baby's feet, legs, arms, belly and head. Then the news: "It's a girl!"
Lying back on the table, happy tears pooled in my eyes and spilled out the side. I was so excited for this new adventure. Instinctively, I wiped my tears away and then realized that I shouldn't have touched my face. I zipped up my pants, grabbed a tissue from the box by the sink and vowed to do better. I grabbed a second tissue to open the door.
GROWING PAINS
Sometimes, being pregnant in the COVID-19 era feels oppressive. My second pregnancy was supposed to be easier, less fraught with worry and indecision. But instead, the opposite has been true.
I'm glad it's my second pregnancy, though, not my first. While I miss seeing my wonderful OBGYN, Dr. Nora Arronte, and hearing that little heartbeat every couple of weeks, virtual doctor visits are highly efficient—and no masks required. I weigh myself before the call, she makes sure I'm still feeling the baby move, and we talk through any questions I have. In the last three months, I've only been to the doctor's office two other times: once for the glucose test and again for the T-dap vaccine.
Working from home, I've also gotten a lot more exercise this pregnancy than my first. Unable to do, well, anything outside the confines of our neighborhood, the one thing I could do to put a little distance between me and my laptop was go on a walk.
So most days, I lace up my running shoes and go, often with my 30-pound toddler in tow. When I was pregnant with Jacob, my second and third trimesters were plagued by sciatica, a condition often brought on during pregnancy that involves pain radiating along the sciatic nerve, which runs from the lower back to the butt. Exercise helps minimize the pain, and thanks to my COVID-19 walking routine, I've mostly kept sciatica at bay this go-round.
Plus, every pregnant woman dreams of wearing those comfy yoga pants that reach your bra line all day. When you're in the office, you have to put in more of an effort. But when you're working from home with only Zoom calls on tap, it's no problem to answer the siren call of comfort.
I often found myself jealous of Ely, though—envious that he can stride, masked, into a store without crippling fear. But then I feel our little girl's flips and flutter kicks and realize Ely doesn't get to feel those either.
BUCKLE UP
After weeks of daily FaceTime calls, we finally visited my parents on Mother's Day. It had been two months, and—miraculously—no one in my dad's practice had dealt with a single COVID-positive patient. Plus, many of his own patient visits at the time were virtual.
But this was only the first of many grueling decisions. Now I'm nearly 29 weeks along, and we're still debating: At what point could I step foot in a grocery store? (Still haven't.) Could I pick up my own prescriptions at Walgreens? (Not yet.) Should Jacob go back to daycare? (Eventually. But only part-time and when we're really, really desperate.) Could I return to the office, even if it was only one day a week? (Only if I absolutely had to.)
It's unsettling to think that I'll grapple with all of these questions yet again when I have our baby girl in early September. I'm sure we won't get the daily visits and meal train of our firstborn. We'll have to analyze who to let in the circle, who to FaceTime instead of hug.
But here's what I know for sure: Just like with motherhood, there's no roadmap. In the COVID-19 era, you just buckle up.
CAROLINE PORTILLO is the director of marketing and communications at The Mint Museum and the former editor-in-chief of SouthPark magazine and Carolina Bride