What is Kangaroo Care?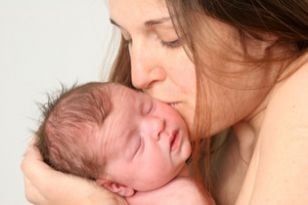 There is no greater reward for 40 weeks of pregnancy than holding your baby right after she's born. But did you know this first snuggle also is very beneficial to both Mom and Baby? Skin-to-skin contact and breastfeeding, especially right after birth, are the two main components of kangaroo care, a natural way of caring for your newborn recommended by doctors and organizations around the world.
Kangaroo care is when a newborn is placed face down between Mom's breasts and covered with a blanket, forming a pouch like a kangaroo. This environment helps babies breathe easier, regulate their temperature, sleep better and breastfeed faster. It was developed to care for premature babies, but the technique has so many benefits for all newborns, it now is encouraged with full-term babies, as well.
"It was awesome!" says Clare Miller of Huntersville in describing the experience with her first-born. Her son, now 2 ½, was born three weeks early – breach and jaundiced. Nurses slipped him into a special wrap shirt Miller wore to make kangarooing easier, and she credits this skin-to-skin contact with his fast recovery. "He only had to be under lights (for jaundice) for two days. He slept really well, kept his body temperature and latched on well."
Gretta Blythe, manager of The Nursing Mother's Place at Presbyterian Women's Center in Charlotte, is a strong proponent of skin to skin and breastfeeding. "Kangaroo care is very important for Mom and Baby because it helps in bonding and helps the baby stabilize and adapt after birth," she says.
The technique also helps with newborns' metabolic rate, cardio-respiratory rate and even their immune system. The contact stimulates antibodies in Mom, which are transferred when her baby nurses. Also, the position encourages quicker and more successful breastfeeding, as well as longer and exclusive breastfeeding once the family goes home. "All this is a huge benefit for the baby," says Blythe, a registered nurse and internationally certified lactation consultant.
Kangaroo care starts in the delivery room: If the newborn is stable, she is dried, diapered and placed face down on Mom's chest between the breasts, with a blanket over her. Procedures, such as weighing or bathing, are delayed. Ideally, says Blythe, skin-to-skin contact is made within the first half hour and continued until the first breastfeeding.
Even mothers who have had a difficult vaginal delivery or a cesarean section can do this. The only reason it can't be done is if the mother or her baby are unstable; however, says Blythe, parents are encouraged to hold their babies skin to skin as soon as the baby is medically able. The contact helps their temperature improve and brain mature faster, and allows for shorter stays in intensive care.
Dads and others can kangaroo babies, too. Janice McGee of Charlotte wanted her twins, now 13 weeks, to have skin-to-skin contact as soon as possible. But she also knew she was going to have a c-section under general anesthesia. McGee enlisted her twin sister and a close friend to help her husband, Tom, hold the babies while she recovered. Even though it was three hours after birth until Janice could hold and breastfeed her twins – when most newborns have fallen asleep – within 30 minutes in her chest, the twins latched on and fed well.
Once a family goes home, it's important to continue frequent skin-to-skin contact until the baby is 4 to 6 weeks old. Studies have shown babies under kangaroo care cry 10 times less and for shorter periods, grimace less during immunizations and smile more at 3 months.
There are long-term benefits, too. Miller, who "wore" her son at home several hours a day for three or four months, says she can see a difference in her son's demeanor. "I see other boys the same age, with parents who have the same parenting and discipline style – and (my son's) such a sweetie!" She adds, "My kids are happy and content and feel safe with their parents. Kangaroo care starts at birth, but wait till you see the effects years later."
Why 'Roo Care?
In Bogota, Colombia, incubators and steady electricity in neonatal intensive care units were in short supply in the 1970s. When mothers, instead, became the incubators, holding their babies skin to skin, preemie mortality rates dropped from 70 percent to 30 percent. The technique is endorsed by many organizations, including the American Academy of Pediatrics, World Health Organization and UNICEF.
Benefits to babies include:
? Stabilized breathing
? Stabilized temperature
? More restful sleep
? Improved brain development
? Improved attachment to Mom
? Shorter stay in NICU
? Easier transition from wake to sleep
? Less crying