What Dads Really Want for Father's Day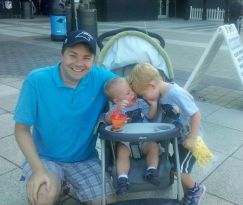 As we approach Father's Day we are bombarded on TV, radio and the web with lists and stories about what dad does and doesn't want for his big day. We hear the same things we hear every year. Don't buy dad socks or ties; he wants tech gadgets and grilling stuff. Most of these lists either come from surveys (many done by tech giants) or are simply made up.
Instead of generating another typical list I turned to Facebook to find out what dads really want (I'll tell you what I want later). My instructions to dads: tell me what you really want for Father's Day and where you live. Asking for something specific on Facebook (or anywhere else) is usually a great social experiment. Some follow instructions perfectly while others miss the mark.
That said, here are some of the responses from my question: What do you really want for Father's Day?
"Concert tickets." – Marino Radke, Charlotte
"I just want my family to be healthy, happy and together. I love my 3 kids and beautiful wife. Some new tools would be nice too." – James Peek, Morganton
"A day of golf with a massage after." – Craig Shoemaker (Comedian/Actor), Los Angeles, CA
"I just want my children to grow to be great men and even greater fathers themselves." – Joshua Bagley, Rock Hill
"A drummer for my band." – Dwayne Payne, Lowell
"A day to play in the woods." – RJ Manoni, Charlotte
"I am a father and a mother too! I just want a day off both of my jobs and to get paid!" – Diane Dantes, Rock Hill
Different guys (and gals) want different things. Sure, it's nice to get a gift but believe me when I say most dads don't expect it. Appreciation is all I need. A nice card, some quality time with the kids, a little me time too, that's it. And control of the remote. And a steak. And a cold one.