What are You Doing this Summer?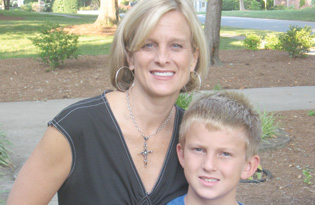 Moms and dads from Huntersville to Charlotte to Matthews are asking each other the same questions: "What are you doing with your kids this summer?" "Is your son or daughter booked for any camps?"
I felt confident I had all the answers, until a recent turn of events changed our summer plans and reminded me of the famous quote Steinbeck borrowed to title once of his books — but with a little twist — "The best-laid plans of moms and men, often go awry."
Months ago, I created a complicated hybrid of activities for our calendar built around baseball tournaments, church excursions, sleepover camp and family vacations, with my trusted babysitter filling in the gaps. But in one disappointing moment, the baseball plans came to an abrupt end, and we were left staring at a wide-open summer with a lot more freedom and many hours to kill.
Not only were we faced with a whole new game plan, but we also realized our family calendar was marked up — in ink — with week and weekend commitments that were no longer a reality. Note to self: Write in pencil — changes happen! So, we ditched the family calendar, bought a new one and started with a clean slate.
Now, it feels good to look into June, July and August with anticipation of what might happen (blocks of days open to possibility), instead of staring at a grid of commitments to be fulfilled.
With our newfound freedom, we are considering a weekend camping trip, a drive to visit the grandparents and at least a few of the free movies and outdoor concerts listed on page 51.
The prospect of a jam-packed summer and a calendar with no white space originally had me giddy with delight. But the boys in my family, including my husband, prefer the opposite — days of down time, hours of doing nothing but relaxing, with an occasional fun outing thrown in for good measure. This year, maybe I'll be convinced to follow their lead.
Whether you're a stay-at-home parent wondering how you'll keep your children engaged (see page 44), or a working parent juggling meeting schedules and mobilizing the babysitter brigade, you've certainly thought about the three months of summer stretching ahead. Even if you haven't lifted a finger to make a plan, we can help.
In this month's issue we focus on summer fun, with hundreds of places to go and things to do from the mountains to the beaches, or right in your own backyard. On page 22, pick up some helpful tips from a well-seasoned camping mom and explore the wonder of family camping at six great locations in North Carolina. If you prefer to grab the suntan lotion and chill, check out Cool by the Pool on page 26, with sun accessories for everyone from the baby to the big brother. On page 32, discover the local restaurants, parks and attractions voted by you, our readers, as the 2010 Family Favorite winners in this year's annual quest for the best.
And don't forget Dad this Father's Day! Send the kids with him on a fishing trip for a little dad-son or dad-daughter bonding and an experience they'll never forget. We have tips on page 39 to help make fishing with kids fun and safe, which includes a list of local spots to drop in a line and snag the big catch.