What A Screen-Free Week Can Mean for Family Life
Small changes could be the start of something big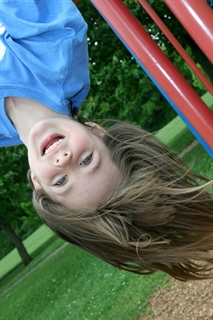 "My kids got dirty!" one parent happily reported.
"We built a fort in the backyard," said another parent.
"We talked more."
"We read aloud every night."
"It's such a relief not to be arguing about the games," said the mother of an 8-year-old.
All of these comments came from parents who took the Screen-Free Week Challenge. Getting dirty, building forts, reading aloud every night–small changes, perhaps. But small changes could be the start of something big: a healthier childhood full of family attachment, physical touch, movement and time in nature.
Some parents identified overuse problems and used Screen-Free Week to begin the reset process for their child: "Since he's been off (video) games he has been playing outside constantly and more engaged with his sports," said the mother of an 8-year-old. "It's such a relief not to be arguing about the games and to know I'm not giving in again. Knowing how much it affects his development gives me the strength to stand firm against re-starting the cycle."
What cycle is she talking about? The cycle of losing video game privileges because he wouldn't get off the games when asked. The cycle of having outbursts, of losing his patience, of needing "more game time" as a motivation to do anything. This mother attended a Families Managing Media presentation at a local church, where she listened to a detailed presentation regarding the brain science related to the effects of screen overuse. She came away with new resolve.
"I used the games as a reward for good behavior. It was the only way I could get him to do anything I asked and I thought it made life easier for me. I didn't relate his problems with social skills, his impatience, lack of empathy and lack of self-control to the gaming but now I see the connection," she said.
It's a pattern we see frequently, and so does our friend, integrative psychiatrist Dr. Victoria Dunckley, MD, author of the book Reset Your Child's Brain: A Four-Week Plan to End Meltdowns, Raise Grades, and Boost Social Skills by Reversing the Effects of Electronic Screen Time. In her private practice in California, Dunckley sees families with children who've been diagnosed with everything from ADHD to depression to insomnia, and her first step is usually a four-week fast from screens.
According to Dunckley, "right brain" activities help integrate the entire brain, including the frontal lobe, "by providing all the proper ingredients: utilization of all five senses, human interaction that fosters a sense of competence and feeling cared for, exposure to nature and sunlight, and actively experience a three-dimensional physical environment."
To put that in layman's terms, what's good for the brain? Getting dirty, building a fort, reading aloud and talking to your parents.
Discussing Harvard psychiatrist Dr. John Ratey's work, Dunckley writes, "Exercise literally changes and grows the brain; it fights depression, poor focus, insomnia, addiction, and anxiety by raising and balancing the very brain chemicals and hormones that become imbalanced from using electronics."
What does reduced screen time or being screen-free mean in a child's life?
As part of our modern world, technology is here to stay. But too much technology is not good for a developing mind. For a child–and even for a teen–reducing screen time means decreasing stress. While fun and entertaining, screen use is stressful for all of us, especially for an undeveloped brain. Yet a Kaiser Family Foundation study in 2010 estimated that children ages 2-6 spend two to four hours per day in front of screens, and children and teens ages 8-18 spend seven-and-a-half hours per day, a 20 percent increase from 2005. And the trend is on the way up.
Every child deserves a chance to have certain carefree elements in their childhood. Making that happen is a challenge that all parents face. Families Managing Media is here to help you find that balance, reduce the screen use in your child's life, and restore peace in your home. Remember that you can take a screen-free week anytime. It may just be what you need to get your kids back on track!
"We were in an endless cycle of him earning the games and then losing the 'privilege' because he wouldn't get off the game when he was supposed to, had terrible outbursts about it, etc," wrote the mother of the 8-year-old boy. "My eyes have been opened and I thank you and all those who have researched this topic. I'm so glad that we can intervene now rather than try to do it later when I'm sure it would be much harder."
---
Are you struggling with screen conflicts in your home?
You are not alone. We help families understand the many working parts of their child's digital worlds and offer solutions to overuse and screen addiction problems. Join us this summer for a Kids' Brains and Screens Workshop. For more information go to www.familiesmanagingmedia.com
Share your screen-free stories: Please e-mail me melanie@familiesmanagingmedia.com with stories of ways your family spent a screen-free week. Send photos. With your permission, we'll share some of those stories in this blog in the coming months.