Wellness or Bust
The Hill family faces life's challenges with a newfound respect for wellness and self-care.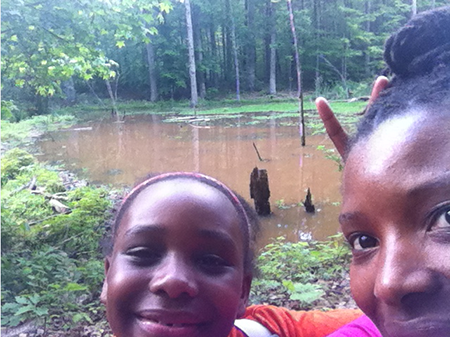 The Dalai Lama, when asked what surprised him most about humanity, answered "Man. Because he sacrifices his health in order to make money. Then he sacrifices money to recuperate his health. And then he is so anxious about the future that he does not enjoy the present; the result being that he does not live in the present or the future; he lives as if he is never going to die, and then dies having never really lived."
That quote hits me pretty deep. You've may have read it before. I think the quote circulated through various social media channels a few years ago. I'm always late to the social media party; I email these profound and life-altering messages to everyone I know only to find out that the very quote, video or picture was already a high-trending post three weeks ago or so. I tickle myself sometimes.
To me, the Dalai Lama's quote is a moving reminder that there is no amount of logic that will ever make sense of my personal hierarchy system: kid > work > household > me. Or sometimes it's: work > kid > household > me. The reality is that everything I do at home and at work all begins with 'M' and 'E'. Second to a higher power, of course, there's always ME making the appointment … shoot, ME trying to remember the appointment! ME buying the food, ME washing the clothes, ME checking the homework, ME scheduling the conference call, ME sending the email …and, oh yeah, there's also ME waking up each morning, God willing (let's make sure I account for that very important 'to-do'). So, you can see where I might be making my mistake, right? I mean, this isn't rocket science…why do I continue to put myself last? And what will it take for me to finally put my wellness first?
I am appreciative, and even rejuvenated, by the Charlotte Fit Family Challenge's decision to select us as one of the Spotlight Families in spite of our circumstances. I wasn't sure how great of a Spotlight Family Lena and I would be considering our family wasn't one of the nuclear types; and to break the mold even more, I've spent the last 2.5 years traveling back and forth to Ohio for a very long and drawn out custody case. It's been messy.
Interestingly enough, I am defending my right to put myself first for once, since becoming a mother … this might have a little bit to do with my reluctance to put my wellness first. Let me tell you that making the choice to put your wellness first can really stir the pot. It can make other people feel very uncomfortable. Perhaps these people truly don't understand the importance of self-care, or maybe they understand it plenty, but find themselves outwardly critical of something they inwardly envy. Maybe some of these people lack the courage to carry out self care themselves? I'm just hypothesizing … I can't say for sure.
If my personal experiences have taught me anything, it's that we should all begin exercising our right to practice self-care and to put our wellness first — before the stakes get too high. Before we have been conditioned to push our needs to the back. Before we become guilt-ridden for even thinking of doing such a thing. While it's never too late to stand up for yourself, waiting until there's a lot on the line can make it much more difficult to take even that first baby step. Fit Family Challenge Wellness expert, Maureen Carlomagno, has given us plenty of fun and engaging exercises that make it a bit easier for me to ease into this wellness way of thinking — and I see it having a positive influence on me.
On Mother's Day weekend, it just so happened that I had to appear at a court hearing in Ohio. So, for the past few weeks, my hierarchy looked sort of like this: court > work > kid > court > court > Fit Family Challenge > court. Not good. I'm from northeastern Ohio, so in my effort to turn lemons into lemonade, I decided earlier on that I would get the court stuff out of the way then travel a few more hours to see my family. This would be really convenient for me because I wouldn't have to worry about purchasing or mailing Mother's Day gifts (my presence, along with Lena's, would be gift enough. ha!). After a pretty exhausting hearing, however, I started to get this overpowering feeling that I shouldn't travel any more than I needed to, and that after the hearing, Lena and I should just go back home. This was my wellness voice speaking to me! I knew that voice — I've heard it before, but I can't tell you how often I actually listened to it.
I had a bit of an inner conflict going on at this point because I had already made my plans, and I was concerned that my family would be greatly disappointed. It's also been my experience that people can perceive some sort of personal rejection when they see or are on the other side of others putting their wellness first. As the saying goes, "perception is reality." But I knew that my family would understand considering our situation, and they did. The worry was for nothing. Lena and I had a wonderfully, peaceful drive home and even found time to squeeze in a set of jumping jacks during our pit stops, and we did them underneath a beautiful, glowing rainbow.
We made it home, rested well and decided that on Mother's Day, we would continue our new routine of walking the trails at the nature preserves. We really have picked up a new activity through the Fit Family Challenge that I'm sure will last us a very long time … hiking each week at a destination or trail that we've not walked before.
This time Lena and I walked the trails at The Ribbonwalk Nature Preserve and took in plenty of beautiful scenery. On our walk, Lena and I talked about how great of a decision it was to listen to what was best for us (and for ME) and to drive home a bit early. We talked about the importance of making these types of choices for ourselves and we also talked about the importance of truly living in each moment that we share with family and friends so that when the time comes to make these wellness decisions and sacrifice time that would otherwise be spent with others, we can make that decision knowing we don't lose by putting our wellness first. Everybody gains.
---
Ami Hill, 35, and her daughter Lena, 9, are participating as one of our 2016 Fit Family Challenge spotlight families. Learn more about their healthy family journey here, and follow along with Ami as she updates us this Spring and Summer in the Fit Family Challenge Blog.