WEEKENDER: Birmingham
A visit to The Magic City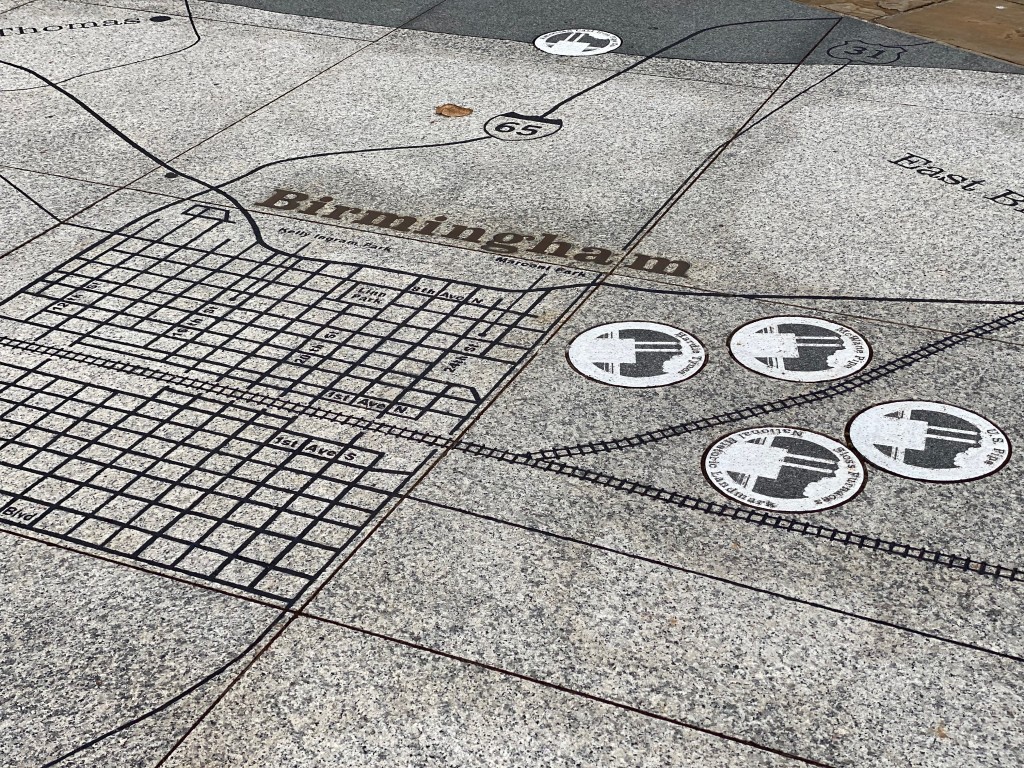 Birmingham, Alabama earned the nickname "The Magic City" thanks to its vast supply of iron ore, coal, and limestone, the three elements needed to produce steel. It experienced rapid growth following the Civil War and into the 20th century, when it became synonymous with the Civil Rights Movement. Today it's home to museums, music venues, and some of the country's best barbecue. It's also a six-and-a-half hour drive from Charlotte (or a one-hour flight on American Airlines), making it a fun, educational, and accessible weekend destination for the whole family.
STAY
The Grand Bohemian Mountain Brook puts you within walking distance of the zoo, botanical gardens, and an array of shopping and restaurants. The hotel has an outdoor pool, courtyard, and rooms with two queen beds and a mini fridge. The Hampton Inn & Suites Birmingham-Downtown-Tutwiler is a historic hotel in The Civil Rights District. Enjoy pet-friendly rooms, an onsite fitness center, and free daily breakfast. Select rooms include a microwave, refrigerator, and sofa bed if you have a bigger group.
EAT
Start your day at Hero Doughnuts & Buns, a local institution known for its brioche-style yeast doughnuts. The menu also includes breakfast sandwiches, loaded hash browns, and draft lattes. Grab lunch or dinner at Little Donkey Mexican Restaurant in Homewood. Enjoy tacos, margaritas, and a kids' menu with staples like quesadillas, chicken tenders, and fried drumsticks. If you came for the barbecue, visit Saw's BBQ, which has six locations across the city as well as a food truck. Feast on barbecue sandwiches, platters, or family meals with sides like collards, grits, and onion rings. If you want to sip some local beer, head to Back Forty Beer Company, which has up to 25 different brews on tap at any given time, plus burgers, pizzas, and gourmet salads. Kids can run around in the outdoor biergarten or hang out in the taproom and catch the big games on multiple flatscreens.
PLAY
Vulcan Park & Museum is home to the largest cast iron statue in the world. You can take the elevator up to the statue's lookout tower or climb the 159 original marble steps to the top. Inside the museum, kids can go on a scavenger hunt to learn about the city's history; outside you have some of the best views of Birmingham. If you head downtown, visit Railroad Park, a 19-acre green space with walking trails, two playgrounds for little ones, and three skate bowls for older kids. The Birmingham Botanical Gardens is a 67-acre urban oasis with two dozen garden spaces, outdoor fountains and sculptures, miles of walking paths, a horticultural library, and endless opportunities for kids to learn and explore. About a mile down the road, The Birmingham Zoo is home to an alligator lagoon, butterfly house, black bear exhibit, and more than 750 animals.
KICK OFF THE HOLIDAY SEASON AT HOMESTEAD HOLLOW
Homestead Hollow is a picturesque venue about 30 minutes northeast of Birmingham's city center. This pioneer-era farm has original cabins, a working still, an old-time general store, and children's activities like wagon rides, moonwalks, and face painting. Three times a year, Homestead Hollow holds festivals featuring fine arts; pioneer demonstrations of wood carving, blacksmithing, wood stove cooking, and quilting; live local entertainment, and a food court with barbecue, funnel cakes, fried pies, ice cream, footlong corn dogs, and more. The 2022 Homestead Hollow Christmas Festival takes place November 11-13 from 9 a.m. to 4 p.m. Visit homesteadhollow.com for more information.