Wedding Etiquette for Guests
Tips for attending weddings with your kids in tow, plus do's and don'ts for keeping it classy.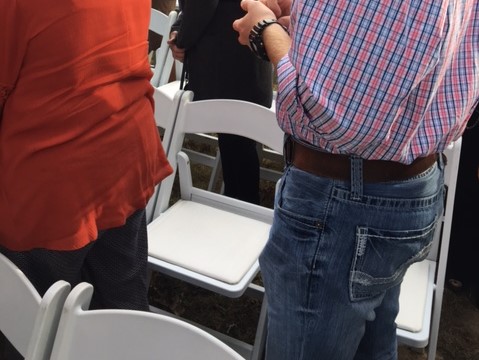 When most people think about "wedding etiquette" they typically think about all the things the bride and groom have to do to pull off a proper, classic, and tasteful wedding. However, thoughtless wedding guests can easily ruin a wedding, or at least, have the bride wish she never invited you!
Below are some great tips to review so that you make a great impression on the bride and groom, show you've got impeccable manners, and ensure that you won't be black-listed from future family weddings.
Kids and Weddings
Do:
If you're bringing your baby, make sure to sit in the back during the wedding ceremony so that if he/she begins to cry, you will be able to leave quickly and without disturbing the ceremony.
If you're bringing young children, bring some things to keep them occupied during the ceremony and/or reception (things that don't make noise) so that they will have fun and also not disturb the ceremony.
Make sure the kids are dressed appropriately. Your 5-year-old son doesn't have to be dressed in a tux for a black-tie wedding, but he shouldn't be wearing shorts either.
Don'ts:
Ask to bring your child. Whoever the invitation is addressed to is who they have invited to the wedding. So, if your wedding invitation says, "Sarah Smith and Guest" you can bring one other person of your choice. If the invitation only says, "Mr. and Mrs. Smith" this means your children are not invited. It's not ok to ask the bride or groom if you can bring your children if they have not been asked.
Let them run wild! During the ceremony and/or reception make sure your kids sit still when they need to (during ceremony and during dinner), and behave appropriately. A tip for helping with this is to tell them that they can either stay with a babysitter, or they can come to the wedding if they can promise to have nice manners. If they choose to come to the wedding, which they likely will, go over the things they need to do to make the bride and groom happy and impress the other guests. Role play things like greeting people (shaking hands, looking them in the eyes, etc.), eating politely, and saying please and thank you. Once they know the expectations, you can remind them at the wedding that they made a promise.
Let them be picky. At a wedding during a served meal, there may not be a "kids menu." If you know your kids might not like what's on the menu, come prepared with food and snacks they like to give them during the meal.
Let them be glued to their phone/electronics. Take the electronics away so that you kids can enjoy the wedding and be engaged with the people.
---
General Wedding Etiquette
Do:
RSVP promptly. The couple will be making many decisions based on the number of people who are able to attend the wedding. The head count affects how many seats are needed, how many favors must be purchased, how many meals the caterer should prepare, etc. So, please RSVP on-time.
Send a gift even if you do not attend. While it's not required, it is customary to send a gift to the happy couple, even if you do not attend the wedding. At the very least, a thoughtful card expressing your good wishes is a must.
Give a gift on the registry. A bride and groom will register for everything they want and need so there is no need for you to determine they want something else because it's what you like.
Don't:
Bring a gift to the wedding, though cards with checks or cash are appropriate. You may choose to have the wedding gift shipped to the couple's home before or after the wedding day (you have up to a year to send a gift, but try to do it within a month after the wedding). Bringing a gift with you means that someone in the wedding party will have to worry about how to get it home.
---
During the Ceremony
Do:
Attend. Sounds basic, but some people only attend the reception and skip the formal ceremony because they cannot be bothered. This is not OK.
Dress appropriately. See wedding attire guidelines below, but if you're in a place of worship, women should not have a sleeveless dress or show their shoulders. Make sure to wear a wrap or sweater.
Don't:
Be late. The time listed on the wedding invitation is the time the ceremony will begin, not the time guests are expected to arrive. If a wedding invitation says that the ceremony will begin at 4 p.m., be sure to arrive there by 3:45 p.m. so as to give yourself time to find a seat, chat with the other guests and get settled.
Take pictures or post things on social media during the ceremony. Not only is it distracting to other guests, you may get in the way of the wedding photographer. Also, refrain from posting anything about the wedding until after the ceremony is over. It's just rude to be on your phone during the wedding.
---
During the Wedding Reception
Do:
Mingle with other guests. While you may be assigned to a specific table for dinner, you are welcomed to walk around the reception and chat with other guests during the evening.
Have polite table manners. If you are unsure of what to do before, during or after a sit-down served meal or for a buffet, do some research. Click here for a quick table manners video to review some of the basics and more.
Don't:
​Get drunk. While a wedding is a time to enjoy yourself, no one appreciates a drunk guest embarrassing themselves. Drink alcohol in moderation.
Give a toast or speech unless you've been invited to do so.
Post anything unflattering or unkind. Refrain from saying anything that's "not nice" on social media about the wedding or guests, and also only post pictures that you know the bride would approve of.
---
Wedding Attire
For the wedding ceremony and reception, it's important to dress appropriately, but this can be tricky because wedding attire changes based on the time of day, location, style of the bride and groom, and the weather. If there isn't a dress code listed on the wedding invitation or on their website, below are some general tips that will help.
Daytime Wedding
For her:
A floral or single colored dress (not too much white on the dress and not black).
A skirt and a sweater set.
If it's summertime, a light-colored suit — avoid dark colors and anything that makes you look like you're ready to go to work.
Heels, sandals or sling backs (don't wear heels if you'll be on the grass!)
A beautiful hat that coordinates with your outfit.
For him:
A light-colored suit, especially in linen or seersucker.
If it's cool outside, a wool suit, a sweater and tie underneath a blazer, or a navy blazer with charcoal pants.
A button-up shirt, tie and pants dressed up with a blazer.
If it's formal, wear a dark suit — tuxedos are not appropriate before 6 p.m.
---
Evening Wedding
For her:
Dress as you would if you were going out to the theater or to a fancy dinner.
A cocktail dress — nothing too sexy, but something fun to dance in. Black is fine.
A dressy suit or a cocktail suit.
Dark, sophisticated colors.
Avoid beads, sequins and sparkles unless the invitation specifically says, "black tie."
For him:
A dark suit is always appropriate.
If casual or semi-formal, a blazer and slacks with a nice tie.
---
Black-tie Optional
For her:
A cocktail dress, perhaps floor-length.
For him:
A dark suit. Dress as formally as you can.
If you have a tuxedo, or just like wearing one, by all means do so.
---
Black-tie
For her:
A formal​ ​dress, usually floor-length.
Nothing too constricting, as you'll be dancing.
Accessorize with beaded purses, fancy wraps and formal jewelry that have been waiting for an occasion such as this.
For him:
A tuxedo is the only appropriate thing to wear. If it says, "creative black tie," still wear a tuxedo, perhaps paired with a black shirt or fun tie.
---
What Not to Wear
Now that you know what you should wear to a wedding, here is what you absolutely should not wear:
White. This rule has relaxed some, and you can get away with wearing a printed dress with a white background and some cream-colored clothing, but it's still better to be safe than sorry, so choose a different color.
Jeans, no matter how casual the wedding.
Black to a daytime wedding.
Anything too sexy or revealing.
Anything torn, with holes, stained, too big or too small.
Anything sleeveless or strapless to a religious wedding. Bring a wrap or jacket to cover your shoulders.
For more wedding etiquette information, click HERE to watch a TV segment I did on Fox News Good Day Charlotte, or go to my website FinesseWorldwide.com for more tips and videos.