Wean Your Child Off Screen Entertainment Before Summer Ends
Restore screen balance in your home before school starts.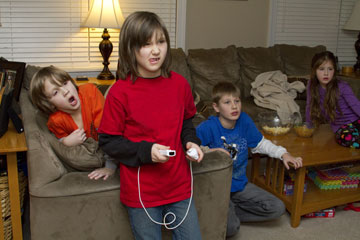 Summer is almost over and let's be honest, you have overused your child's favorite babysitter: his screen games. Video games are available 24/7, kids love them, and you can't beat the rate. While for little children games are a pacifier, for older children they seem like they are perhaps the best babysitter known to mom. But the real cost may surprise you.
The screen babysitter comes with great risks, and many of these risks are unknown to the average parent. According to Victoria Dunckley, M.D., author of Reset Your Child's Brain: A Four Week Plan to End Meltdowns, Raise Grades and Boost Social Skills by Reversing the Effects of Electronic Screen Time, "Children's brains are much more sensitive to electronics use than most of us realize. In fact, contrary to popular belief, it doesn't take much electronic stimulation to throw a sensitive and still-developing brain off track. Also, many parents mistakenly believe that interactive screen-time—Internet or social media use, texting, emailing, and gaming—isn't harmful, especially compared to passive screen time like watching TV. In fact, interactive screen time is more likely to cause sleep, mood, and cognitive issues, because it's more likely to cause hyperarousal and compulsive use."
Video and other screen games can also distract your kids from more important life activities such as playing in the backyard, reading, art, and socializing with real in-person friends. Excessive screen time may also stunt language development and empathy, cause depression and isolation disorders, and put your kids in what some moms call a "game coma" as brain chemicals are released in unnatural amounts during play. So while you may think that you have found the perfect babysitter, it turns out that video gaming and obsessive screen entertainment is detrimental to your child's health.
Take time during the next few weeks before school starts to send the screen babysitter home and wean your child off his screen entertainment. Enjoy the final lazy days of summer with him. Get outside, visit friends, enjoy a family board game night, and restore balance in your home before school starts. While a screen fast may seem crazy in this day and age, it will do wonders to reduce his stress, lower his aggression, restore his attention and get him prepared for the classroom. Go to www.familiesmanagingmedia.com for more ideas on how to reduce screen time and enjoy your kids during the final days of summer!