Warm Cozy Dates for the Coldest Months in Charlotte
The latest entry in our date night series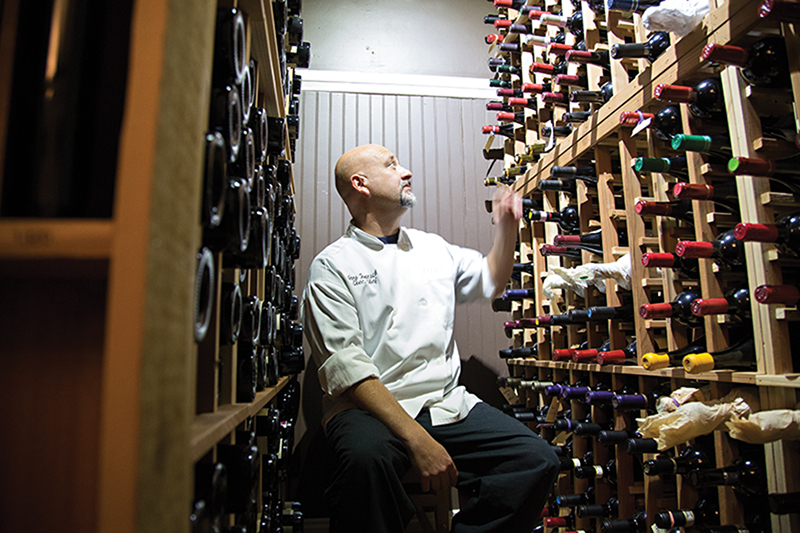 While winter in Charlotte routinely brings with it at least a few 65 degree days, the colder months in the QC can also feel dreary, gray and, well, cold. If you're on the hunt for a cozy setting for your next winter date, look no further, because we've rounded up some of the coziest places in town. This month, when the weather is chilly, head indoors at one of the locations below for dinner, drinks and a chance to talk and connect with your favorite person in the world.
If your search for cozy starts in the morning, consider heading to one of the coziest coffee shops in town. Julia's Cafe and Books, located in the Habitat Restore on Wendover Road is a haven for book and coffee lovers alike. This book store and coffee shop will warm you right up as you browse for something good to read, order a drink and then relax in their upper loft area. If you're looking for a cozy coffee spot in the NoDa area, consider Trade and Lore as the first stop on your date day adventure. Trade and Lore, which offers an impressive menu of caffeinated drinks, has a laid back vibe that makes it popular for those who are trying to get some work done away from home as well as those looking to sip and chat with someone special.
If your idea of a cozy date includes dinner and drinks, then you're in luck, as Charlotte is home to a number of cozy restaurants that offer wide menus and warm atmospheres.
In the Elizabeth area, try the Fig Tree Restaurant. The Fig Tree Restaurant sits in a cozy house across the street from Independence Park on the corner of East 7th Street and Louise Avenue and offers diners delicious food, fine wine and excellent services. If you're splurging, order the sea bass and lobster or the filet mignon as a main course after chowing down on the tuna tartare as an appetizer. For an extra dose of cozy in the winter time, request a table near the fireplace.
If you're looking for cozy in the NoDa area, look no further than the Crepe Cellar. The Crepe Cellar is open Tuesday-Sunday and now takes reservations for parties of two to eight up to three months in advance. At the Crepe Cellar you'll have the opportunity to enjoy a delicious meat and cheese appetizer before diving into your main course. Order the steak & frites for something classic or go bold with the Lobster Champagne Ravioli.
No matter where you eat dinner, there's nothing cozier than snuggling up for a fine dessert before you head home from your date. And there's nowhere cozier to get dessert in Charlotte than Crave. Crave, located at 500 West 5th St. uptown is the place to be if you're in the mood for a luxury dessert experience. Not only does their menu include red velvet waffles, molten lava cake, tiramisu and churro fondue, it also includes s'mores with marshmallows that you roast tableside. What could be cozier than cuddling up over a tiny fire to prepare a delicious dessert to share? Crave is open from 5:00pm to 2:00am Tuesday-Sunday.
When the weather get cold, it can be tempting to stay home and light a fire in the fireplace but, as a parent, there's real value to getting out without the kids every now and then. Spend this month's date night checking in to some of the city's coziest establishments to enjoy the food, drinks and the chance for conversation and connection they offer. Enjoy your cozy dates parents!