Vote Yes to a Washington, D.C., Vacation
Where to stay, what to see, and other tips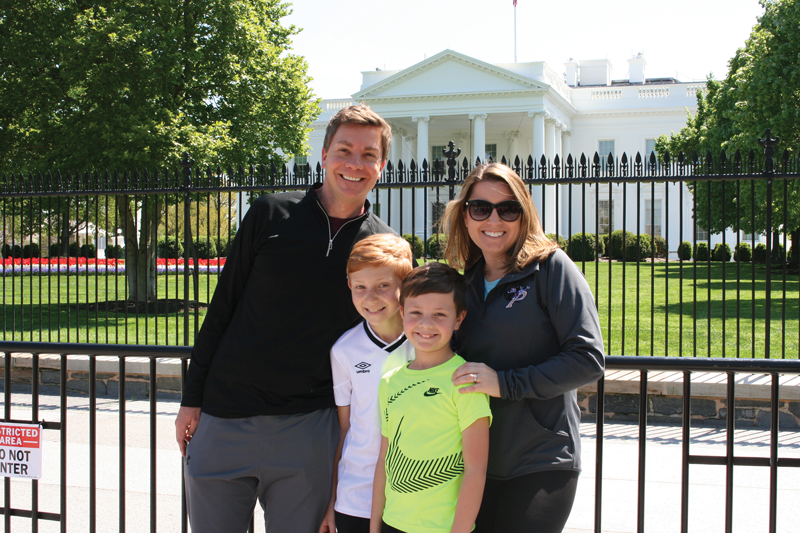 A few months back, my wife and I took our kids to Washington, D.C. for three days. It was a wonderful whirlwind of history, learning and fun. Here are a few things we learned about visiting our nation's capital with a 10- and 8-year-old.
Find a Kid-Friendly Place to Stay
After multiple online searches, we found a great deal at the Omni Shoreham. Advantages included close proximity to a Metro subway station and it was a short walk from the Smithsonian's National Zoo. The kids were greeted with free welcome packs at check-in that included cards and games, and complimentary milk and cookies delivered to the room before bed on our first night's stay. Wherever you choose to stay, make sure you are close to the Metro. SmartTrip cards make getting around easy.
Wear Your Best Walking Shoes
Even with the convenience of the Metro, be prepared to walk a lot. On average, we covered 8 to 11 miles each day. We took plenty of breaks, but everyone had either sore feet or shin splints. At one point, my 8-year-old could take no more, so we rented one of those electric scooters. I wouldn't recommend those, though. While they did navigate pretty well around the National Mall and more open areas, people on sidewalks refused to move out of the way no matter how many times we rang the little bell.
Better Yet, Bike
Change things up with a bike tour. We did a three-hour tour with Fat Tire Bike Tours and it was our boys favorite part of the whole visit. We saw the White House, Lincoln Memorial, Washington Monument, and the Capitol, along with several other incredible sites. Our guide had a lot of great information and stories we hadn't heard, and let us briefly stop to give our legs a break, find a bathroom, explore and take pictures along the way. On our tour, we even saw Japan's Economic Revitalization Minister Toshimitsu Motegi.
So Many Smithsonians
Unless you're spending two weeks in D.C., there's no chance you can see everything in the wonderful, free Smithsonian Institution Museums. There are 19 of them in total – 11 of them on the National Mall. Along with the zoo, we visited the Air and Space Museum, National Museum of Natural History, and the American History Museum. My wife did some stellar research ahead of time to help make sure we took in only the best parts of each. Make sure you talk to your kids about what they most want to see. We also wanted to go to the non-Smithsonian International Spy Museum, but it was closed as it's moving to a new location.
Catch a Washington Nationals Game
One night, after a long day of sightseeing, we made a last-minute decision to take in a Washington Nationals game. The Metro drops you about a block away from the park. We got there early, walked up to a ticket window and got good seats on the right field baseline. You can bring in your own food, but no backpacks. We had to rent a digital locker outside the stadium, but it only cost $6. The kids got to see some major leaguers and even got to meet Screech, the Nationals' mascot.
Remember, the best part of family vacations is the family part. Plan, pace yourselves and enjoy. No matter how long your stay, the memories last a lifetime.
Derek James is a host of WCCB News Rising. He and his wife live in Charlotte with their sons who are ages 8 and 10.