Valentine's Day Hacks: 5 Different Ways to Say 'I Love You' to Your Child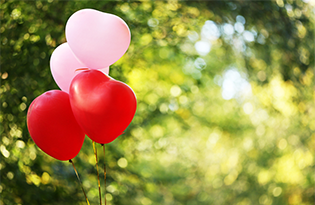 Traditional Valentine's Day gifts always include a nice family dinner and a fun card that expresses appreciation. This year, make the day different using a few of these ideas below.
1. Create a special song
Get together with your kids and make up or find a song that means a lot to everyone in the family. Sing your heart out and have a mini dance party.
2. Make a Heart-tastic breakfast
Make breakfast fun by making a healthy and delicious smoothie using red fruits such as raspberries and strawberries. Serve the smoothie alongside a stack of heart-shaped pancakes.
3. Leave a note
Get creative and express your love through a sticky note left inside of your child's backpack or lunchbox. For younger kiddos, making an illustration that shows you and your child holding hands or playing outside.
4. Decorate your child's room
Put a few balloons around your child's room, include a heart-shaped pillow, set out a bowl of candy and leave a card by their bedside.
5. Go on a 'love hunt'
Create a scavenger hunt with your family throughout the house leaving clues that will help your kids find a small gift at the end of the game.