Valentine Chocolate Soufflés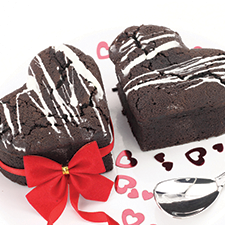 INGREDIENTS:
5 ounces semisweet chocolate chips
4 tablespoons butter
Pinch or two of salt
4 egg yolks
12 egg whites
1/2 cup sugar
Additional sugar and butter for preparing molds
INSTRUCTIONS:
1. Prepare ramekins by coating them generously with butter and sugar just as you would grease and flour a cake pan. Reserve.
2. Melt chocolate and butter together in a glass bowl for one to two minutes in the microwave. Keep in mind that chocolate holds its shape when microwaved, so it won't look melted till you give it a stir. Microwave for one minute, stir, then if the chips are still solid, pop it in for another 30 seconds or so and stir again until you have a smooth, glossy melted chocolate.
3. Allow the chocolate mix to cool for a couple of minutes and then blend in egg yolks and sugar.
4. In another bowl, beat egg whites with an electric mixer until stiff peaks form.
5. Gently fold egg whites into chocolate  mix, adding a quarter of the egg whites at a time, gradually mixing in each addition until it is almost blended in — you should still see bits of the white in the chocolate.
6. Spoon the blended mix into prepared ramekins or soufflé cups. Place the ramekins on a baking sheet so you can easily get them in and out of the oven.
7. Bake in a preheated 450-degree oven for 6-10 minutes. Serve right after you take them out of the oven for the most dramatic results, although they are also good once they have cooled.
Heidi Billotto is a culinary expert who hosts cooking classes throughout the Charlotte area.