Vacation Ideas: 17 Places to See With Kids in North Carolina
Here's a North Carolina bucket list of things to do in the Old North State before your kids are grown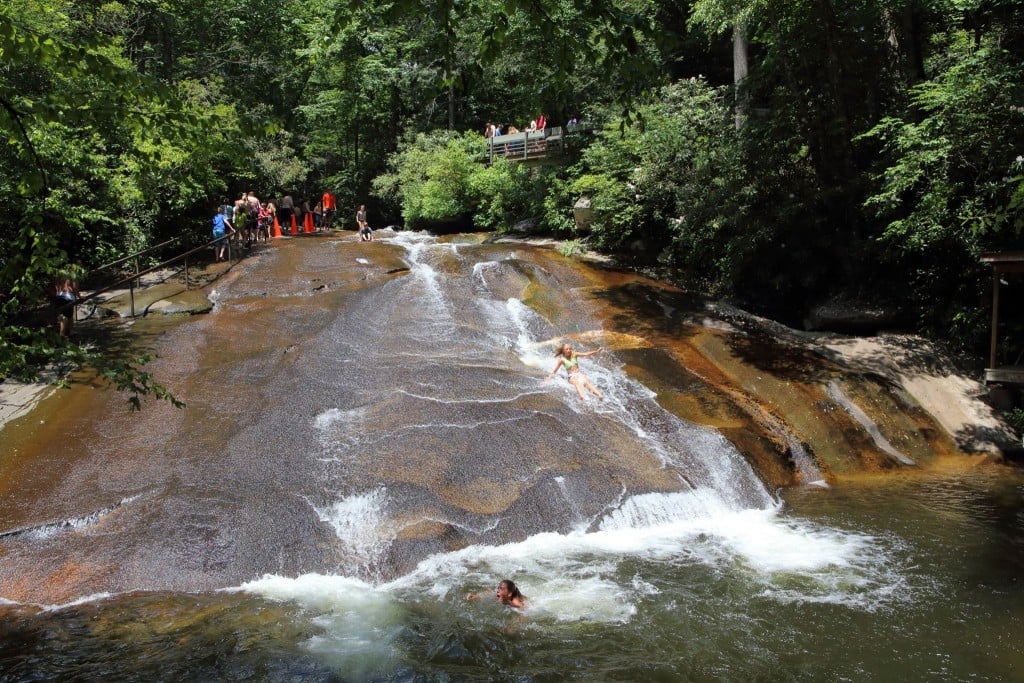 UPDATED: Jan. 5, 2020
---
If you were born and raised in North Carolina — or are perhaps raising your own kids here — you know the possibilities for family fun are endless.
"From the mountains to the woodlands to the coast, family experiences unfold on a variety of landscapes," says Suzanne Brown, media relations specialist for VisitNC. "We are also a state with a full range of seasons, so there's a variety of things to do all year."
With so many options, finding the perfect destination for your next family vacation or day trip can be a difficult decision. So to help, here are our top picks of things to do in North Carolina before your kids are grown.
1. Watch the sunset on top of Jockey's Ridge.

Photo courtesy of VisitNC.com
Nags Head | jockeysridgestatepark.com
There are very few spots in North Carolina where you can watch the sun set into a large body of water, but Jockey's Ridge State Park is one of them. Through its popular Sunset on the Ridge summer program, you can climb to the top of the tallest active sand dune system in the eastern U.S. and watch the sun descend into the Roanoke Sound with the Atlantic Ocean behind you. Don't be surprised if there's spontaneous applause once the sun disappears. The views are breathtakingly beautiful. Arrive early to fly a kite with the kids.
Cost: Free
Nearby attractions: Wright Brothers National Memorial, Cape Hatteras National Seashore, Bodie Island Lighthouse, Jennette's Pier
2. Admire the blue ghost fireflies in DuPont State Recreational Forest.
Cedar Mountain | dupontforest.com
Chasing backyard fireflies at dusk is a favorite childhood activity, but you've probably never seen fireflies quite like these. Instead of a yellow intermittent glow, the blue ghost fireflies of Transylvania and Henderson counties emit a steady blue glow along the forest floor. The eerie light show is only about four weeks long starting in May and disappearing by mid-June. Check the Friends of DuPont State Forest website or call for information about occasional guided tours.
Cost: Free
Nearby attractions: The forest is home to several waterfalls and is an ideal location for hiking or mountain biking.
3. See the wild horses along North Carolina's coast.

Photo courtesy of VisitNC.com
Corolla, Beaufort, Shackleford Banks, Ocracoke | ncwildhorses.com
North Carolina's coast is home to several groups of wild horses: Corolla's wild Spanish mustangs; Beaufort's wild horses at the Rachel Carson Estuarine Reserve, which descended from Banker horses (often referred to as ponies) and Quarter horses; Shackleford Banks' wild Banker horses; and Ocracoke's Banker horses. In general, you can see the horses for free. For example, all you need to see the horses in Corolla is a four-wheel drive vehicle so you can drive on the beach. Don't have one? Several businesses offer four-wheel-drive guided tours. Visit ncwildhorses.com for details.
Cost: Free with four-wheel drive vehicle
Nearby attractions: While exploring North Carolina's coast, be sure to visit one of the many lighthouses, including these that are climbable: Currituck, Bodie Island, Cape Hatteras, Ocracoke, Cape Lookout, Oak Island and Old Baldy.
4. See a bald eagle at Jordan Lake State Recreation Area.
Apex | ncparks.gov/Visit/parks/jord/main.php
Jordan Lake State Recreation Area has the largest population of bald eagles in the eastern U.S., and the best time to see one is during the spring migration (April-June). Arrive early morning or near dusk to increase your chances of spotting our national bird and to find a location that gives you a wide view of the lake. Don't forget your binoculars.
Cost: Free
Nearby attractions: The park offers a variety of activities such as camping, hiking, boating, fishing, swimming and more.
5. Ride a vintage steam locomotive at Tweetsie Railroad.

Photo courtesy of Tweetsie Railroad
Blowing Rock | tweetsie.com
This popular attraction has two historic steam engines: No. 12 Tweetsie and No. 190 Yukon Queen. Both are coal-fired, narrow-gauge engines and will be a highlight for train enthusiasts of all ages. After your train ride around the park, enjoy a variety of rides, midway games, gem mining, the deer park and more. Be sure to check Tweetsie's events schedule for special appearances such as Thomas the Tank Engine, Team UmiZoomi and Scooby-Doo.
Cost: $33-$52
Nearby attractions: Blue Ridge Parkway, Julian Price Memorial Park, Moses H. Cone Memorial Park
6. Take a plunge down Sliding Rock.

Photo courtesy of VisitNC.com
Brevard | ncwaterfalls.com/sliding_rock1.htm
Beat the heat this summer in North Carolina's cool mountain water. Sliding Rock is a 60-foot natural waterfall/rock slide. At the base, there's a 6-foot-deep pool for a refreshing splash at the end of your exhilarating slide. Lifeguards are on duty from Memorial Day weekend through Labor Day.
Cost: $3
Nearby attractions: Pisgah National Forest, DuPont State Recreational Forest, Brevard Music Center
7. Climb to the top of Hatteras Lighthouse.

Photo courtesy of VisitNC.com
Buxton | nps.gov/caha
​
It's a strenuous climb with 257 steps, but you'll be rewarded with gorgeous views from the top of the tallest brick lighthouse in North America. You'll also have a great view of the lighthouse's previous site before it was relocated in 1999. The self-guided climb is not recommended for young children because of narrow stairs and only one handrail on one side.
Cost: $4-$8
Nearby Attractions: Buxton Woods Reserve, Graveyard of the Atlantic Museum, Hatteras-Ocracoke Ferry
8. See "Unto These Hills" in Cherokee.

Photo courtesy of VisitNC.com
Cherokee | cherokeehistorical.org/theatre.html
The historical outdoor drama is performed nightly (except Sundays) from late May until mid-August at the Mountainside Theatre in Cherokee. The play tells the story of the Cherokee tribe's highest point of power, the Trail of Tears and present day. The first version of the play opened in July 1950, making the production one of the longest-running outdoor historical dramas in the U.S.
Cost: Call 866-554-4557.
Nearby attractions: Oconaluftee Indian Village, Museum of the Cherokee Indian, Great Smoky Mountains National Park
9. Climb to the top of Chimney Rock.

Photo courtesy of Chimney Rock Park
Chimney Rock | chimneyrockpark.com
Take an elevator or make the strenuous climb up 26 stories of stairs to reach the iconic monolith, which is 535 million years old. From the top, enjoy the spectacular view of Lake Lure and the Hickory Nut Gorge. While exploring the park, kids will love the discovery stations on the Great Woodland Adventure, an easy .6-mile hike to discover the lives of frogs, owls, chipmunks and more. Also, don't miss Grady's Animal Discovery Den with live animals, and make sure the kids visit Hickory Nut Falls, the second-highest waterfall east of the Mississippi River.
Cost: $8-$17; free for ages 4 and younger
Nearby attractions: Lake Lure, Broad River Gems and Mining Co.
10. See "The Lost Colony" in Manteo.

Photo courtesy of VisitNC.com
Manteo | thelostcolony.org
This classic musical and outdoor drama tells the story of the Lost Colony of Roanoke, one of the first settlements in the New World and where the first English child (Virginia Dare) was born in North America. It is the second-longest-running historical outdoor drama in the U.S. The play is performed in two one-hour acts.
Cost: $10-$30; free for ages 5 and younger
Nearby attractions: Roanoke Island Festival Park, Island Farm, North Carolina Aquarium, Elizabethan Gardens
11. Take a guided horseback ride on the grounds of Biltmore Estate.
Photo courtesy of Biltmore Estate
Asheville | biltmore.com
Explore trails and woodlands on the grounds of this magnificent French Renaissance chateau on horseback during a one-hour guided tour. Carriage, wagon rides and private tours are also available.
Cost: Guided horseback, $65+; carriage rides, $30.
Nearby attractions: Blue Ridge Parkway, North Carolina Arboretum, Pisgah National Forest
12. Cross the Mile-High Swinging Bridge.

Photo courtesy of VisitNC.com
Grandfather Mountain | grandfather.com
Crossing a 228-foot suspension bridge (pictured above courtesy of VisitNC.com) is not for the faint-hearted. Name for its elevation, the Mile-High Swinging Bridge spans an 80-foot chasm. Originally built in 1952, the bridge was rebuilt in 1999 using galvanized steel for the cables, rails and floorboards. While there, visit the Grandfather Mountain Nature Museum, 11 hiking trails and seven wildlife habitats to see deer, bald eagles, bears and more.
Cost: $9-$22; free for children ages 3 and younger
Nearby attractions: Linn Cove Visitor Center, Linville Gorge, Linville Falls, Blue Ridge Parkway
13. Visit the site of the first U.S. gold rush.
Midland | nchistoricsites.org/reed/reed.htm
When you think of a gold rush, California immediately comes to mind, but you might be surprised to learn that the first gold rush in the U.S. occurred right here in North Carolina. Our state also led in gold production until 1848. Reed Gold Mine is now a historic site open for tours.
Cost: Mine tours are free; $3 for gold panning
Nearby attractions: Downtown Midland, a 20-minute drive from Charlotte
14. Follow the Yellow Brick Road at Autumn at Oz.

Photo courtesy of autumnatoz.com
Beech Mountain | autumnatoz.com
The first weekend in October during the Autumn at Oz festival, visitors can explore the Land of Oz, which used to be a thriving theme park that opened in 1970 and closed in 1980. See Dorothy's farm home, experience the tornado, arrive at Oz and see the beloved cast of characters.
Cost: $45; free for children ages 2 and younger
Nearby attractions: Beech Mountain Resort, Sugar Mountain Resort, Roan Mountain State Park, Blue Ridge Parkway
15. Visit one of Blackbeard's favorite islands.

Photo courtesy of VisitNC.com
Ocracoke | ocracokevillage.com
While on the island of Ocracoke, visit Teach's Hole, a channel named for Edward Teach, the infamous pirate known as Blackbeard. Ocracoke was one of his favorite spots to drop anchor, and it's also where he lost his life in a fierce battle. Young pirate fans will enjoy the Teach's Hole "Blackbeard" exhibit and Pirate Specialty Shop. Pictured at right, an aerial view of the Village of Ocracoke. Photo courtesy of VisitNC.com
Cost: Free to visit the island; small admission fee for the exhibit
Nearby attractions: Ocracoke Lighthouse, Springer's Point Nature Preserve, Portsmouth Island, Ocracoke ponies, Ocracoke Preservation Museum
16. Take a carriage ride through historic Wilmington.

Photo courtesy of Wilmington and Beaches CVB
Wilmington | horsedrawntours.com
From April through October, horse-drawn carriage rides depart daily every 30 minutes from Market Street in historic downtown. Your adventure begins near the waterfront, and from there you'll pass Old Wilmington's beautiful mansions and learn about the city's history. See the website for a November-through-March schedule.
Cost: $6-$14
Nearby attractions: USS North Carolina, Airlie Gardens, Cape Fear Museum, Wilmington Railroad Museum, Henrietta III
17. Take a rail excursion on the Great Smoky Mountains Railroad.
Bryson City, Dillsboro | gsmr.com
Enjoy a scenic train ride with the kids! Choose from day-trip excursion packages and a variety of ticket options to explore the Nantahala Gorge and Tuckasegee River. The Nantahala excursion includes a one-hour layover at the Nantahala Outdoor Center while the Tuckasegree trip offers a layover for shopping in Dillsboro. Be sure to check out the railroad's special events calendar for dates that include the Dinosaur Train (based on the popular PBS "Dinosaur Train" series), Peanuts Pumpkin Patch Express, The Polar Express and more.
Cost: $29-$110
Nearby attractions: Nantahala Outdoor Center, Cherokee, Great Smoky Mountains National Park
Myra Wright is the publisher/editor of Piedmont Parent, a sister publication of Carolina Parent and Charlotte Parent. She loves exploring the state with her husband and three kids.

More Family Fun on CarolinaParent.com
Visit these Carolina Parent resources for more events and kids fun:
• Things to Do
• Family Fun
• Seasonal Fun
• Daily Calendar
SEE ALSO: 8 Family-Friendly Hikes in NC and 10 Playgrounds Worth a Drive and NC By Train and Amtrak Offer Summer $5 Kids Ride Deal