USS North Carolina: A Ship With a Story to Tell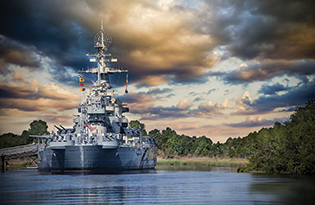 The decomissioned USS North Carolina Battleship floats prominently on the Cape Fear River as a significant and historic landmark visible from anywhere along the downtown Wilmington riverfront. A trip to the city is not complete without a visit to this impressive memorial.
Background
The 729-foot ship was constructed in 1937 and became the first of 10 fast battleships to join World War II's fleet. It served as home to more than 2,300 enlisted servicemen and became a highly decorated ship earning 15 battle stars for its participation in every major naval offensive in World War II.
After a successful tour as a war ship, the USS North Carolina Battleship served as a training vessel for midshipmen and was decommissioned on June 27, 1947. The ship docked in New Jersey during this time. In 1960 the U.S. Navy announced that the ship would be sold for scrap.
Upon hearing this, the citizens of North Carolina initiated a campaign to bring the USS North Carolina Battleship home and preserve it as a war memorial. Funds were raised in part by school children who donated coins to the cause and, upon reaching the fundraising goal, the ship came home to Wilmington in 1961, opening in October of that year as a national historic landmark.
Interactive Museum
Visitors board the ship today via the gangway attached to the visitor's center. Guests watch an introductory video that explains the battleship's significance to North Carolina and browse the exhibit hall.
My family immediately noticed three large turrets at the front of the ship and guns lining the perimeter. We could easily see how the ship served as a formidable weapon. On the main deck, guests can maneuver guns and climb into hatches to check out the mechanisms used for firing on targets.
The self-guided tour continues below the main deck, where visitors get a feel for life aboard a battleship. Our first stop was the mess hall and kitchen. My 6-year-old daughter was impressed by the huge cookware used to make meals — and the fact that there was a separate ice cream area. I enjoyed reading a menu posted on the wall displaying the kinds of meals that were served on board.
Next, we explored the sleeping quarters. The beds were small and stacked four high with about 3 feet of space between each bunk. Children can climb onto some of the beds and squeeze into tight berthing spaces.
In addition to these areas, visitors can also tour the ship's doctor's office, sick bay, operating room, dentist's office, barbershop, print shop, laundry facilities and officers' living quarters. Many areas are outfitted with materials and supplies that would have been there when the ship was operational. I enjoyed checking out the typewriters and tools in the operating room.
Planning a Visit
The USS North Carolina Battleship is open 365 days a year and is easily accessible from downtown Wilmington. Admission is $14 for ages 12 and older, $10 for ages 65 and older and members of the military (active or retired), $6 for ages 6-11, and free for ages 5 and younger. Find information about special events and programs at battleshipnc.com.
Brandy Metzger is a freelance writer and educator living on the North Carolina coast. She enjoys spending time with her family and traveling to new places.