Using Routines to Work on Language Skills at Home
In Partnership with Charlotte Speech and Hearing Center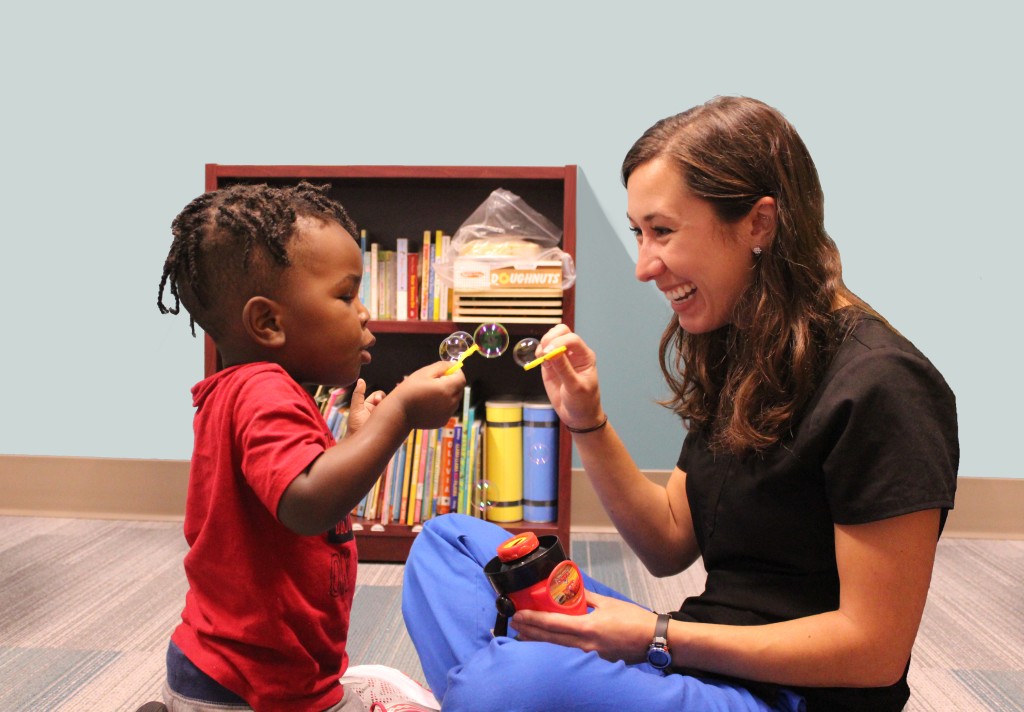 Summer Break: days at the pool, ice cream parties, vacations, hikes on the trail, running and playing outside. All of those activities create sweet memories and also little messes. In your house, summer might mean more laundry to do. "Ugh!" you think. Our speech therapists at CSHC think, "Ooh! An opportunity for language learning!"
As we prepare for our kids to be home for summer break, we want to share some ways that you can use everyday routines and the "work of life" to support language development. Take a look at these simple strategies you can use, then read further for real life examples of how to implement them.
Language Strategies to use During Routines at Home:
Narration: Use narration to talk about the actions you are doing and the objects you are using. This strategy provides valuable language input as your child will hear a variety of object names, action words, and describing words. Emphasize describing words or sound effects to keep your child interested. Remember to pause to allow your child to have a chance to participate.
Repetition: Providing your child with many exposures to a new word helps them to learn its meaning and how to use it. Routines are perfect for exposing your child to many repetitions of the same word.
Pause Often: While it is important to expose your child to many words, it is also very important to pause and let them have a chance to participate in the interaction.
Now, let's put these strategies into practice while doing laundry. Bold, italicized words are key vocabulary.
Narration: "It's time to do laundry. I need to collect all of the dirty clothes and put them in this big laundry basket. Yuck, this shirt has food on it. It's dirty! Ew! Stinky socks, those are dirty. Wow! This laundry basket is heavy, we have a lot of dirty clothes right now. I am carrying the laundry basket to the laundry room. Open the washing machine! Put the dirty clothes inside the washing machine.
Repetition: When doing laundry, you can repeat key words many times. A great word to repeat during your laundry routine is "in." "Put the socks in the basket! Shorts go in the basket; the shirt goes in the basket. Pajamas are in the basket. Put all the clothes in the washing machine! Time to put the soap in."
Pause Often: After repeating a word many times, try pausing to let your child say it. For example, after repeating the word "in" many times while putting clothes in a laundry basket, pause to let your child say "in" before you put the next piece in the basket.
These strategies can be used in the same way with a variety of other routine activities, such as washing dishes, cooking food, and having bath time. We hope you find these ideas helpful as you help your child's language skills grow at home. If you are interested in reading more articles like this about speech and language development, please visit Charlotte Speech and Hearing Center's blog at https://charlottespeechhearing.com/cshc-blog/ and follow us on Facebook or Instagram.
Christine Halstead Bio
Christine Halstead received her B.A. in Communication Studies (2013) and M.S. in Speech-Language Pathology (2015) from UNC Chapel Hill. She has been practicing in the pediatric outpatient setting since 2015 and is particularly interested in early language development. When not working as a speech-pathologist, Christine enjoys reading, running, walking her dog, spending time with her husband and cheering for the Tar Heels!