Use This Winter Car Maintenance Checklist Before You Hit The Road
A simple checklist to be sure you arrive safely at your winter destinations.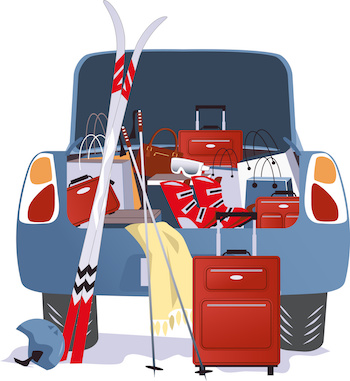 With the recent snowstorm, you may have a new appreciation for winter car maintenance issues. To be sure you don't miss something important, I turned to AAA of the Carolinas for these tips, and learned a bunch myself.
For example, I didn't know where to locate tire pressure recommendations without the owner's manual.
For some morning zany-ness that only WCCB's Wilson can deliver, watch me, along with Dave Yelverton and Parker Cook from AAA on "Wilson's World" talk about taking safe and fun winter road trips.
Safe driving!
---
Tires
Check tire pressure for all tires AND the spare when they are cold

Make sure their pressure levels match those found in either the owner's manual or on the driver's door jamb

Note that pressure levels may be different for front and rear tires

To inspect tire tread, place a quarter upside down in the tread grooves on several spots of the tire. If the top of Washington's head is exposed at any point, it's time to replace that tire

​
---
Battery
A fully-charged battery in good condition is required to start an engine in cold weather

Ensure the battery cable connections are tight and the terminals are free from corrosion
---
Wiper blades and fluid
Wiper blades should completely clear the glass with each swipe. Replace them if they leave streaks or miss spots
Be sure the windshield washer reservoir is filled with a cleaning solution that contains anti-freeze for cold weather use
Carry an extra supply of washer fluid in your car
---
Heating and cooling system
Check radiator hoses for leaks, bulges and cracks
Make sure your vehicle's antifreeze reservoir is at the full mark
Have your engine's coolant checked by a technician to ensure low temperature protection. The last thing in you need is a frozen engine block
Check your heater before hitting the road. Does it work?
---
Oil
Check levels and change at the interval recommended in your owner's manual
Stick with the vehicle manufacturer's recommended viscosity
Be aware that your vehicle may require different oil for cold weather operation
---
Emergency road kit
Flashlight and extra batteries

Flares

Jumper cables

Basic repair tools

Water and imperishable food

The kit can be compiled at home or purchased at any AAA branch office
---
Emergency planning
Buy a roadside service plan like AAA. Program the contact number into your mobile phone

If you are a member of AAA, download the

AAA Roadside app on iTunes

or the

Android market

. Help can be summoned right from the app

Leave your travel itinerary and route with someone at home or your destination
---
Professional inspection
Get a safety inspection from a trusted professional. Some things, like battery charge, require special diagnostic tools
Visit a AAA car care center near you to have your vehicle inspected by a trained technician. FREE ($39 value)
---
Download my 7-page winter road trip guide
My "Winter Road Trips Guide" is chock full of ideas and checklists. Download it here.
How to minimize whining and maximize family time while traveling
App Recommendations
Money Saving Tips
Guide to Healthy Eating on the Road
How and What to Pack
Entertaining the Kids
Auto Maintenance Checklist
Please share your tips in the comments.