Urgent Care at Camp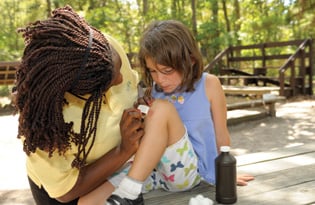 No parents want to receive a call from a camp nurse about their child, but illnesses and accidents sometimes happen. Fortunately, most camp mishaps and sicknesses are not serious and are more along the lines of a sprained ankle or a case of poison ivy, but it's beneficial to know what policies and procedures a camp has in place if an emergency situation should arise.
"Ask what type of medical staff and service is available at camp because that can vary widely from camp to camp," says Henry DeHart, executive director of Camp Sea Gull in Arapahoe.
Larger camps may have several nurses and volunteer physicians on-site, but smaller camps often have only one on-site nurse. Also, check to see if camp staff members are certified in CPR and first-aid training since they are the first responders.
DeHart also recommends asking how a camp handles medical expenses so there are no surprise bills. Most camps do not charge for on-site health care, but off-site treatment and prescriptions are passed on to parents and submitted through insurance. Camps commonly have prearranged relationships with particular medical facilities, so it's helpful to know if those facilities are in your insurance network.
"We have a conversation with parents before seeing a specialist, and unless the parent directs us otherwise, we go where we have an established relationship," says DeHart.
Charlotte Elliott, program manager of Camp Keyauwee in Sophia, says full disclosure on health forms is vital. "Sometimes parents won't put down everything. We've had an instance of a parent not telling us that a kid suffers from migraines, and we think it's just a headache because sometimes kids get headaches playing outside in the summer heat," she says.
Basic Emergency Protocol
In cases of illness and minor injuries, a camper first goes to an infirmary for medical treatment and observation. Camp policies vary for when a parent is contacted. While some camps call parents after a child has been sick for a few hours, others call if the child will stay overnight in the infirmary.
Elliott encourages parents to share details about their child's sick routine at home. "Maybe it's a certain food they like when they're sick. It can be comforting to the child," she says.
When a camper needs off-site medical attention, the staff calls all contact numbers for parents immediately. One or two camp staffers accompany the child to a hospital or urgent care facility and relay updated information to parents. Parents living nearby may opt to take their child for medical attention or meet their child and camp staff at the hospital. Parents who are farther away from camp can still be part of the decision-making process.
"We allow parents to guide the care of their child as they see fit. We want them to be as involved as much as they feel comfortable," says DeHart.
Elliott says that parents need to be confident in the camp staff's ability to care for their child before sending their child to the camp. "If parents are not confident in us, the child will pick up on it," she says.
James Johnson, executive director of Camp Tekoa in Hendersonville, says just the sound of a parent's voice on the phone is calming for a child facing an emergency away from home. After the initial conversation about the child's physical state, he recommends diverting a child's thoughts away from the situation. "Focus on the positive, and ask about the activities and things that have happened at camp to get their mind off what's going on," he says.
Going Home vs. Staying at Camp
A parent's first instinct might be to rush to camp and bring a child home, but try to gauge how the illness or accident will impact the child's camp experience and whether or not your camper can remain there under staff care. Factors such as the child's age, the number of prior camp experiences, the duration of the camp session, limitations of the injury or illness and the camp's ability to accommodate those restrictions are important considerations.
The camp experience is more than the camp activities, it's also about the relationships," says DeHart. "If the activities are limited but the child wants to stay with friends, and the camp can accommodate those limitations, then it's perfectly OK to stay."
Johnson says that each child reacts differently to situations. "Some children tolerate pain better than others, and they may complain very little and want to stay." He says children in casts have remained at camp before.
However, Johnson said parents should ask the child to be honest about their comfort level. He says some children are more hesitant to share how they truly feel with a nurse or doctor that they hardly know.
If home is within a reasonable drive, it's possible to take the child home and return to camp later. Whatever the decision, be aware that most camps do not offer refunds for a child leaving early for medical reasons.
Holly Becker is a freelance writer from Huntersville and a mom to three children.