Update – J.Crew Warehouse Sale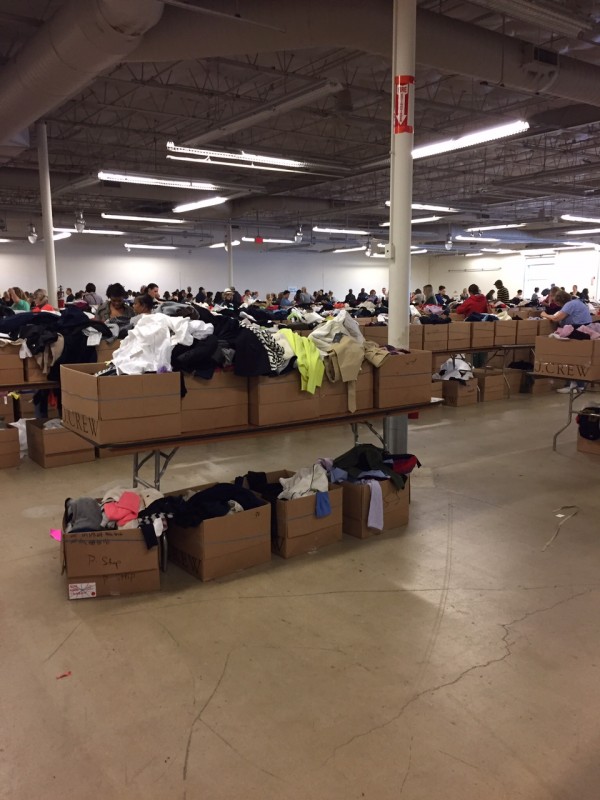 Went to scope out the J. Crew warehouse sale yesterday.My best advice is bring lots of patience and don't try to do it on your lunch hour! 

There is a line outside the doors to control the number of people in the sale. As folks left they would let people in. I had to wait approximatley 30 minutes to get inside. Here's a photo of what to expect. Large boxes divided by category. You will be handed a 2 page price list and a garbage bag.  After you rummage to find your treasures you proceed to a line where they tally the items on the price list, then you proceed to the checkout line where the cashier rings up the purchase. I would estimate the time to get trhough the check out to be at least 60-90 minutes. There are about 10-15 people who tally your purchase, but then only 4 cashiers to ring your transaction.
You need to plan to spend at least 3-4 hours to get in, shop and get out! The price sheets are probably hard to see here, but I'll run down some of the basic price points.
T-Shirts $10
Bottoms $15
Shorts $8
Dresses $15
Shoes $30
Boots $40-$50
Swim $5 per piece
CrewCuts
Shirts $6
Bottoms $10
Shorts $5
Shoes $12
I was too short on time and patience to actually shop once I got inside.  Hope you find some good deals!