Understanding Test-Optional College Admissions
Before developing an admissions strategy, your student should familiar himself or herself with testing requirements at prospective colleges.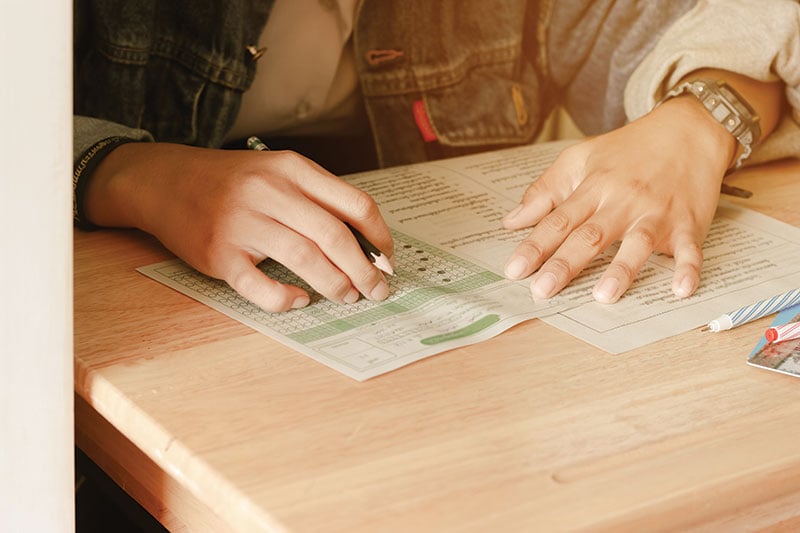 Rarely does a week pass without another well-known college or university making headlines by announcing that it will no longer require applicants to submit standardized test scores. This movement, known as going "test-optional," actually began almost 50 years ago at Bowdoin College and has rapidly gained momentum over the last decade. In the last couple of years, schools such as George Washington University, James Madison University, Emerson College, and the University of Delaware have joined the more than 950 test-optional schools in the U.S.
Colleges, especially those of the highly selective variety, are looking for compelling reasons to accept your student as an applicant. Generally, colleges like having more information, not less.
With this in mind, if your student is not planning to submit SAT or ACT scores to a prospective college, he or she should ask himself or herself, "What other components of my application stand out — grades, essays and/or extracurriculars?" These application materials will be even more heavily scrutinized now that the admissions officers don't have standardized test scores, which can still provide for meaningful comparisons between your student and the rest of the applicant pool.
Test-Optional vs. Test-Flexible
A number of selective colleges, including the University of Rochester, Colby College and New York University, do not require submission of SAT or ACT scores, but still require applicants to submit results from one or more other exams, such as SAT subject tests, or advanced placement or international baccalaureate exams. Before developing an admissions strategy, your student should familiar himself or herself with testing requirements at prospective colleges and whether the submission of test scores is truly optional. These policies are ever-evolving, so it is important to stay on top of the most current policy information.
There are also institutional variations of test-optional policies. Lewis & Clark College in Oregon requires test-optional applicants to submit a portfolio containing, among other things, an analytical writing sample and an example of scientific work. George Mason University only allows standardized tests to be excluded from one's application if that individual has a minimum GPA of 3.5, ranks in the top 20 percent of his or her high school class, and is entering a program other than engineering or information technology. Brandeis University offers students three options: Submit the SAT/ACT score, three SAT subject test scores of their choice, or a writing sample and an extra letter of recommendation.
Test-Optional Impact on Merit Aid
If your student needs financial assistance with tuition, or if you are paying and want to take a cost-conscious approach, make sure you both understand the potential financial implications of withholding your student's test scores. The vast majority of test-optional colleges state on their website something to the effect of: "Students who do not submit SAT/ACT scores will still be considered for merit scholarships." Yet, it's hard to know if they are on equal footing with score-submitters, or if they merely are not eliminated from consideration. Other schools are clearer about this. Providence College, for example, states: "Students who choose not to submit SAT or ACT scores will still receive full consideration for admission and merit scholarships" — "full" being the operative word. Hofstra University explains that consideration for merit awards is automatic for all students, but only those who submit scores are eligible for the scholarships that offer top monetary awards.
In the absence of real data on the subject, it's hard to draw any conclusions, but it is fair to state that not submitting standardized test data may put your student at a disadvantage — for at least some merit-based scholarships.
The Bottom Line
If your student is, for one reason or another, unable to achieve SAT/ACT scores that are commensurate with his or her academic ability, explore the test-optional route. However, unless you possess a blank check to cover your student's four years of study, due diligence on each test-optional/flexible school to which you apply is essential.
---
Dave Bergman, Ed.D., is a co-founder of College Transitions, a team of college planning experts committed to guiding families through the college admissions process. He is also a co-author of "The Enlightened College Applicant: A New Approach to the Search and Admissions Process." Learn more at collegetransitions.com.