Trolleys to Trains: Fun Ways for Families to Get Around Town
When it's time for a fun day out with the family, you deserve to escape from behind the steering wheel.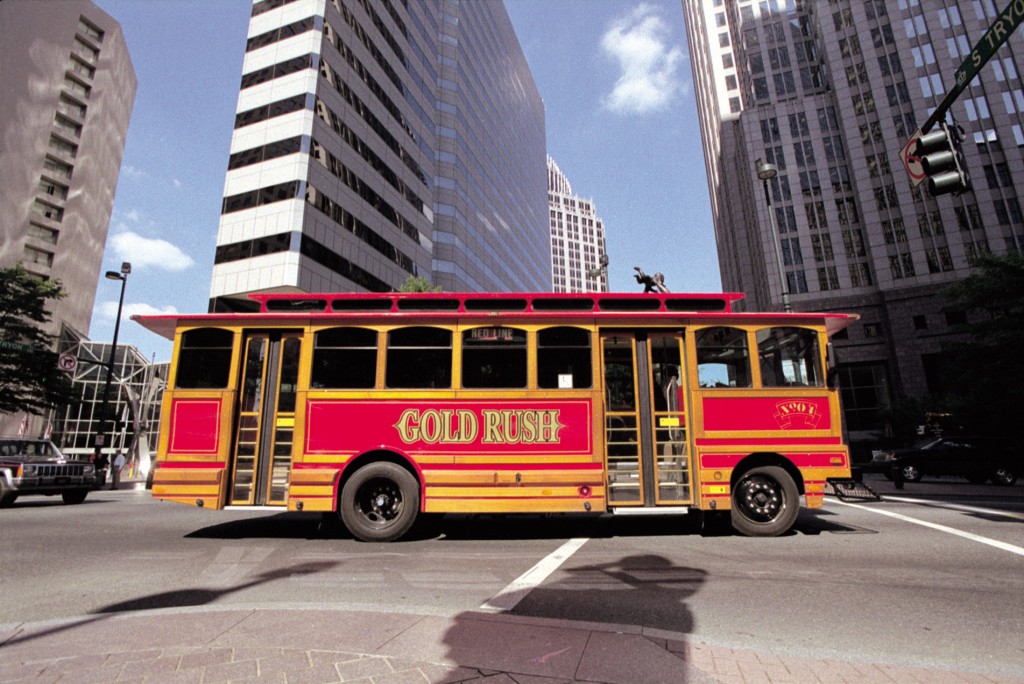 When it's time for a fun day out with the family, you deserve to escape from behind the steering wheel. Take advantage of the many car-free ways Charlotte allows you to explore that not only give you a break from driving, but make the ride part of the day's fun for you and your family.
LYNX Light Rail
If your little ones are enamored with trains, a day riding the LYNX Light Rail could be the ultimate fun. And if an uptown festival or sporting event is your destination, this option can give you another kind of fun: the thrill of saving time and money you'd otherwise spend on parking.
The light rail begins in uptown at the Seventh Street Station and stretches 9.6 miles south, roughly following South Boulevard. Northsiders, stay tuned: An expansion of the light rail will extend north of town to UNC-Charlotte with services beginning in late 2016-2017, according to the Charlotte Regional Transportation Planning Organization.
During weekday rush hours, trains arrive every 10 minutes, but this slows to every 20-30 minutes during lower-demand hours. Buy tickets at station kiosks with cash or credit cards before boarding. One-way tickets for adults are $2.20; youth are $1.10 and children under 5 ride for free.
Or, you can buy an all-day pass for $6.60 and create your family's own light rail crawl with a day of unlimited stops.
---
CityLYNX Gold Line
A new transportation option will take on a vintage feel when the CityLYNX Gold Line brings the streetcar back to Charlotte. Eventually, this streetcar line will stretch 10 miles across Charlotte from Beatties Ford Road to the Eastland Community Transit Center. But the streetcar's first phase – a mile-and-a-half line connecting uptown to Elizabeth – will begin operating this June. It will begin at the Charlotte Transportation Hub and offer six stops before it ends near Presbyterian Hospital. And good news for families: During the four years of the line's first phase, fares are free.
SEE ALSO: Driving in Charlotte: What's With All the Queens?
---
Buses
More than 70 CATS (Charlotte Area Transportation System) bus routes stretch across the region. Express routes have limited stops but speedier service linking outer suburbs, including Rock Hill, Gastonia, Davidson, Concord and Monroe to uptown.
Catch a bus at the stops along any of the lines, or begin at uptown's Charlotte Transportation Center, where all routes begin or end. Local rides are the same as for the light rail, and Express fares are $3 for routes within Mecklenburg County and $4.40 to counties beyond. Before boarding, you'll need either exact fare or a CATS Pass, which can be purchased online at ridetransit.org (where you also can find a map of all routes and stations), at the Charlotte Transportation Center, or at select grocery stores.
---
Jen Tota McGivney is a freelance writer living in Charlotte. View her portfolio at jenmcgivney.com.