Trends in Family Friendly Companies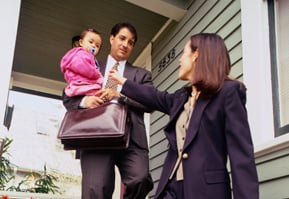 Of the Family-Friendly 40 Companies recognized this year by Carolina Parenting Inc., the overwhelming majority offer health insurance and paid absences for sickness or caring (97.5 percent). Next most common is dental insurance (95 percent). Opportunities to work at home and short-term disability after childbirth (92.5 percent) are next in line. In terms of other workplace options, a noticeable 90 percent offered flextime, 85 percent offer part-time employment, 72.5 percent offer a compressed workweek and 57.5 percent offer job sharing.
Compared to some national studies, those percentages are slightly above the national norm — a sign that these North Carolina companies are making smart choices on behalf of employees.
As far as family leave policies go, the United States isn't exactly a world leader. Compared to other nations, we have some of the stingiest leave policies across the globe, but a number of our Family-Friendly 40 companies step up with paid maternity leave (60 percent) and paid paternity leave (45 percent). And extended leave for adoption was offered only slightly less often (82.5 percent) than extended leave for childbirth (87.5 percent).
When it comes to taking care of the kids, Family-Friendly 40 child-care benefits don't tend to be generous; While 52.5 percent offer on-site or near-site child care, 62.5 percent offer a child-care resource and referral service. Subsidies for child care are often appreciated, but hard to find, and are available at only 30 percent of the Family-Friendly 40.
One of the most interesting strengths among our Family-Friendly 40 was a noticeable dedication to community service; many companies offer employees paid time off to volunteer in the community, in some cases up to 40 hours a year. Some also offer volunteer donation matching programs, in addition to generous company donations to community organizations.
Many companies work hard to be creative. Whether it's letting employees take every other Friday off with pay or giving cash bonuses for vacation spending money (Senn Dunn Insurance); pre-paid legal services (Hummingbird Creative Group); will preparation (UNC HealthCare); a parent list-serv, on-site hair salon, recreation facility and massage therapy (SAS Institute); or compensation to help cover infertility and developmental delay services (Wachovia). In some cases, even pets are included in family-friendly policies, with special privileges to come to work (Replacements).
When companies offer excellent health-care benefits (zero co-pays, zero deductibles and coverage for domestic partners, for example), they go above and beyond the workplace norm. And offering adoption benefits, college savings plans, tuition reimbursements, generous leave policies and on-site health services sends the message that families matter.
Employees appreciate gestures big and small. Visits from the ice-cream truck, catered birthday parties for employees, periodic massage therapy services, trips to Carowinds and Durham Bulls games were mentioned on nomination forms. Combine those benefits with a supportive culture, and companies offer families a winning formula.
Sheryl is the former web editor of Carolina Parent magazine.