Travel: Taking Tours of Savannah
Bringing history to life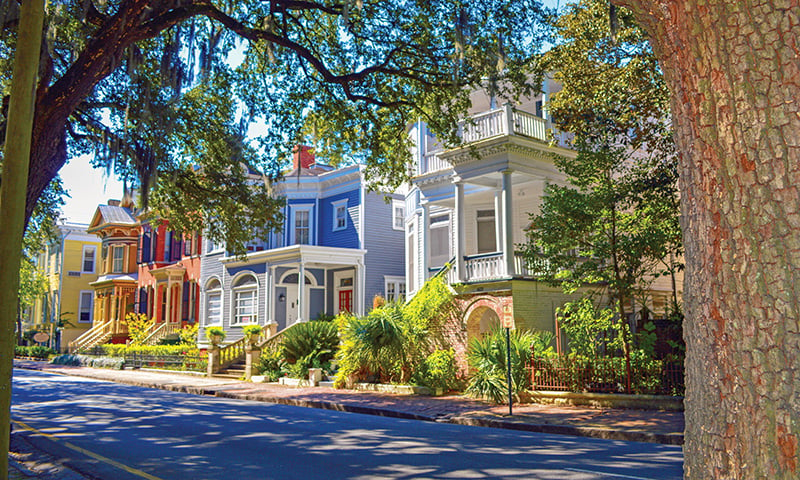 Your kids might not know who General James Oglethorpe and Forrest Gump are, but they're sure to recognize a pirate — and they'll get to meet one from The Pirates' House restaurant in Savannah aboard an Old Savannah Tours trolley during the company's Historic On/Off Tour.
The Pirates' House, serving meals and beverages to seafarers since 1753 — including pirates —is one of Old Savannah Tours' hop-on-and-off stops. Characters from pop culture and Savannah's storied past visit passengers at several locations along the tour route, including The Pirates' House, where passengers hear about tales of scoundrels who came ashore and dined in this very establishment.
Established in 1733, Savannah became Georgia's first city and was laid out in a series of grids featuring public squares. Fortunately, 22 of the original 24 public squares still remain.
Blessed with rich soil and a favorable climate, Savannah's bordering lands became home to cotton and rice fields during a time when plantations and slavery resulted in a profitable enterprise.
Savannah also served as a strategic port city during the American Revolution and Civil War. The city was spared from destruction by Union forces during the Civil War because of its beauty. Union General William Sherman even decided to present the city to President Abraham Lincoln as a Christmas gift in 1864.
Old Savannah Tours leaves from 215 West Boundary Street and are offered year-round except on St. Patrick's Day, Thanksgiving and Christmas. When purchased online, tickets for the Historic On/Off Tours cost $28 for ages 13 and older and $12 for ages 12 and younger. Ages 5 and younger are free. Old Savannah Tours also offer additional tours: Historic Overview, Grave Encounters, Savannah Experience, Land and Sea, Discover Savannah Girl Scout and private tours. Learn more at oldsavannahtours.com.
Past becomes present and is fun, interesting and educational when experienced on one of the many tours offered in the city. Here are a few more family-friendly tours you can check out while visiting Savannah. Don't forget to tip your guide 15-20 percent upon completion of the tour.
Old Town Trolley Tours: This hop-on-and-off tour offers GPS tracking so you'll know exactly when the trolley will arrive at each stop. Tour guides combine interesting facts with humor and make 15 stops throughout the historic district, including Forsyth Park, museums and historic homes open for public view. Tours are offered year-round and, when purchased online, cost $29.70 for ages 14 and older and $14.40 for ages 4-12 and younger. Ages 3 and younger are free. Learn more at trolleytours.com/savannah#home.
Plantation Carriage Company: For an even more authentic experience, hire a horse-drawn carriage. Knowledgeable guides take passengers for carriage rides along 25-30 blocks throughout the city for 50-60 minutes. Tours are offered year-round and depart from Ellis Square at the corner of Barnard and West Congress Streets every 20 minutes. For the company's Historic Tour, tickets cost $25 for ages 12 and older and $12 for ages 5-11. Ages 4 and younger are free. Learn more at plantationcarriagecompany.com.
Historic Savannah Carriage Tours: History and ghost tours are offered year-round and depart from the carriage stand near the Hyatt Regency Hotel on Bay Street. Tickets cost $25 for ages 12 and older and $12 for ages 5-11. Ages 4 and younger are free if the child is held on an adult's lap (one child per adult). Learn more at savannahcarriage.com.
Savannah Riverboat Cruises: Float along the Savannah River during Savannah Riverboat Cruises' Narrated Harbor Sightseeing Cruise — a great way to learn about the Savannah River and what it historically means to the city. This hour-and-a-half cruise is accompanied by the captain's narrative description of the port. Views along the way include Old Fort Jackson, the historic riverfront and the city skyline. Cruises are offered year-round. Tickets cost $24.95 for adults and $15.95 for ages 5-12. Ages 4 and younger are free. Learn more at savannahriverboat.com.
Discover more to do during your visit at visitsavannah.com.
Marilyn Jones is a freelance writer specializing in travel. Her articles routinely appear in magazines and major newspapers throughout Canada and the U.S.