Transitioning to a New School Year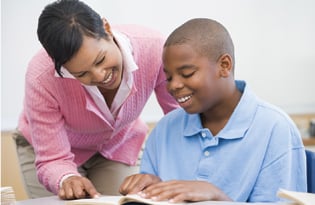 Starting something new can be quite stressful for all children. However, for those who have Autism Spectrum Disorder, or another specialized need, anything new is incredibly daunting. It is the unknown. People who have a limited language base struggle with creating pictures in their minds of what future events may resemble; children have trouble imagining what school is going to be like. The inability to daydream about new classrooms will look like, what teachers' voices will sound like and simply what to expect affects their ability to self-prepare in a relaxed fashion.
Children and teens who have typical social skills receive information from others and are experts at watching the goings-on in their school(s). They are able to ask for and retrieve information from their peers. Typical kids already know the names of their new teachers, and may even have some good gossip on them! They have the ability to chit-chat and communicate in a child-like way, and they get their questions and concerns answered very easily. As a result, their anxiety level is either null and void, or very low.
But for the parent of a child with special needs, a new school year is filled with much more than just the general curriculum. Below are some ways you can help your child or teen with ASD or another special need.
Communicate
Your child (and some others) may require a teacher to spend extra time on her work. This happens, and it is part of having a heterogeneous classroom. Find out from the teacher the most convenient way to communicate with her or him. Stick to a schedule — try picking a certain date each month, say the 10th, 20th or 30th) while being sensitive to days off from school and weekends.
Offer Visual Support
Ask if you can have a schedule of each day, recognizing there may be sudden changes. Keep the schedule posted near the breakfast room in your home in order for your child to review his day beforehand. Record the school-day schedule in a planner at home; reminding your child when to expect PE class, music or recess to ease anxiety.
Also, photos of teachers, staff and other students may help, but school pictures occur toward the middle or end of the first quarter. Ask staff members to send home photos of themselves with their names and room numbers. Make friends with the other parents and ask for photos of your child's classmates, explaining your child may have difficulty matching people's names with faces. Make a scrapbook at home with the photos:  My Third-Grade Friends and Teachers. Include administrators, cafeteria staff and custodians. Remember: During unstructured times within the school day, many different people are assisting your child in a variety of ways.  Be thankful, and let them know how important they are.
Track Changes
Changes to the routine are not fine with people with ASD. Take special note of the school calendar for assemblies, musicals, bus drills and others. Inform the teacher that your child needs to have fair warning of special events, and pre-exposure or warning will help alleviate much of your child's behaviors. Find out the number of fire drills there will be throughout the year, and keep a tally of all the drills at home, so your child sees there is an end in sight.
Be Involved
Consider being one of the classroom parents to help plan parties and have access to materials and information that may help your child. For example, if you have the class list with birthdays noted, you can bring to your child's attention that there may be a party coming up.
Encourage Involvement
Everyone enjoys the feeling of being included. While typical kids may choose from clubs, after-school activities, sports and other school-based events, you and your child may have to be flexible and think outside of the box. This will become contagious, and filter onward and upward throughout the school staff. Your teen may not be suited to play on the team, but he certainly can sit in the stands listening to an iPOD watching the game with all the other students. Maybe your child does not have a musical inclination, but she can sort and organize like a champ; practice and teach her how to organize the podiums and set up the folding chairs for the school concert. Or, maybe she can hand out the program booklets at the front door before a special event. Basically, get your child involved in the fun at school in a way that's comfortable for her or him.
A happy and successful school year means a student makes progress and has success in many areas. Always be thankful for the small accomplishments your child with special needs will make.
Rebecca McKee is an Autism Consultant in New York City. She is available for lectures, as well as staff, community and family education and training. Contact information is the13abc@aol.com or www.mybehaviorcoach.com.
?