Transitioning From Summer to School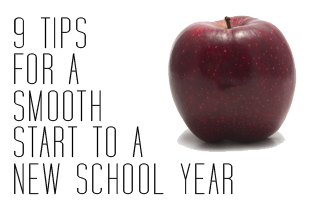 After weeks of summer camp, vacations and no homework, it can be difficult for kids to get back into the daily grind of school. Here a checklist to help you and your child prepare for going back to school.
Schedule an appointment with the doctor.
Visit your child's dentist, doctor or pediatrician to make sure he is in good physical and mental health and receives recommended vaccinations or immunizations. If your child plans on participating in sports, be sure to have a physical completed in time. (Some are school system-specific.)
Establish healthy habits.
Changing routines is hard, but establishing regular bed and meal times will ease your child back into school mode. A few weeks before school starts, encourage your child to go to sleep and wake up earlier than usual so the adjustment won't be too shocking.
Make organization a priority.
Keep your school to-do lists tidy by using online organizational resources such as Clipix.com or Workflowy.com. It is also helpful to set aside a folder at home exclusively for filing paper copies of your child's important school information. This way, everything is all in one place.
Buy supplies early.
Be sure to steadily purchase all necessary school supplies ahead of time. This will save you the headache of trying to buy them all at once the week – or night – before school begins.
Save the date.
Keep track of what the entire family is up to by marking important future dates on your calendar or smart phone so they don't end up surprising you later.
Make safety a priority.
Talk with your child about common safety practices, especially school bus, traffic and pedestrian safety. Review protocol for after-school safety if your child will be home alone.
Familiarize yourself.
Take your child on a tour of the school campus. Visit places she will be, like the playground, cafeteria or media center. If possible, arrange to meet teachers or principals on the visit. This way, your child will feel more confident on her first day back and there will be fewer surprises.
Read the student handbook.
Go through the student handbook with your child. It can answer questions you might have and provide information about the dress code, emergency procedures and other relevant information.
Establish expectations.
Contact your child's teachers to understand what they expect academically from their students. Then, discuss with your child what he wants to learn and accomplish at school. Write down these goals and revisit them periodically to help him stay focused throughout the year.
Jessica Gaylord is an editorial intern at Carolina Parent, and a junior at UNC-Chapel Hill, double majoring in journalism and communications.