Transition to High School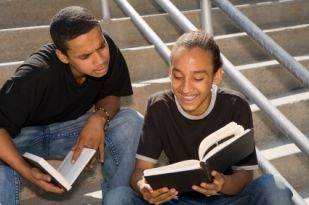 Students matriculating through the grade levels is nothing new, and the standards and accountability movement—as it has in every other facet of education-—has forced districts
to examine student achievement from all angles.
Studies have shown that ninth grade is a pivotal point in a student's academic career, with data from the U.S. Department of Education revealing that little more than 60 percent of freshmen from 1,700 schools nationwide make it to
graduation.
While the figure encompasses a multitude of factors, more and more districts are taking every opportunity to ensure student
success, which statistically begins to decline in middle school.
"You can't expect people to walk into a new job and know what to do," says Patrick Akos, an education professor at the University of North Carolina, Chapel Hill, and a former middle
school counselor. "There's training and there's help navigating the system. Why wouldn't we do the same thing for students?"
"In a middle school environment, if you give a test and students don't do well, you say, 'Do it again,' because you're looking for mastery of a subject," says Jay Hertzog, dean of education
at Pennsylvania's Slippery Rock University and a familiar name in the field of student transitions. "In high school, a test is given and you move on. So if a student doesn't understand from the ground floor, they won't understand it at the higher level."
Hertzog has studied the phenomenon of transitions, particularly from middle to high school, for more than a decade.
Overall, he says, students' fears and perceptions about high school have changed little.
In one survey, Hertzog asked eighth-graders what concerned them about moving to the next grade level and then asked ninth-graders if the concern was valid. The result: Despite a disparity between the perception and reality, the
same fears kept circulating.
"One student thought there were no pictures in the textbooks once you got to high school, and others had heard if you were late for class, you'd get locked out and after three lockouts you got suspended," he says. "We found eighth-grade concerns don't change drastically from year to year because it's like a myth that just keeps getting passed on." Hertzog blames the rumor mill, and the subsequent angst it
inspires, on the people closest to students.
"When I was a middle school principal, I heard teachers saying, 'You might get away with this now, but wait to you get to the ninth grade,'" Hertzog recalls. "Then there are the older
siblings who say, 'If you think this is bad, wait to you get to Soand- so's class.''
Often the worst offenders are parents, who think they are preparing their kids by telling them how hard the new school is going to be and how they better get it together. On the opposite
end of the spectrum are parents who don't know how to let go.
That's not to say that parents don't have a place and a role in their child's education as they get older. The involvement just has to be meaningful and have a purpose, whether it be
helping their child organize their planner or helping school personnel organize an event.
There's no doubt about it, though. Teens do push their parents to the side and begin to look to their peers for approval, advice, and acceptance.
Up until about five years ago, Nebraska's Omaha North High School welcomed its freshman class much like other high schools across the country. Administrators gave them a tour, invited the parents along, held a meet-and-greet with key staff members, and even threw in a pep rally later.
"That helped the parents," says Assistant Principal Susan Christopherson. "But we realized it wasn't enough." Since then, the school has systematically introduced more and more programs to help incoming students find their way.
Omaha North enlists the help of older students to act as mentors and added a structured freshman study skills class to help them learn how to organize and balance their time. Two
summers ago, it began offering incoming students the chance to come to school for two weeks during the summer where they worked on team-building activities, dabbled in course material, and got acquainted with their teachers.
The most important addition to Omaha North has been the dissolution of its large campus into smaller learning communities, with the ninth grade having its own area, team of teachers,
and curriculum specialist.
"It's worked well because the teachers meet regularly and talk about the students academically and behaviorally," Christopherson says. "So, one teacher might ask another,
'What have you done with that student, because I haven't been able to reach them?' Or maybe a teacher might tell a student, 'I noticed you didn't get to Ms. Taylor's class on time but you
get to mine on time.'"
Comprehensive and multifaceted, Omaha North's efforts at incorporating new students are a model for other districts. But, Hertzog says, the best transition programs are the ones tailor-made to suit each district.
"We've worked with school districts across the country in developing transition programs, and we don't develop them with a cookie-cutter approach," he says. "Each one is different, and if you do it right, each year is different."
That's exactly the kind of mind-set he left with officials at Pennsylvania's Millcreek Township School District last year. "It's a process, not a prescription," says Ken Borland, Millcreek's assistant supervisor of administrative services.
"You have to involve all of your stakeholders, your parents,your faculty, your students, your administrators." Like Omaha North, Borland says, Millcreek Township had what administrators thought were decent orientation programs, but as they moved to reform the high school, they realized they could do a lot more—and it didn't have to be complicated.
"We didn't always let our students know their schedule prior to the start of the school year; we do that now," Borland says. Officials organize a scavenger hunt to familiarize new students with the large building, and they host monthly Friday night activities as a way for kids to connect. Also, the district makes sure each student is paired up with a teacher mentor,
whom they meet with twice a month at scheduled times.
"We'd always done something, but now we do it with a little more thought, intensity, and the realization that how we transition kids will determine how successful they are," says Borland.
Naomi Dillon (ndillon@nsba.org) is a senior editor of American School Board Journal