Spring Festivals for Families in Charlotte
Celebrate spring at these area Charlotte-area festivals.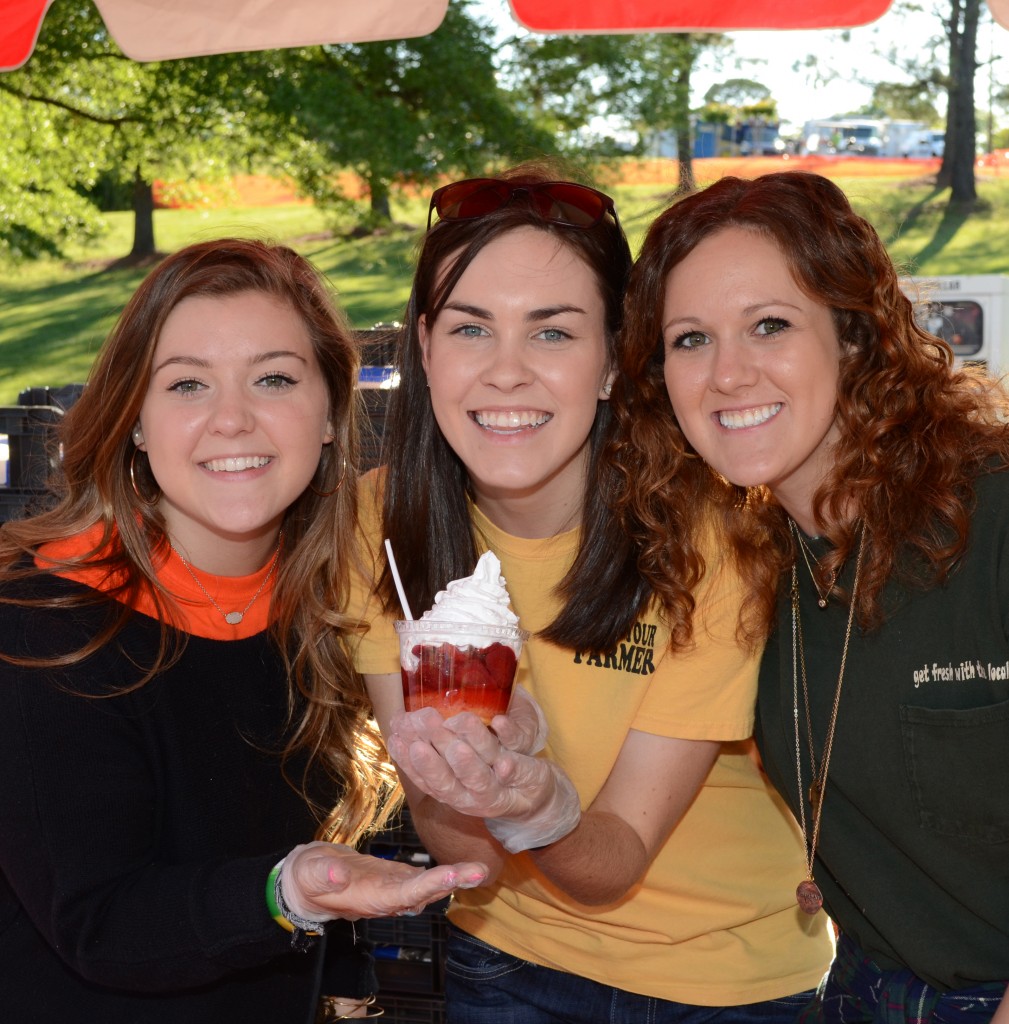 Get out and enjoy the mild weather at one of these festivals this season in the greater Charlotte area.​
---
March Festivals
(March 9)
The 2019 Queen City Spring Festival will offer face painting, games, dance performances, a bake sale, crafts, vendors, food and even free makeovers for females. 100 Free swag bags will also be given to the first 100 attendees. The Carole Hoefener Center, 615 E. 6th St. 1-5pm. Free.
---
(March 9)
Bring the family out to enjoy a variety of food options, meet amazing local businesses, shop in the market place and have fun with free entertainment including bounce houses, photo booth, face painting, balloon animals and costume characters. The Grand Ballroom, 375 Star Light Dr., Fort Mill. 12-6:00 pm. Free.
---
(March 15-24)
Come out for shows, a petting zoo, fair food and more than 30 rides. Across from Charlotte Motor Speedway, 6558 Bruton Smith Blvd., Concord. Mon.-Thurs., 4-10pm; Fri., 4-11pm; Sat., 1-11pm; Sun., 1-10pm. $5-$8, children ages 4 and younger free.
---
(March 16)
At 11 a.m., the 23rd annual parade begins at N. Tryon St. and 9th Street in Uptown and marches down 3rd St. to Caldwell. The festival features Irish music, Irish dancers, bagpipers, vendors, children's amusements and food available for purchase. Uptown Charlotte, S. Tryon St. 10am-6pm. Free.
---
(March 16)
Festivities begin with the Color Me Green 5K Trail Run and continue with yoga, the coloring of the river and live music. U.S. National Whitewater Center, 5000 Whitewater Center Pkwy. Free admission, $6 parking fee. Registration fees apply for competitions.
---
(March 16-17)
Celebrate the traditions of the 18th and 19th century North Mecklenburg Scots-Irish community with music, dancing, food, drinks and reenactments. Historic Latta Plantation, 5225 Sample Road, Huntersville. 10am-4pm. $9-$10, ages 5 and younger free.
---
(March 16)
Enjoy food, beer, games, music, a photo booth and a kids' zone. Old Town, E. Main St., Rock Hill. 4-9pm. Free.
---
(March 17)
Join the Charlotte JCC for a community wide Purium Carnival featuring games, food and prizes. Levine Jewish Community Center, 5007 Providence Road. Noon-3pm. Free.
---
(March 28-April 14)
Fair will feature family-friendly entertainment, carnival rides, food and shows. Route 29 Pavilion, 5650 Sandusky Blvd., Concord. $5-$10, children 4 and younger free. See website for times and daily specials.
---
(March 30)
This family-friendly event offers music, food, NC beer and wine. Admission is free, but parking is $5 per vehicle. Kids Zone admission, food and drinks are available for purchase. Historic Rural Hill, 4431 Neck Road, Huntersville. $5 parking.
---
(March 30)
See cars of all makes, models and years while enjoying the DJ, family friendly activities, raffles and door prizes. Discovery Place Kids Parking Garage, 105 Gilead Road, Huntersville. 9am-1pm. Free admission, $10 per vehicle to register.
---
(March 31)
The beer garden will have carnival-theme fun for the whole family, including face painting, cotton candy, popcorn, hot dogs, a story time and live children's music by Liz, Holly and the Jolly Lollies. Noon-5pm. Free admission. Sycamore Brewing, 2161 Hawkins St.
---
April Festivals
(April 4-13)
This festival features more than 80 activities. Take part in fun that includes beautiful gardens, a parade, a frog jump, teddy bear tea party, food trucks, live music, kids' activities, fireworks and more. Locations vary. See website for full schedule of events.
Live music is part of the family friendly fun at the Come See Me Festival in Rock Hill.
Photo by Blackston Photography
---
(April 4-7)
The world's largest automotive extravaganza, the Pennzoil AutoFair presented by Advance Auto Parts, returns this spring, bringing together thousands of hot rods, muscle cars, exotic sports cars and classic automobiles. Experience more than 10,000 automotive vendor displays, a massive manufacturers' midway, a kids' PlayZone, fun fair food and more. Charlotte Motor Speedway, 5555 Concord Parkway S., Concord. $11; free for children 13 and under with a paying adult.
---
(April 5-14)
This literary festival showcases events that celebrate literature, music, visual arts, history, culture and food. Various locations. Free; admission to certain events. See website for full schedule of events.
---
(April 5-6)
This railroading historic site hosts antique farm equipment, modern tractors, music, games and more for kids and adults. Friday is geared toward field trips, and Saturday is for the public. N.C. Transportation Museum, 1 Samuel Spencer Dr., Spencer. 9am-3pm. $4-$12, included with admission.
---
(April 6)
Activities and vendors will focus on environmentally-friendly topics appropriate for all ages. Kevin Loftin Riverfront Park, 1400 Catawba St., Belmont. Noon-3pm. Free.
---
(April 6)
Sample gourmet fare, stroll the streets, shop, and listen to live music. This event reoccurs the first Saturday of each month through October. Downtown Mooresville, Main St., Mooresville. 5-8:30pm. Free.
---
(April 6)
Bring your friendly dog to spend the day at this festival. There will be more than 150 vendors, dog rescue groups with dogs available for adoption, music, dog contests, demonstrations, food trucks, a playground and a dog walk. Pineville Lake Park, 1000 Johnston Drive, Pineville. 10am-3pm. Free.
---
(April 6)
Tawba Walk will feature two stages of live bands and performances, more than 100 local artists, food trucks, local craft beer, sidewalk shop specials, a kids' zone and street art. Oak Street Mill, 19725 Oak St., Cornelius. 2-8pm. Free.
---
(April 13-14)
This annual event celebrates all things Scottish and features athletic games, pipe bands, drumming, dancing, food vendors and a kids' zone. Historic Rural Hill, 4431 Neck Road, Huntersville. $6-$20.
---
(April 20)
Experience the magic of the lanterns as they light up the water. Symphony Park, 4400 Sharon Road. 5-10pm. $18-$35, children 7 and younger free.
---
(April 25-28)
Celebrate the great outdoors, and try something new at this festival filled with outdoor competitions, exhibitions, demos and live music. Kids can participate in obstacle challenges, kids' yoga, bicycle races and more. U.S. National Whitewater Center, 5000 Whitewater Center Pkwy. Free admission, $6 parking fee. Registration fees apply for competitions.
---
(April 27-28)
This juried art festival features regional artists, along with musical performances by local talents and food from on-site vendors and area restaurants. Davidson Town Green, Davidson. Sat., 10am-5pm; Sun., Noon-4pm. Free.
---
(April 27)
Enjoy activities, games, planetarium shows and more than 25 educational exhibits, each with a hands-on environmental message. Museum of York County, 4621 Mt. Gallant Road, Rock Hill. 10am-3pm. Free.
---
(April 27)
Enjoy Border Collie dog demonstrations, cane-pole fishing, canoeing and kayaking, face painting, hiking, geocaching, lead-line horseback rides and more festive fun. Anne Springs Close Greenway, 288 Dairy Barn Lane, Fort Mill, S.C. 11am-3pm.
---
(April 27)
Come out to the Four Mile Creek Greenway behind the Matthews Community Center to celebrate Earth Day with Kids in Nature Day. Activities include eco-friendly exhibits and vendors, a limited amount of free rain barrels, hikes, scavenger hunts, kids' crafts and fairy houses, music and more.  Four Mile Creek Greenway, behind Matthews Community Center. 10am-2pm. Free.
---
(April 27)
Come to Robbins Park for bluegrass music, food, vendors and family fun. Robbins Park, 17738 West Catawba Ave., Cornelius. 4-7pm. Free.
---
(April 27)
Visit the Spring Garibaldi Festival, which features local art and music! Stowe Park, 24 S. Main St., Belmont. Noon-5pm. Free.
---
(April 27)
Enjoy food from around the world and a rich blend of musical entertainment at this family-friendly festival. Popular food trucks and restaurants will be on hand for the culinary and cultural feast. Chairs and blankets are encouraged.  Aldersgate, 3800 Shamrock Drive. Noon-6pm. Free.
---
(April 27)
The event will feature a dog-friendly walk as well as a vendor fair, adoption area, music, a picnic pavilion, food and beer trucks, and fun activities for people and pets alike. McAlpine Creek Park, 8711 Monroe Road. Noon-4pm.
---
(April 28)
Check out this sprawling festival, which ranges from Commonwealth and Plaza Midwood into NoDa. The route is broken into four different zones: arts and science, green, family fun and wellness. 1-5pm. Free.
---
May Festivals
(May 3-4)
Jiggy with the Piggy includes a Kansas City Barbeque Society Competition, rides, 5k race, over 100 artisans, concerts, an outdoor family movie night, a pancake breakfast, and people's choice BBQ and wings tasting. Downtown Kannapolis, 125 N. Research Campus Drive, Kannapolis. Free admission.
---
(May 3-4)
Celebrate the strawberry at this award-winning festival. Check out antique cars; buy fresh strawberries and strawberry shortcake. Attend pig races, and let the kids enjoy the rides. Fri., 4:30-11pm; Sat., 10am-10pm. Walter Elisha Park, 345 N. White St., Fort Mill. Free admission; additional cost for activities.
---
(May 4)
Town Day will offer family games and information provided by local non-profits, entertainment and food available for purchase. 10am-3pm. Davidson Town Green, 216 S. Main St. Free.
---
(May 4-5)
Features fine art for sale, including paintings and drawings, sculptures, pottery, metal, stone, wood and glass works from emerging artists. Little Sugar Creek Greenway, 600 S. Kings Drive. Free. Sat., 11am-6pm; Sun., 11am-5pm.
---
(May 4)
Enjoy live music, tours of the historic cabins, kid-friendly games and crafts, raffles, and food and beverages available for purchase. 11am-3pm. President James K. Polk Historic Site, 12031 Lancaster Hwy., Pineville. $5 per car.
---
(May 4)
Event will feature vendors, demonstrations, giveaway, contests and a mini off-leash area for pup play dates. Chestnut Square Park, 320 Chestnut Pkwy., Indian Trail. 10am-3pm. Free.
---
(May 5)
This festival highlights regional artists and musicians. Visit local breweries, wineries, and food trucks while listening to live music, shopping the vendor booths, making murals and doing STEM activities. 2-6pm. Downtown Huntersville, 101-Huntersville-Concord Road, Huntersville. Free.
---
(May 10-11)
Put your "toes in the sand" with live beach music, shag dancing, carnival rides and inflatables. Fri., 6:30-10pm., Sat., 10:30am-10pm. Stumptown Park, S. Trade St. Free.
---
(May 10-11)
Do not miss this two-day celebration of music, camping, the outdoors and North Carolina's craft beer. With an upbeat atmosphere and family-friendly culture, the NCBMF is a music festival for all ages. Historic Rural Hill, 4431 Neck Road, Huntersville. 11am-10pm. $8-$87.
---
(May 11)
This festival promotes the visual and performing arts, and features musical entertainment, food and drink vendors, a juried art show, and a children's creation station. Historic Downtown Concord, 65 Union Street S., Concord. 10am-4pm. Free.
---
(May 16)
More than 30 Monster Energy NASCAR Cup Series car haulers will make their way down Union Street en route to Charlotte Motor Speedway. There will be a free party in the streets with live music, activities for children, food trucks, giveaways and race cars on display. Union Street between Cabarrus and Corban Avenues, Concord. 5-8:30pm. Free.
---
(May 18)
Learn about various Asian cultures through food and activities. Plus, see teams race to the finish line in colorfully-decorated dragon boats. Boat races begin at 9am and the festival runs 9am-5pm. Ramsey Creek Park, 18441 Nantz Road, Cornelius. Free.
---
(May 18)
Cheerwine fans can enjoy cold Cheerwine, live music, great Southern food, shopping for Cheerwine merchandise, family-friendly activities, a beer garden and local craft vendors. Downtown Salisbury. Noon-10pm. Free.
---
(May 18)
See the showcase of local and regional art. New this year is the Taste of Waxhaw venue. Downtown Historic Waxhaw, Waxhaw. Free.
---
(May 19)
Enjoy all-you-can-eat Italian food. Bring the kids along to play in the special Kid Zone with face painting and Italian lessons. Adults can enjoy live music, dance, prosecco, wine and Peroni beer. Gateway Village Promenade, 800 W. Trade St. 1-7pm.
---
(May 23-25)
Rock out to live entertainment, access to racing's brightest stars, giveaways and interactive displays. Each day starting at noon, vendor displays, kids' activities, racing-related fun and more will run on Tryon Street in Uptown Charlotte until 8 p.m. Headliners will take the stage in Romare Bearden Park starting at 6:30 pm.. Noon-8pm. Uptown Charlotte. Free for festival; tickets to Romare Bearden Park's concerts start at $15.
---
(May 24-26)
Celebrate Memorial Day weekend and the founding of the town of Mint Hill with carnival rides, games, boardwalk-style food, and arts and crafts vendors, as well as live entertainment, a parade and fireworks. Mint Hill Veterans Memorial Park, 8850 Fairview Road, Mint Hill. Friday, 4-11pm; Sat., 11am-11pm; Sunday, noon-6pm. Free; costs for some activities.
---
(May 26)
Festivities include five- and eight-mile trail races, yoga and live music on Friday, Saturday, and Sunday evening. Fireworks begin at dusk on Sunday. U.S. National Whitewater Center, 5000 Whitewater Center Pkwy. Free admission, $6 parking fee. Registration fees apply for competitions.
---