Trampoline Parks and Indoor Bounce Houses for Charlotte Kids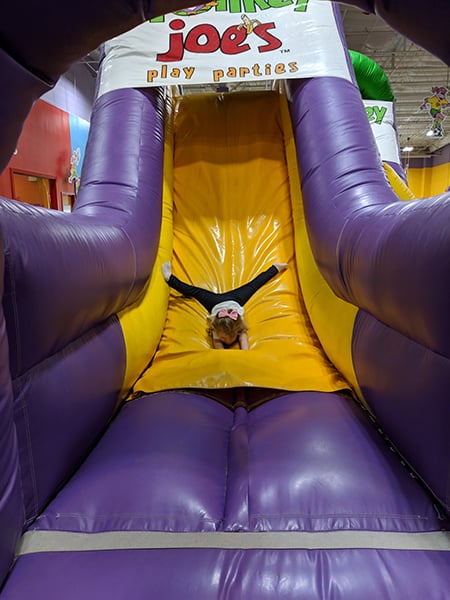 Remember your first time on a trampoline? There's a certain freedom to ignoring the laws of gravity, and several Charlotte businesses capitalize on it. Below, we offer six options for kids who want to bounce.
---
This chain not only has enormous inflatable slides and obstacle courses, but also arcade games and concessions. (And the games have a ticketing system that allow you to get some prizes.) For young jumpers: This site has a "Mini Monkey Zone" for toddler-aged visitors. 10215 University City Blvd. (Also locations in Pineville, Gastonia, and Matthews).
---
Open Jump tickets are available throughout the week here, with other themed options available like Stunt Fall, Ninja Obstacle Course, and Extreme Dodgeball. More than 5,000 square feet of connected trampolines of several kinds are available at this 26,000-square-foot site. For younger kids: Children age 2 and younger are free to jump with a paid adult. Monday through Friday, 9 a.m. through 10 a.m. is restricted to kids 6 and under. All ages welcome after 10 a.m. 8116 University City Blvd.
---
Aside from the enormous Freestyle Court for bouncers, there's also laser tag, a ropes course, a foam pit and rope swing, Sky High Hoops and much more. For younger kids: Munchkin Monday is available for kids age 2-6 on Mondays from 9 a.m. to noon. 601 N. Polk St. L, Pineville.
---
Touted as the "first indoor trampoline park," this massive site has wall-to-wall trampolines. Other attractions: Skyslam basketball, Ultimate Dodgeball, Trapeze and Swing, Skyladder and more. For younger kids, Sky Zone has a designated "Toddler Zone." 7325 Smith Corners Blvd. (Also a location in Pineville.)
---
The "Big Court" here has trampolines in every direction, giving you the chance to bounce off the walls. Among the many other attractions is "Big VR," known as "Charlotte's premier Virtual Reality Arcade" and a mechanical bull for all ages to give a whirl. For younger kids: Lil' Air is the all-hours spot for toddlers, but there's also Toddler Time for kids 6 and younger, every Tuesday and Thursday from 10 a.m. to 1 p.m. and 10 a.m. to 11 a.m. on Sundays. ("Toddler Time" isn't available outside of the school year.) 2408 Sardis Road North.
---
The Open Bounce hours for this indoor collection of inflatables arrive 3-6 p.m. on Thursdays. Cosmic Bounce, which adds music and celestial lighting, occurs 3 -6 p.m. on Fridays. You can also check the Weekend Bounce schedule by Wednesday evening to see which open spots are available for the weekend. For younger kids: If your child 5 or younger is old enough to walk, Preschool Playdates slots are available 10 a.m-noon on Wednesday, Thursday, and Friday. 10624 Metromont Pkwy., Ste 300.
---
With so much to do including a kid's court, ninja course, clip n' climb, high-9 reaction wall, trampoline basketball and more for children of all ages, kids can bounce off the walls at Altitude Trampoline Park. Join in a special Toddler Time (ages 6 and under) each weekday from 10 a.m.-1 p.m. at a discounted rate of $6.95. Parents can also jump for an additional $2. 3940 E. Franklin Blvd.