Toy Recalls: Getting Back to the Basics of Playthings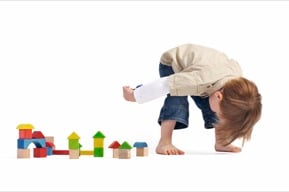 Remember when Pound Puppies and Tinker Toys were all the rage, and you didn't have to worry about whether the cars in your Matchbox collection were covered in lead paint?
In June 2007, toy manufacturers began a series of toy recalls after discovering that numerous products, mostly manufactured in China, contained dangerous levels of lead paint. The recalls have included popular Mattel products, Thomas the Train pieces, plastic cups and water bottles, and Baby Einstein soft, textured blocks for infants.
As the holiday season approaches, the recalls present a specific question to parents who will be heading out to local toy stores. Would it be safer to get "back to the basics" with toys for our children to avoid a potential lead-paint scare?
"For years, our favorite toys were the ones my father made in his woodshop," says Kristin Cassell, a Huntersville mom of two. "Being an avid woodworker, my dad is great at manufacturing the most amazing wooden toys. From the basic duck on wheels for the little one to the fire truck with ladders, his gifts were always the most anticipated. They also last the longest. When all the other plastic toys have been broken, tossed or forgotten, his toys are still strong," she adds.
Products are considered to be exceeding the federal limit for lead paint if there is 0.06 percent of lead content present. According to the Consumer Product Safety's Commission's Web site, children who ingest even small amounts of lead can suffer from brain damage and large doses can kill.
"I have a child who puts every single thing in his mouth, so I just don't know what's safe to buy anymore," says Amanda Craddock, a China Grove resident who is mom to a 9-month-old son. "I'm very lucky and right now he's been happy playing with my spatulas and Tupperware, but I really will have a tough time deciding what to get him this Christmas."
Where Did Dora Go?
While there haven't been any reported incidents of infant or child deaths from the lead paint recalls, at press time more than 2 million toys have been recalled as companies continue to test the lead levels in questionable products.
If you happened to visit a local Target, Wal-Mart or Toys 'R' Us retailer after the first round of recalls this past summer, you may have been shocked to find shelves upon shelves that were virtually empty because they previously held toys that were pulled due to the recalls.
Chris Katsanos, manager of Bedford Falls specialty toy store located in the Park Road Shopping Center, said the recalls haven't really impacted the store's business.
"We've had very few items that were included in the recalls," says Katsanos. "They were mostly some Mattel and Thomas the Train products."
As buyer for Bedford Falls, Katsanos tries to stock the store with mostly educational products, learning toys, puzzles, books and science kits. Heading into the holiday season, Katsanos adds that most parents he's talked to are looking for toys this Christmas that haven't been manufactured overseas, and he's already noticed an increase in sales of Lego and Playmobil products.
Toys of Yesteryear
Nancy Politis, a Massachusetts mom of two who is also president of online toy company Heirloomwoodentoys.com, echoes the sentiment that wooden toys are more enduring, and remain popular items during the holidays.
"At ages 6 and 7, our children are still playing with the wooden trains, cars and trucks that they've had since they were 1 and 2 years old," Politis says. "I prefer that my children play with wooden toys because they spark the imagination, are sturdier than most plastic toys and are easier to repair if broken. Plus, we love the fact that wooden toys tend to be safer if a child chews on them, and wood is biodegradable," she says.
Have you ever noticed how a toddler will ignore a room full of toys and head for your pots and pans instead? Children have been playing with household objects and basic materials for centuries, so there's really no reason parents can't encourage play that includes more wooden blocks, dress-up or board games.
"Until the mid-1800s, most toys were homemade," says Leslie Kesler, historian and curator for The Charlotte Museum of History. "Parents who want to take a "back-to-basics" approach may want to encourage creativity by providing simple supplies for children to create their own playthings," she recommends.
"In the past, games were probably a more important part of children's play than toys were," adds Kesler. "Hopscotch, leapfrog and hide-and-seek all go back hundreds of years and don't require any special equipment. We've had enthusiastic response from families at museum programs that teach simple, old-fashioned games such as marbles, charades and kitty-in-the-corner."
If you're searching for the perfect wooden toy for your child this year, Politis recommends you look for the following:
• Solid, well-made toys with successful designs
• Sturdy child-sized furniture that looks good in the home
• Bead mazes
• Wooden trucks
• Wooden blocks
Will There Really Be an Impact on Toy Retailers?
In September, Len Simonian, president of Only Hearts Club, a maker of girls' dolls, talked frankly with Charlotte Parent about the impact the recent recalls will actually have on toy retailers.
"I think the effect will be less than what consumers might expect," he says. "Mattel alone manufactures thousands of products, sells millions of toys. These items are limited to specific brands and products in that line. Retailers want shelves full, and they'll be moving to fill in with different things. The sheer volume of toys sold each year is staggering. In the overall scheme of things, this is not that many."
So if you're a parent who knows taking away your child's favorite collectible from the "Cars" line of toys may not go so smoothly, it might be best to save your battle until a recall for that specific toy is actually announced.
For more information on the latest toy recalls, visit the CPSC Web site at www.cpsc.gov, or call their recall hotline at 800-638-2772.
Renee Roberson is a Charlotte-area freelance writer and blogger.