Top Learning Picks for Kids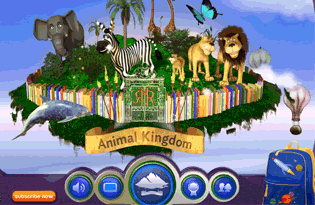 Reading Rainbow returns
Reading Rainbow is back — this time as an iPad app. RRKidz, a digital media company co-founded by entertainment veteran Mark Wolfe and the show's host, LeVar Burton, now offers the Reading Rainbow app in the App Store for children ages 3-9. Users can access 150 books and 16 video trips featuring travels to themed islands.
Downloading the app is free and includes one book and the ability to explore the islands and videos. A $9.99 monthly or $29 six-month subscription enables full access to the app's offerings.
The companion website at readingrainbow.com offers a dashboard for parents that tracks the time children spend reading as well as the books they read.
Death-defying math
The Book of Perfectly Perilous Math by Sean Connolly (Workman Publishing, $12.95) features problems that align with the Common Core State Standards curriculum, which is being implemented in North Carolina public school classrooms this school year. Published on Pi Day (March 14), the book features chapters broken into "Chances of Survival" sections titled, "You Might Make It," "Slim to None" and "Your Dead." Connolly's problems make fractions, algebra and geometry exciting. He also addresses math principles such as the Fibonacci numbers. Hardcover. Ages 10 and older.
Best-selling authors co-write time travel series

Readers who loved The 39 Clues series are in for a time-twisting treat. The Infinity Ring, an alternate-history time travel series written by a team of six New York Times best-selling authors, launches Aug. 28 with Book 1: A Mutiny in Time (Scholastic, $12.99) by James Dashner.
Other acclaimed authors who penned books for the series include Carrie Ryan, Lisa McMann, Matt de la Peña, Matthew J, Kirby and Jennifer A. Nielsen. Book 2, written by Ryan, debuts in November. Learn more at infinityring.com. Hardcover. Ages 8-12.
Goodbye chalk, hello dry-erase
Today's students are much more accustomed to writing on dry erase boards than chalkboards. KleenSlate Concepts offers a variety of small, portable dry erase boards in different styles, sizes and shapes for classrooms or homework and facilitate easy cleanup and less paper waste. Order in bulk or individually and choose from slates featuring a blank canvas, graphs or writing lines. Visit kleenslate.com to learn more.
Parenting Toolbox
Ten Powerful Things to Say to Your Kids by Paul Axtell (Jackson Creek Press, $23.85) empowers parents to be more conscious of what they say and how they talk to their kids. Axtell offers simple, straightforward advice and includes among his 10 powerful statements such as, "You are a fast learner," "How about we agree to …" and "I'm sorry." Each piece of advice has its own chapter that offers ways to turn those ideas into action. Hardcover and paperback.