Top Financial Websites for Kids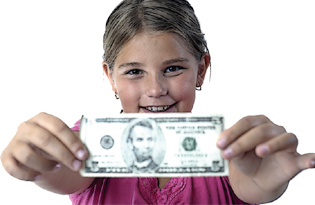 Money doesn't grow on trees, but you can grow your child's understanding of finances by researching the Internet. Below is a list of top financial websites for kids to help them learn about everything from saving and starting a business to how money is made.
Planet Orange
This site is out of this world! Kids ages 6-11 learn how to handle money by traveling through Planet Orange space station and the four continents of money management: earning, saving, spending and investing. They can spend Obux (that's outer space money) for astronaut supplies. When they run out of cash, they can earn more by working. Also used as a teacher resource center about money and responsibility.
Biz Kids
What your young entrepreneur needs to know is to have a plan! The website for the award-winning PBS show, BizKids is perfect for budding financial geniuses. Learn how to build a business online and the art of negotiations. Calculate what it takes to be a millionaire, and then bring your business to the show. It's where kids teach kids about money and how to handle it. Children can access Disney's Hot Shot business game online. And there's a host of cool tools and links in the "Cool Biz Stuff" section. Be aware there are several broken links within the site.
It's My Life, Money
www.pbskids.org/itsmylife/money
An educational and interactive site for kids ages 9 to 12 and funded by the Corporation for Public Broadcasting through its "Where Fun and Learning Click" initiative to create safe and engaging online media for children. Kids can listen to other kids talk about their experiences while sharing their own. The main site, It's My Life, focuses on six topics: friends, family, school, body, emotions and money. In the money section, kids share what they would do with a million dollars and more. It's all about issues that are important to kids.
The United States Mint H.I.P. Pocket Change
Action and adventure abound in this site packed with money information for kids. Learn the facts and history behind coins through cartoons, games and puzzles. Printable art is available for the coloring enthusiast. There are screensavers for kids in the Toons section and coin collecting course in the Collector's Club. The helpful "Kids' Guide" in the About this Site section is a great place to start. President Clinton created H.I.P Pocket change in 1997 through federal agencies to enrich the online learning experience for kids.
Kidworth
Launched December 2010 and still in Beta, (a limited test release), this site works in conjunction with Facebook and helps kids set goals toward building their financial future. They will learn how to save for what they want to buy or simply saving for a good cause. Family and friends in your network can contribute in the form of gifts, allowance and earnings, and help young savers achieve their long-term financial plans. It's all about learning to save the smart way. Facebook account required. CP
TheMint
This site, developed by Northwestern Mutual and the National Council on Economic Education (NCEE), provides tools to help parents and educators teach children to manage money wisely and develop good financial habits. Tabs divide the site into four sections: fun for kids, tips for teens, pointers for parents and ideas for teachers. Most pages are written in a kid-friendly style so families can work together – or older children can work independently in learning money lessons. Kids learn about earning, saving, spending and giving. Have your kids try the Be Your Own Boss Challenge and see if they've got what it takes.