Top 5 Roller Coasters in the Southeast
Add some thrills in your next vacation with five of the top roller coasters in the Southeast.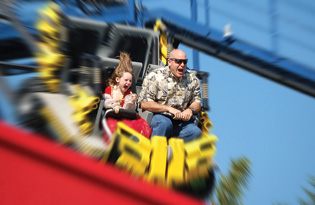 Loops, air time, launching, suspension, steel flying, steel standing, wooden … roller-coaster lovers have developed a whole vocabulary to describe the types of coasters available and the things they can do.
Your family might just call them fun.
If you want to include some thrills in your next vacation, consider checking out five of the top roller coasters in the Southeast. Coaster aficionados across the area have scoped out the best rides, and the same ones crop up on fan sites. Make sure to check out the following ones, listed in no particular order.
---
1. Intimidator at Carowinds
Charlotte area (15 minutes outside the city in Ft. Mill, S.C.)
Named in honor of NASCAR driver Dale Earnhardt, "The Intimidator" sports a front car that looks like his 1998 Daytona 500-winning Chevrolet Monte Carlo. As you might imagine from its namesake, speed is a big draw with this coaster.
Built by Bolliger & Mabillard (B&M) in 2010, the Intimidator is on the top of many coaster lovers' lists for its sheer ride-ability. "It has hill after hill after hill, and you get lifted out of your seat, says "Coaster Critic" Joel Bullock, who blogs about the roller-coaster experience. "We call it 'air time.' It is very smooth and infinitely rideable. You'll want to get right back in line."
Admission: Single-day adult online, $44.99; at the gate, $54.99. Single-day child online, $36.99; at the gate, $36.99.
carowinds.com
---
2. Thunderhead at Dollywood
Pigeon Forge, Tenn.
The critics loved Thunderhead, a wooden roller coaster, when it opened in 2004. Lance Hart, webmaster of fan site screamscape.com, says it is still his all-time favorite. Not only is Thunderhead located in the scenic Smoky Mountains, it also offers a thrilling, high-speed station "fly by" or "fly through," heightening the anticipation of the people waiting in line.
Admission: Adult (ages 12-59) $60.60; child (ages 4-11) $47.15.
dollywood.com
---
3. Intimidator 305 at Kings Dominion
Richmond, Va., area (20 miles north of the city in Doswell, Va.)
Designed by Intamin and listed as the tallest and fastest roller coaster on the East Coast, the Intimidator 305 was also built to honor Dale Earnhardt.
"The speed is intense," says Bullock about the Intimidator 305. Riders experience thrilling speeds of between 80 and 90 miles per hour. In addition, at more than 300 feet tall, it is one of the tallest coasters in the U.S. The banking turns, made to mimic a NASCAR track, are an unusual twist for roller-coaster enthusiasts.
Admission: Single-day adult online, $49.99; at the gate, $59.99. Child online, $37.99; at the gate, $37.99.
kingsdominion.com
---
4. Goliath at Six Flags Over Georgia
Atlanta area (Austell, Ga.)
Also designed by B&M, which is known for its smooth rides, Goliath is at the front of the park and travels into the parking lot. A fun double-helix, or highly banked turn, makes riders feel like they could reach out and touch the trees. Coaster-lovers talk about the open, sideless trains with only individual lap bars, which increase the feeling of freedom
Admission: General admission, $54.99; child under 48 inches, $39.99; child 2 and under, free. Some discounts may apply online depending on when you go.
sixflags.com/overGeorgia
---
5. Cheetah Hunt at Busch Gardens Tampa Bay
Tampa, Fla.
Bullock, the Coaster Critic, calls Cheetah Hunt a "family thrill ride." Opened in 2011 alongside a new cheetah exhibit, Cheetah Hunt is a launch roller coaster that sports a figure-eight element and several banked turns that seem to be near misses into rocky crags. At one point, riders skim just above a creek as they descend a hill. After leaving the coaster, families can check out real-life cheetahs through the glass as they sprint across a Cheetah Run.
Admission: Adult online, $71.99; at the gate, $81.99. Child online, $63.99; at the gate, $73.99.
seaworldparks.com/buschgardens-tampa
---
Tips for Parents of Small Children
Not all children are coaster-ready. For families with mixed coaster needs or those who aren't ready to seek out the biggest, baddest coasters, enthusiasts seem to agree that exposing young children to amusement park rides on the whole is the best way to overcome those fears.
Coaster enthusiast Clint Novak, who operates KDfansite and coastercrew.net, says that Disney World is a great training ground for young children and kids who fear the big rides.
Lance Hart, of Screamscape, says he was terrified of roller coasters as a child. He now has two boys, one who has no fear and one who enjoys taking risks when it is clear he is in control.
"I think the best plan is to identify what their specific fear is," says Hart. "Are they afraid of falling out? Are they afraid of heights? I try to encourage my kids to go on rides that don't hit on their fears."
Coaster Critic Joel Bullock agrees: "Gentle rides are the best at first. It really bothers me when I see parents telling scared kids to 'get over it.'" He advises trying a variety of rides, not just kiddie coasters. One of the best ways for parents to gauge a coaster's fear factor is to watch the age and condition of the children exiting the ride, says Bullock.
Anne Woodman is a Morrisville-based freelance writer and mother of two.