Top 5 Halloween Safety Tips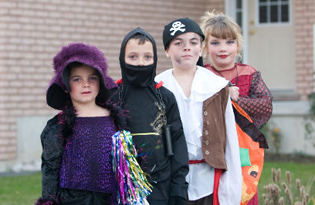 1. If you're planning to use face paint or makeup, use natural and nontoxic beauty products.
2. Start outside well before the sun has set. Daylight hours are safest for trick-or-treating.
3. Wear bright colors and add reflective tape to costumes. Kids, both young and old, should use reflective tape on their treat bags or costumes so vehicles can see them from a good distance away.
4. Hold hands of small children all the way to the door and don't even bother to ring the doorbell on an unlit front porch.
5. Always check candy before eating it. be careful that everything is sealed and safe.
Read More:
Download our 10 Tips for a Safer Halloween Printable