Top 3 Priorities for Your Baby Home Makeover
Make your life easier by prepping early for the newest resident.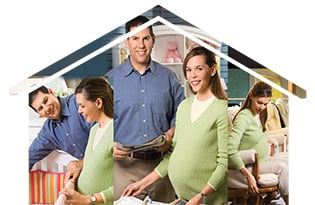 It's a whirlwind bringing a new baby home from the hospital. New parents are tired and often low on energy and time. The good news is a little planning and organizing in the nursery, family room and kitchen can make things go more smoothly those first few busy weeks at home.
---
1. Prioritize Comfort in the Nursery
Start by setting up your nursery early. Bed rest orders from your doctor or delivering early may not be in your plans, but be prepared just in case. Krista Cathey, owner of GreenPea Baby and Child in Cary recommends moms-to-be place nursery furniture and bedding orders by week 20 of the pregnancy.
"It can take eight to 10 weeks for these orders to come in, and you want to have everything in and set up before the nesting instinct kicks in and you really want things done," she says.
When setting up the nursery, put thought into where your furniture is located. From a design perspective, Cathey says the crib should be the focal point of the room.
"Ideally, you would want to see the crib front, not the side view. For comfort and safety, pay attention to where the vents and windows in the room are located. Do not place the crib directly under a vent or near a window. Also, think about noise. If one wall backs up to a play room or bonus room where a lot of noise would be common, you may want to move the crib to the other side of the room."
To keep the nursery dark for napping, Cathey suggests window treatments with blackout lining, or separate blinds or shades. Make sure the crib is not too close to window treatments a baby could grab.
Place a nightlight near the crib so you can peek in on your sweet little dreamer. Other comfort items that can aid with sleep include a soothing sound machine and cool-mist humidifier.
A glider with an ottoman is worth the investment, because you will spend many hours holding and rocking your child those first few years. "A glider will make late nights more manageable and will provide a comfortable place for you and your baby to read together," says Cathey. Place your glider near the crib for easy transfer of a sleeping infant from your arms to the crib, particularly useful during middle-of-the-night wake-up calls.
Instead of open changing tables, many parents opt for a dresser they can attach a contoured changing pad to that has a changing tray on it. Placing a changing table on the wall nearest the doorway facilitates easy access for quick changing trips.
"If you are using a separate changer and not a changer dresser, you will want to make sure that your dresser is located close by the changer to easily be able to grab a change of clothing," says Cathey.
For changer dressers, consider using one of the top drawers as the organizational station. Use small baskets and drawer organizers within the drawer to hold diapers, wipes, lotion, a thermometer, diaper rash cream, nail clippers, teething gel, nasal aspirator, wash clothes and toys. If the dresser is larger, place baskets in which to organize diapers and wipes on top.
Hang all of those adorable outfits in the closet and arrange by size or store in containers labeled by size, and don't remove all tags. Cathey advises moms to pick about 10 outfits they really love and wash them so they are ready when baby arrives.
---
2. Create a Family Room Retreat
Even though you've spent time and money creating a picturesque nursery, you won't stay cooped up in the baby's room all day. Create a comfortable place to retreat with the baby in the family room. Equip this area with necessary items to avoid repeat trips to the nursery to retrieve items.
Breast-feeding moms are often more successful with nursing long-term when they are not confined to one room, says Laura Corsig, lactation consultant at Nursing Mother's Place and Novant Health, which has locations in Huntersville, Matthews, Charlotte and Winston-Salem.
"A baby requires so much time nursing, and it can be isolating for moms to be away from the rest of the family. When moms are confined to nursing in one location in the house they often rush though feedings," she says, adding that sitting in a place a mom finds relaxing also aids in milk letdown.
Nursing can be done anywhere and doesn't require anything, but little luxuries like a nursing pillow or support pillows, a footstool and nursing pads are handy to keep close by.
Before you start nursing, make sure burp clothes, bibs, pacifiers, blankets, pillows, a water bottle for mom and any other items you may need are within reach. Many nursing mothers find sitting in a reclined position most comfortable, Corsig says.
A bassinette or play yard in the family room is helpful for short baby naps, and a swing and bouncer are useful, soothing items to set up in the main living area.
Instead of going back and forth to the nursery with the baby for a diaper change, set up a second changing station with a portable changing pad in the family room. Before your baby arrives, clear out a drawer, cabinet or shelf to store baby items and eliminate clutter. A diaper caddy or basket is useful for organizing diapers, wipes and diaper rash cream. A second diaper pail in the living room can also be helpful, especially if you live in a multi-story home.
---
3. Stock the Kitchen
The first rule of kitchen organization is to toss the old and make room for the new. To eliminate clutter on your counters, make space in a cabinet drawer for storing baby items like bottles, formula containers, breast milk storage containers or bags, and breast pump accessories.
Throw out old food in the pantry, refrigerator and freezer to make space. Place cooking essentials, such as pots and pans, in easy-to-reach locations in the kitchen – especially helpful if you're recovering from a cesarean section.
A bottle drying rack and bottle brush, whether you're nursing or not, is helpful to keep by the sink so you can air dry bottles or breast pump accessories after washing them.
Stock your refrigerator and pantry with healthy foods before you head to the hospital. Suzanne Smith, neonatal dietitian and lactation consultant at Carolinas HealthCare, which has locations in Greensboro and throughout the Charlotte area, recommends foods rich in calcium, protein, iron, vitamin C and fiber.
"Adding one extra serving of protein a day helps rebuild tissues damaged in childbirth and maintain protein stores for breastfeeding. More iron, folate and vitamin C are needed to rebuild red blood cells lost in childbirth," Smith says. "High fiber foods are particularly beneficial since many moms, postpartum, report difficulty going to the bathroom."
Moms who are breast-feeding need an additional 300-500 calories per day. Keep some no-prep, healthy snacks such as fresh fruits and vegetables on hand. Other good options include whole-wheat crackers with peanut butter, low fat granola with yogurt, cottage cheese and trail mix snacks.
Use those nesting instincts to your advantage and spend some time in the kitchen preparing and freezing meals for later. "I recommend making meals ahead," Smith says. "Prepackaged foods contain byproducts, additives, preservatives and sodium to enhance shelf life and improve taste, and there's literature out there that links to food allergies in children."
She also suggests that parents cook enough food to provide food for two meals. Save time by using appliances like a blender, food processor, slow cooker, rice cooker or pressure cooker. Kitchen scissors are handy for quickly snipping vegetables for meals.
"A variety in the diet is going to behoove them because what you eat does get transferred into the breast milk, and variety will help [new moms] encompass protein, iron vitamin C and calcium," she says.
When friends and family offer to bring food, let them. Freeze that extra lasagna to eat later. And if you get desperate or just want a slice, the occasional call for a pizza delivery is OK.
---
Holly Becker, a freelance writer and mom of three, lives in Cornelius.
---
Useful Items for Baby:
For the Nursery
Blackout curtains
Glider with ottoman
Dresser with contoured changing pad or tray
Diaper pail
Night-light
Soothing sounds machine
Cool mist humidifier
Baskets and dividers to organize drawers
Basket for diapers and wipes
---
For the Family Room
Play yard or bassinette
Portable changing pad
Diaper pail
Diaper caddy or basket for diapering necessities
Nursing pillow and support pillows
Bouncer and/or swing
Burp clothes
Blankets
---
For the Kitchen
Homemade meals in the freezer
Bottle drying rack and bottle brush
Healthy snacks
Time-saving appliances (blender, food processor and slow cooker)
Kitchen scissors