Top 10 Spots to Cool Off in the Carolinas
Swim, splash and slide away at these Carolina water wonders.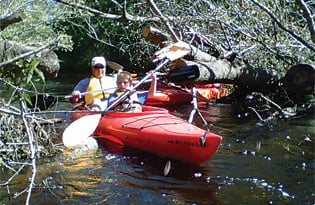 Article updated July 27, 2016
North and South Carolina are filled with natural and man-made wonders where you can swim, splash and slide away the hot summer temperatures. Grab your towels, sunscreen and water shoes, and enjoy some cool relief at these destinations.
---
1. Kayaking in the Cape Fear Region
Wilmington, North Carolina
Paddling down the river in the Cape Fear region of North Carolina is a great way to catch a glimpse of local wildlife and enjoy the area's gorgeous coastal scenery. Children of all ages are welcome to kayak with Don Harty of Mahanaim Adventures in Wilmington. Kids ages 10 and under can ride in tandem kayaks with a parent, gliding through quiet, shaded river waters, and it's not uncommon to see a great blue heron or a beaver. Trips last several hours, and kayakers stop for a picnic lunch or a swim on a river sandbar.
Insider info: Hankering for a yummy treat? Stop by Britts Donuts on the Carolina Beach boardwalk for a local specialty.
Mahanaim Adventures
Wilmington, North Carolina
910-547-8252
mahanaimadventures.com
---
2. Tubing the Green River
Saluda, North Carolina
Floating down the Green River in Saluda, N.C., is all about relaxing. Green River Cove Tubing supplies the tubes and a ride to the drop-off point, and tubers drift three miles down river back to the Green River campground. Your cooler can float down the river in its own tube, so you can enjoy lunch on the water. The water averages about waist deep, and there are plenty of places to get out and swim. A three-mile trip is $9, and a six-mile trip costs $14. Co-owner Jackie Gillespie suggests everyone bring a life jacket and sunscreen. Children must be age 5 or 42 inches tall to tube.
Green River Cove Tubing
5200 Green River Cove Rd.
Saluda, North Carolina
828-749-3781
greenrivercovetubing.com
---
3. Wading in White Lake
Elizabethtown, North Carolina
A visit to White Lake in Elizabethtown is a decades-old tradition for many families. The lake, which is fed by subterranean springs and is known for its white sandy bottom, is a popular place to swim, water ski, boat and ride jet skis, which you can rent at the lake. The edge of the lake looks like a beach, and the water is safe for swimming because there are no currents, tides or big waves. Kids love the nearby White Lake Water Park, which has a 2,000-square-foot swimming pool, a huge wading pool and tall water slides.
Insider info: Head over to Melvin's Hamburgers and Hot Dogs on Broad Street for what many locals consider the area's best burgers.
White Lake, North Carolina
whitelakenc.com
---
4. Splashing at Dan Nicholas Park
Salisbury, North Carolina
Kids of all ages can't resist Dan Nicholas Park's splash pad, a large concrete slab with jets of refreshing water shooting out of the ground. For parents who would rather watch than get wet, benches line the outside of the pad. Make sure that non-potty-trained kids wear swim diapers and bring towels. The whole family will enjoy a paddleboat ride on the lake, whether you choose a swan, dragon or regular boat. Park entrance and the splash pad are free; paddleboat rides are $2 per person for a half-hour ride.
Dan Nicholas Park
6800 Bringle Ferry Road
Salisbury, North Carolina
866-767-2757
dannicholas.net
---
5. Rafting the Chattooga River
Long Creek, South Carolina
Kids love the thrill of rafting down the natural flowing Chattooga River, which follows the South Carolina/Georgia state line. Wildwater Ltd. Rafting takes children as young as 8 on trips down section three of the river, which includes a mix of flat water and rapids. Guides keep kids' attention with games and facts about what they are seeing along the river. There are also canopy tours, flatwater kayaking and paddleboarding available.
Insider info: Looking for an affordable place to stay? Wildwater Ltd. has several yurt bunkhouses.
Chattooga Rafting Center
Long Creek, South Carolina
864-647-9587
wildwaterrafting.com
---
6. Shelling at the Shore
Edisto Beach, South Carolina
When the tide rolls out at Edisto Beach, it leaves layers of shells on the sand that can provide hours of treasure-hunting fun for all ages. Sometimes the shells are 2- to 3-inches deep, and sharp eyes can find conch shells, sand dollars and starfish. The best time to look for shells is between half tide and low tide, and tide tables are available at any store along the beach. A good place to park for the day is Edisto Beach State Park, which has public beach access with restrooms.
Edisto Beach State Park
8377 State Cabin Rd.
Edisto Island, South Carolina
843-869-2756
southcarolinaparks.com/park-finder/state-park/1298.aspx
---
7. Exploring Linville Caverns
Marion, North Carolina
You'll cool off before you even step foot in Linville Caverns, as the naturally 52-degree air inside keeps the entrance to the caves chilly, too. A guided tour of the caves lasts about 40 minutes, and visitors can view stunning stalagmites and stalactites. The guide will turn out the lights at the deepest point of the cave to let visitors experience true darkness, but if your child is afraid of the dark, let the guide know and he or she will flip the lights right back on. Strollers and baby backpacks aren't allowed. Be sure to wear a hooded jacket to fend off the "cave kisses," drips of groundwater leaking through the cave's ceiling.
Insider info: Venture three miles north to Spears BBQ & Grill, for a great kids' menu and excellent barbecue.
Linville Caverns
19929 U.S. 221
North Marion, North Carolina
800-419-0540
linvillecaverns.com
---
8. Swimming at Horseshoe Falls
Clinton, South Carolina
After enjoying a picnic by the beautiful cascades of Horseshoe Falls on Cedar Shoals Creek, children can wade and swim in the large shaded pool at the base, where the water is between knee- and thigh-high depth. The falls are about 500 feet from the parking area at Musgrove Mill State Historic Site — an easy walk for kids. Pets are welcome on leashes, but be sure to pack out any pet waste and picnic trash.
Musgrove Mill State Historic Site
398 State Park Road
Clinton, South Carolina 29325
864-938-0100
southcarolinaparks.com/park-finder/state-park/3888.aspx
---
9. Slipping Down Sliding Rock
Brevard, North Carolina
Sliding Rock in the North Carolina mountains rivals any water park with its thrilling 60-foot slide down a natural rock formation into a 6-foot-deep pool of cool water. Children age 7 and older can slide alone, and younger kids can ride on a parent's lap. The slide is fast, so the littlest ones may have more fun playing in the shallow water near the bottom of the slide. Lifeguards are on duty in the summer, and restroom and changing facilities are available.
Insider info: Stop by Crab Creek Catfish Farm in nearby Hendersonville, where children under age 12 fish all day for free with a paying adult.
Pisgah Forest
Near Brevard, North Carolina
828-877-3265
visitnc.com/listing/sliding-rock
Crab Creek Fish Farm
441 Crab Creek Rd
Hendersonville, North Carolina 28739
---
10. Carolina Harbor Waterpark at Carowinds
Charlotte, North Carolina
Whether you're swimming, sliding or riding a wave, Carolina Harbor Waterpark offers a plethora of ways to cool off. The waterpark features Blackbeard's Revenge, a six-story high waterslide complex; a two-acre play area for all ages with all kinds of spray jets, water guns, water wheels and more water slides; Hurricane Falls, a four-person raft slide; Coastal Current lazy river; plus the Myrtle Turtle Beach interactive water area for preschoolers; and so much more. Rent a cabana and make a day of it. Food is available at the park, but you can also bring your own food.
Carolina Harbor Waterpark
14523 Carowinds Blvd.
Charlotte, North Carolina
704-588-2600
carolinaharbor.carowinds.com
---
Marty Minchin is a freelance writer based in Charlotte and the mother of two young children.