Top 10 Pregnancy Tips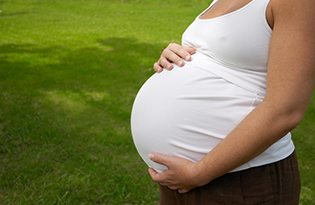 Pregnancy is one of the most wonderful, and often overwhelming, experiences you'll ever have.   There are so many books to read and well meaning friends, coworkers and strangers (yes, strangers) to give you pregnancy advice.   So let's cut through the noise and get down to the important stuff!  
The Clueless Chick's Top 10 Pregnancy Tips:
 1.    First Things First. If you suspect you are pregnant, pick up a few pregnancy tests (just in case you get a bit over anxious and take the first test too early).   Above all else, be sure you read the directions. Once you see that beautiful little "+", make an appointment to see your OB or Midwife.   If you do not already have a doctor, ask friends, coworkers, neighbors or the friendly pregnant woman at the grocery store for recommendations.  
 2.    Morning Sickness. Aside from a lucky few, most women experience some degree of morning sickness for 6, 12 or 40 weeks (gasp!). Make sure you stock up on your comfort foods, drink plenty of water, have healthy snacks throughout the day, have a piece of hard candy, and take your prenatal vitamins at night.
 3.    Maternity Leave. Believe it or not, it is never too early to start planning your maternity leave.   You'll want to have your plans worked out before you talk to your boss.   All companies handle maternity leave differently so check with your boss, HR department or read up on your company's policies and the Family Medical Leave Act (FMLA).  
 4.    Day Care Center, Nanny, In Home Day Care, Oh My! It is never too early to start thinking about who will care for your baby if/when you decide to go back to work.   You will need to choose a day care center, nanny, or an in home day care as early as possible to ensure that a spot is available for your little one.   There are price, convenience and structural benefits to each option so do your homework and ask friends and neighbors for recommendations.  
 5.    Maternity Clothes. Looking fabulously fashionable while pregnant is easier and more affordable than you might think. It is amazing what you can find to show off your bump in every price range, but don't buy too much too soon because you never know how you will carry the baby.   Check your local maternity stores, consignment boutiques, online retailers and don't forget or borrow key pieces from your girlfriends.  
 6.    Find a Pediatrician. Finding a pediatrician for your little one before he or she is born is very important. Ask friends, coworkers, neighbors or your OB/Midwife if they know of good pediatricians in your area.   It is also important to verify that your pediatrician is affiliated with the hospital where you will deliver so that they can perform the baby's first check up while you are still in the hospital.
 7.    Pack Your Bags. Wherever you choose to deliver, you'll want to have a few key items on hand:   Your birth plan; Pediatrician's contact info; Camera; Comfort items (music, massagers, your favorite scented lotion, etc.); Snacks for your partner; Phone tree or draft announcement e-mail; Cord blood donation or banking paperwork; Your overnight bag and baby's going home outfit.
 8.    Prepare for Your Recovery.   You spend soooo much time prepping for baby, you may forget that you will be recovering from your delivery.   Talk to your doctor about what you should be prepared for, based upon your expected delivery method.   And remember, if you have stitches you need to avoid sitting down for too long because the added pressure may be painful.
 9.    Get the House Ready for Baby.
Set up the baby's crib or bassinet, set up and stock your changing table, wash the baby's clothes and linens in a dye and fragrance free detergent, and most importantly, install your infant car seat in the car.
 10.    Have Fun! Don't forget to pamper yourself and your partner.   If you are lucky enough to have a Babymoon, enjoy every second!   Have fun closer to home by scheduling a girl's night out, taking a prenatal yoga class or getting a massage.   You can also pamper your partner by cooking a special homemade dinner or scheduling a surprise get together which coincides with your baby shower.
Hopefully you now feel a little less "clueless" about this wild ride!
From Pregnancy Tips for The Clueless Chick by Jennifer Durbin
CluelessChick.com