Toasted Pumpkin Seeds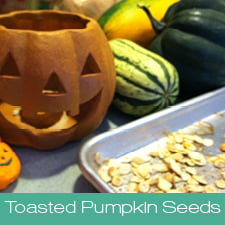 The pumpkin seeds, sometimes called pepitas, may be rinsed from the stringy pulp that holds them in place inside the pumpkin, and then baked. First, rinse the seeds well, removing all of the pumpkin pulp. Then, pat the seeds dry between several layers of paper towel.
Spread the dry pumpkin seeds in a single layer on a lightly oiled or buttered baking sheet. Season them generously before baking with your favorite spice or spice combination. Use something as simple as a mix of salt and pepper or go for a zestier blend of garlic salt, chili powder and a dash of cumin.
Toast the seeds in a preheated 200-degree oven for 45 minutes to 1 hour, turning them over halfway through the baking time. When the seeds are dry and toasted with a crunchy consistency, remove from the oven and allow them to cool to room temperature. Store in an airtight container and enjoy through the holidays.
> More Pumpkin Recipes