Tips to Plan the Family Photo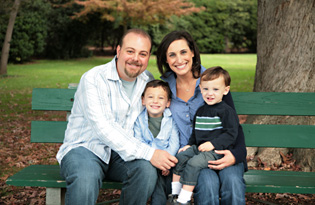 There's no need to stress out about prepping the family for that daunting family photo. Here are a few tips that will help guide you in getting your crew dressed and primped.
• Less is more.  Simplicity goes a long way, especially with a white onesie or denim.
• Forget about the clothes with newborns, you'll want to capture their innocence.
• Textures look great in photographs: corduroy, knits, lace.
• Bright solids are playful and fun on older children.
• Give them something to play with: scarves and hats are always fun accessories.
• If in doubt, feel free to ask your photographer for his or her opinion.
Securing a professional photographer for your family's photographs can be an intimidating task. First things first: How do I find a photographer? Personal recommendations from friends and family are the best way to procure a professional photographer. More times than not, the best photographers in town do not advertise because their clients are from word of  mouth and past client referrals. However, if you do not have a recommendation, never fear!  The internet is a wonderful tool that can provide you with an abundance of information. The trick is to narrow your search to your tastes and needs. Be sure to be specific in your searches by using terms like city or town, newborn or toddler, high end or fashion forward, etc to help you achieve better results.
What do I want/need?
The most important  task in your search for the right photographer is to assess why you need a professional photographer.  Once you have a game plan, it will be easy to choose which session type or package that you need and want.  Below are a few questions you may want to ask yourself before hiring a professional photographer:
• Do I want a posed portraits or photojournalistic images? (ie: think children playing, running and laughing).
• What is the overall purpose of these photographs? To decorate an empty section of my living room?  Do I want to present these images as a gift to extended family (grandparents, aunts, uncles, etc)? To display the images in frames throughout our home? • Do I want to put all the images in an album to show friends?
• What is my budget?  Do I have a set number or can I be flexible?
Make the Call
After you have assessed your needs and wants, feel free to email or call photographers whose work you admire.  Be sure to mention what your goal is for the shoot.  This will give your photographer in mind a chance to explain the ins and outs of the session and provide you with details about ordering prints and products.  The more information you each share with each other, the better!  This will create a better working relationship between both of you and ensure that you are both working towards your needs as a client.
Schedule the Shoot
Now that you have found a professional photographer that you like, set up a time and date for your session.  Your photographer should be understanding of your child's needs and the shoot should be scheduled at a time that works well for your child (make sure they are well rested and fed) and for lighting, too.
Location, Location, Location
Conducting the session in your home is usually the best idea because this is where your child is most comfortable and your photographer will be able to capture your child at his/ her best when they're in a familiar atmosphere.  If you are not able to use your home, don't forget to consider your backyard or a local park. Lastly, don't forget to have fun.
View Whitney Elizabeth Portraiture work at www.whitneyelizabethportraiture.com/blog.