Tips for Visiting Great Smoky Mountains National Park During Elk Rutting Season
Bull elk behave differently during rutting season. Be careful!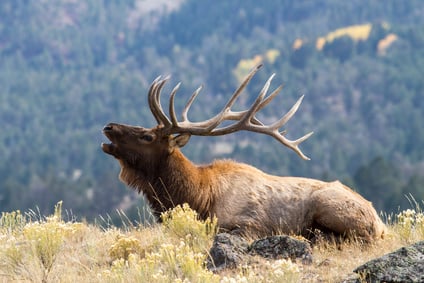 Autumn is a gorgeous time to be in nature, and our Great Smoky Mountains National Park is a gorgeous destination.
In 2001, the National Park Service successfully reintroduced elk to the Cataloochee Valley, and early fall is elk rutting season.
If you're lucky, you may hear them bugling, or hear the sound of their antlers clattering as they brawl.
Here's a video, so you know how to recognize elk bugling. If you hear this sound, run to safety! Surging testosterone levels may cause bulls to attack anything in their path.
For instance, my parents were chased by a rutting bull while they were passing through Yellowstone National Park in the safety of their minivan.
Safety tips for rutting season
According to Caleb R. Hickman, Ph.D., Supervisory Fish and Wildlife Biologist for the Eastern Band of Cherokee Indians:
Keep a safe distance of 50 yards (150 feet)
If you can stay in your vehicle, that is ideal (think of my parents in Yellowstone)
If you happen upon an elk on the trail or in the river, please refrain from approaching them or cornering them. They are wild animals
Where to look for elk
If you like to fish or hike along the Oconaluftee or lower Raven Fork Rivers, keep your eyes and ears open. Elk cross the river going both up and down; they will often be in the woods nearby.
The Island Park, just outside of Cherokee's downtown area, is an ideal spot to watch elk as they move across the river.
If you see elk in our beautiful mountains, be sure to tag Charlotte Parent in your social streams!